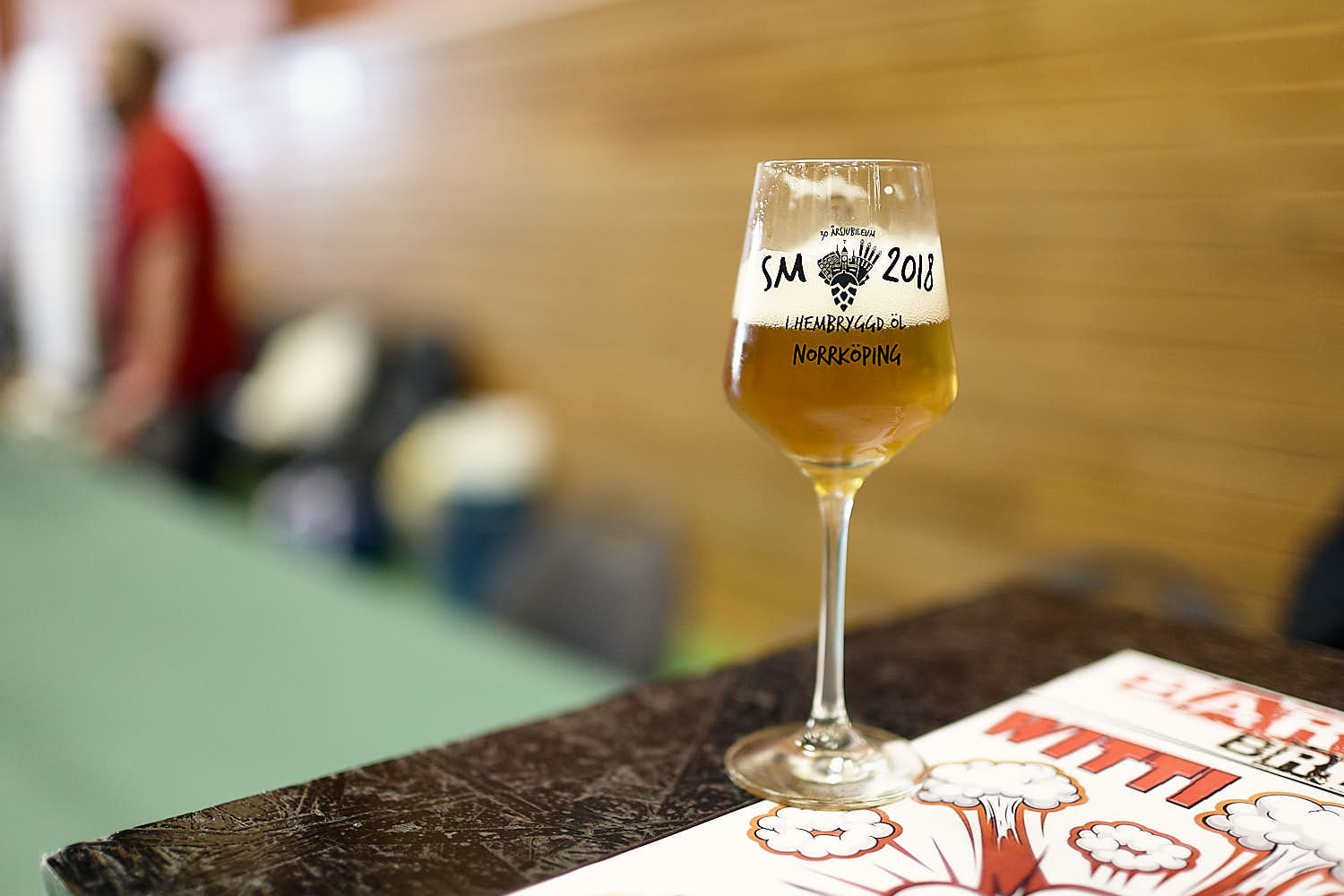 SM i hembryggd öl hålls varannat år i Stockholm och följande år ute i landet. I år var det dags för min förra hemstad Norrköping att arrangera tävlingen. Jag hade förberett två lageröl, bägge med recept från min bok, att tävla med i folkets val, "Pils", en tysk pilsner, och "Hops", en modern ljus lager. Bägge ölen bryggdes med lågsyremetoden "LoDO" eller "LOB" och från jästpitch och framåt såg de aldrig mer än 9°C (0°C-lagring). Eftersom jag inte ville ta med mig hela min kegerator, eller jag ville med det är för mycket slit med släpkärra osv, har jag byggt en tappkranshållare kraftigt inspirerad av Mathias Brorsons serveringsbock. Mina corneliusfat hålls svala med liggunderlagsisolering med några kylklampar nedstuckna längs sidan. En enkel men smidig lösning som känns betydligt mer elegant än att servera ur picnic-kranar vilket passar bättre till mindre ölträffar, SM är ju SM trots allt. Tillsammans med Jonas körde vi ner skapligt tidigt till Norrköping och jag hann mer eller mindre precis få ihop mitt lilla bås och äta en wurre innan dörrarna öppnades och folket strömmade in. Från öppningen vid 12 och fem timmar framåt var det mer eller mindre konstant kö med besökare som ville pröva mina öl. Jag kan inte säga om det var min grymma outfit (lederhosen och knästrumpor) eller mina öl som drog den stora uppmärksamheten men mängden törstiga gjorde att jag inte kunde lämna min post för att prova andra bryggaren öl mer än i några minuter. Oavsett vad jag gjorde rätt så gav det utdelning i slutändan. Min tyska pilsner tog hem guldmedaljen för bästa lager med 215 poäng och min välhumlade lager tog silvermedaljen i samma kategori med 133 poäng. Jag hade även med mig några flaskor sydtysk veteöl utom tävlan för de fans av veteöl som följer bloggen och ville prova. Två av Sveriges absolut bästa öldomare, Jan-Erik "Janko" och Magnus Bark gav väldigt gott omdöme för alla tre ölen vilket såklart gjorde mig oerhört glad. Jag tar det här som ett bevis på att allt mitt slit med bryggmetoden och recept äntligen börjar ge resultat, vilket jag förvisso märkt på kvalitén på mina öl under en tid men inte fått bekräftat såhär tydligt.
Jag vill rikta ett stort tack till alla ni som gillade mina öl och röstade på mig och slutligen vill jag ge en stor applåd till arrangörerna NHBF och SHBF för ett mycket välgjort SM. Jag minns hur mycket jobb det är att arrangera från när jag hjälpte till med SM i Linköping 2014, det är mer jobb än man kan föreställa sig, bra jobbat! Härnäst tävlingsmässigt är det sommarölsträffen i augusti, vi ses där!

The Swedish Championship in homebrewed beer is held in Stockholm every other year, and in various towns in Sweden the following year. This time it was my previous hometown Norrköping that got the chance to host the competition. I had prepared two different lagers, both from my book, to compete with in the people's choice competition, "Pils", german pilsner, and "Hops", a hoppy lager just like Brooklyn Lager but with Citra/Simcoe. Both beers were brewed with the low oxygen method "LoDO" or "LOB" and they were kept under 9°C from yeast pitch and thruout (lagered at 0°C). Since I don't want to bring my kegerator with me, or I would like to but it's too much work, I have built a portable wooden tap holder inspired by my friend Mathias Brorson. The kegs are kept cool with camping mat insulation and a few icepacks in between. A simple but functional solution that feels a lot better than using picnic taps which is more suitable for smaller events, the nationals is the nationals after all. Me and Jonas took my car the quick 1 hours drive down to Norrköping and I was setup just in time to grab a lunch sausage before the doors opened and the event started. From start to finish five hours later, I had pretty much a constant line of people that wanted to try my beers! I can't say if it was my awesome outfit (lederhosen and knee sock) or my beers that drove the constant attention, but the amount of people in my stand made me not being able to walk around more that a few minutes to try other brewers beers. Whatever I did right this time really paid of in the end. My Pils got the gold medal for best lager with 215 points and my hoppy lager got the silver in the same category with 133 points! I had also brought a few bottles of weißbier that was poured outside the competition for the fans and fanatics of hefeweizen. Two of the absolute best beer judges in Sweden, Jan-Erik "Janko" and Magnus Bark, gave me very good verdict for all three beers which made me extremely happy. I take all of this as proof that all my hard work with my brewing method and recipes has finally paid of, something I have noticed in the quality of my beers for some time but not gotten proved this clearly before.
I want to shout out a big THANK YOU to all the people who liked my beers and voted for me, and finally I want to give the organisers NHBF and SHBF a round of applause for a well organised event in Norrköping! I remember all the work that goes into making an event like this run smoothly from being part of the championship in Linköping 2014, it takes a lot more work than one could imagine, well done! Next up is the Summer beer meet up (Sommarölsträffen) in august, see you there!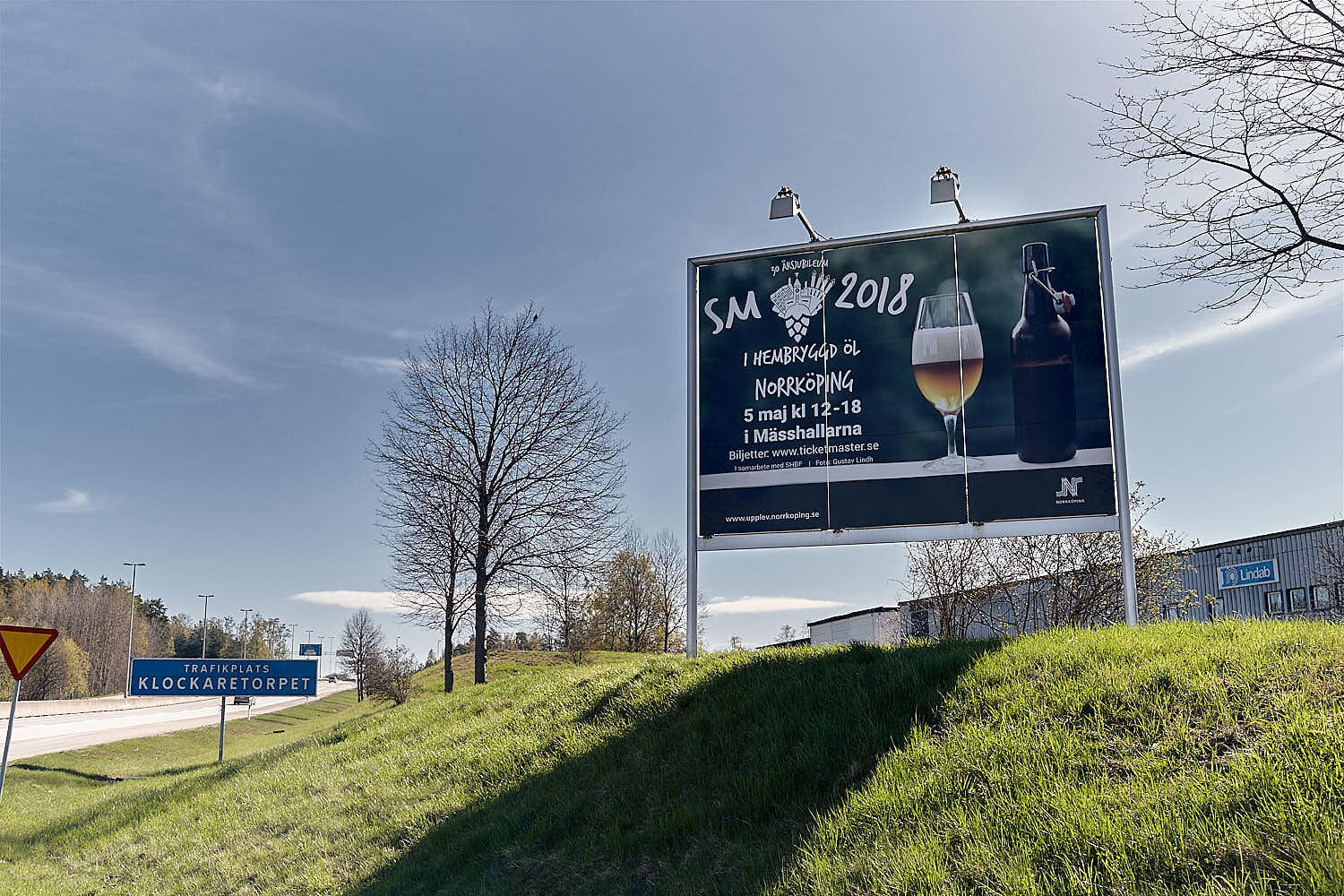 NHBF har fått en av mina bilder att använda i marknadsföringssyfte. //The event had one of my photos as the background for the billboard.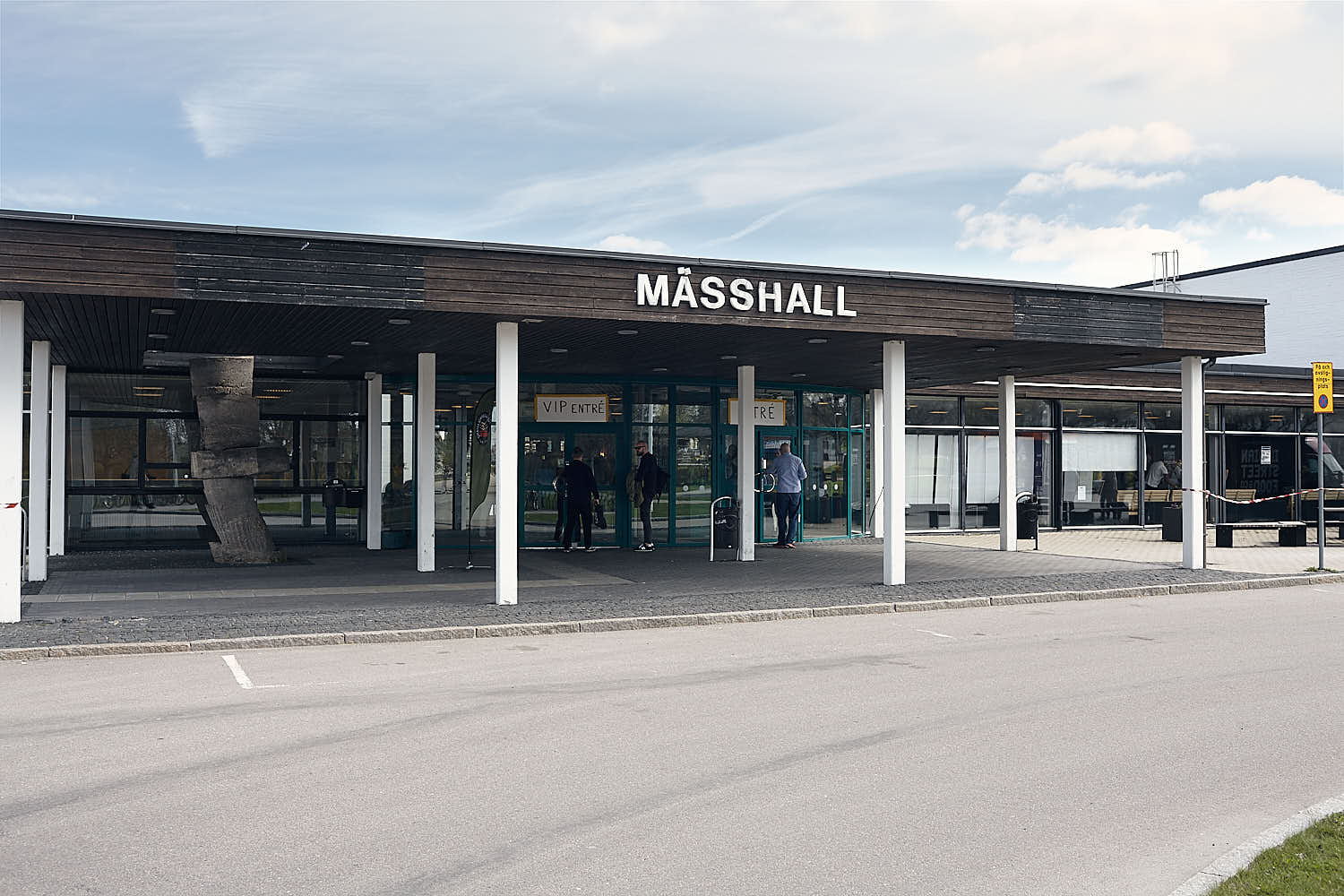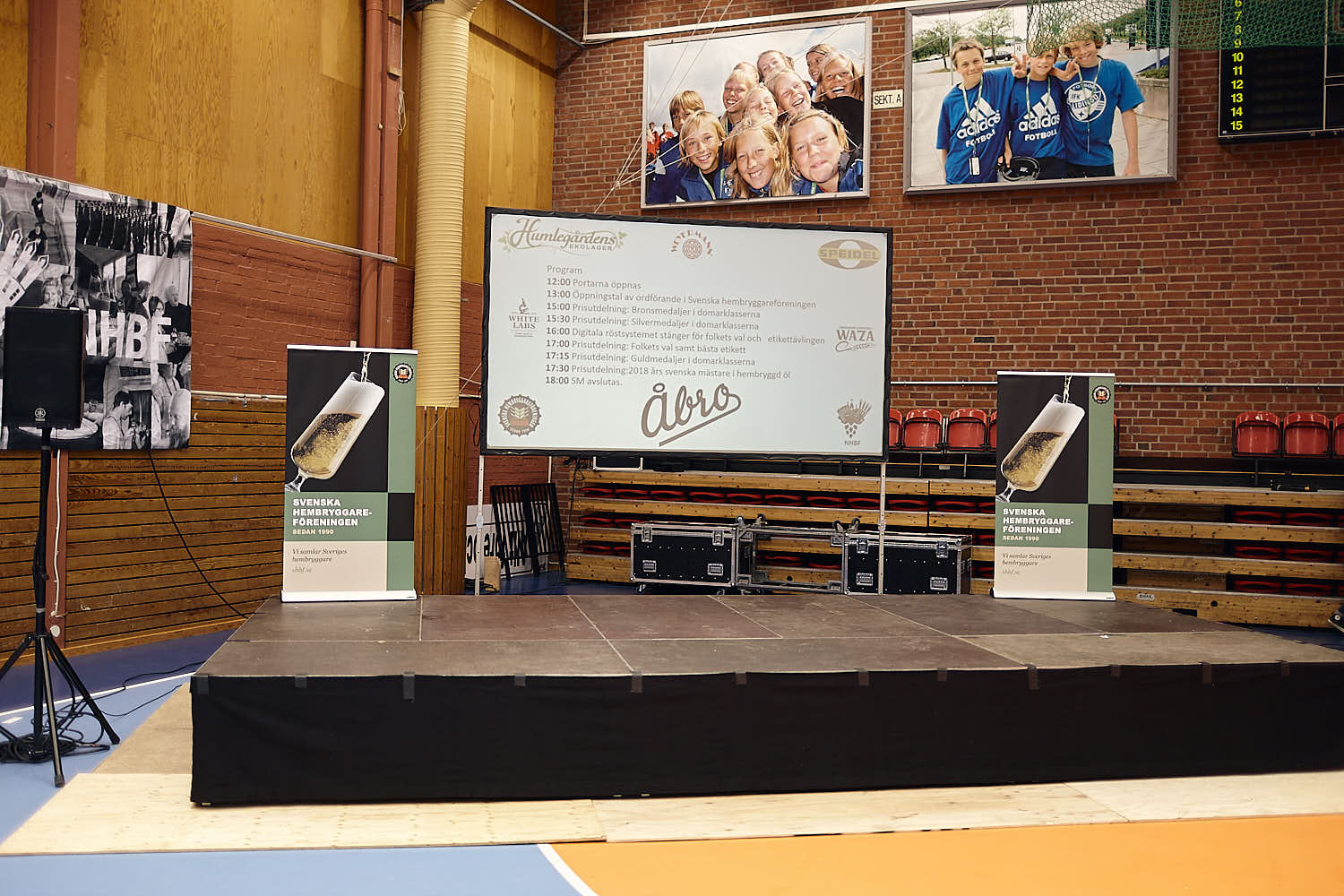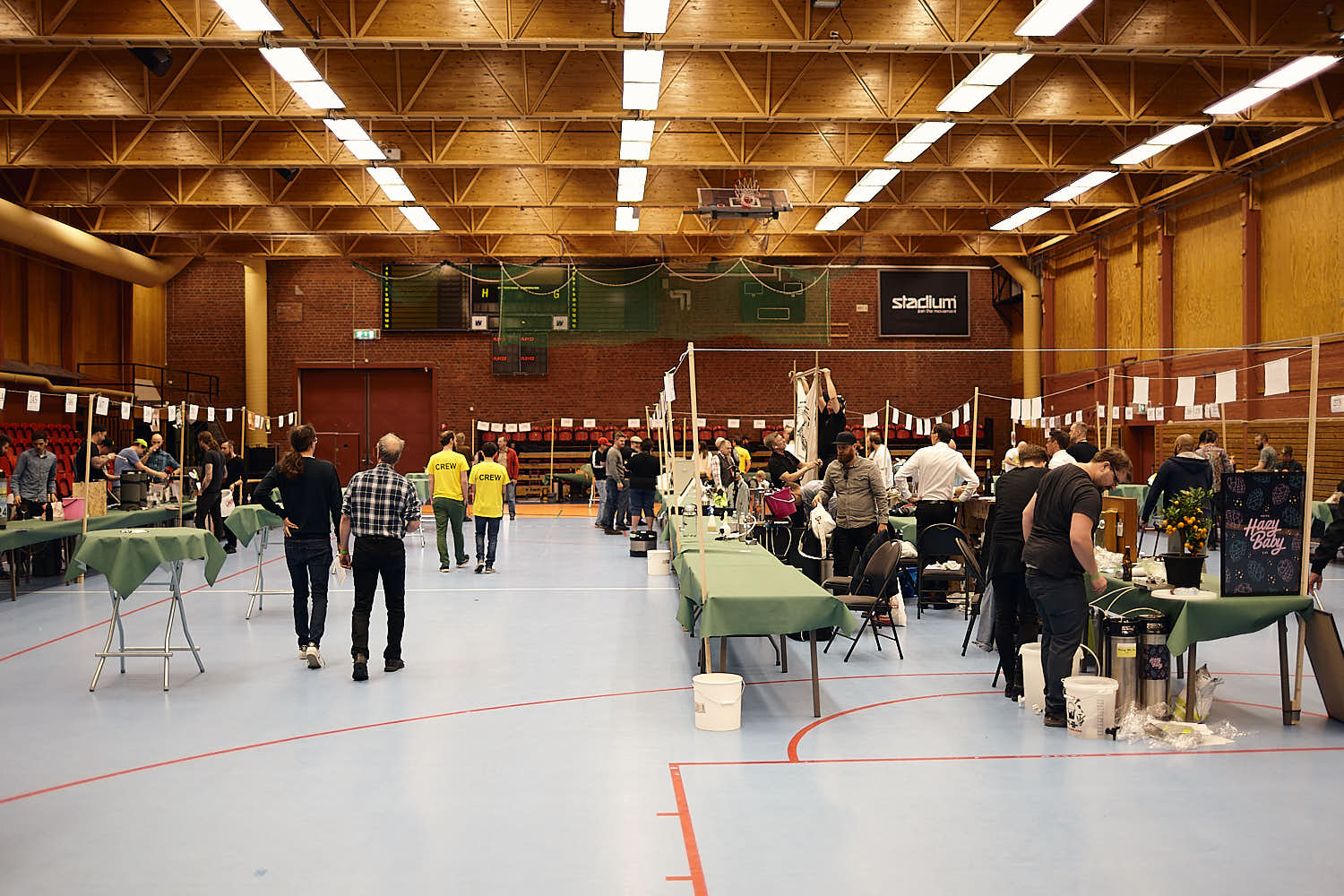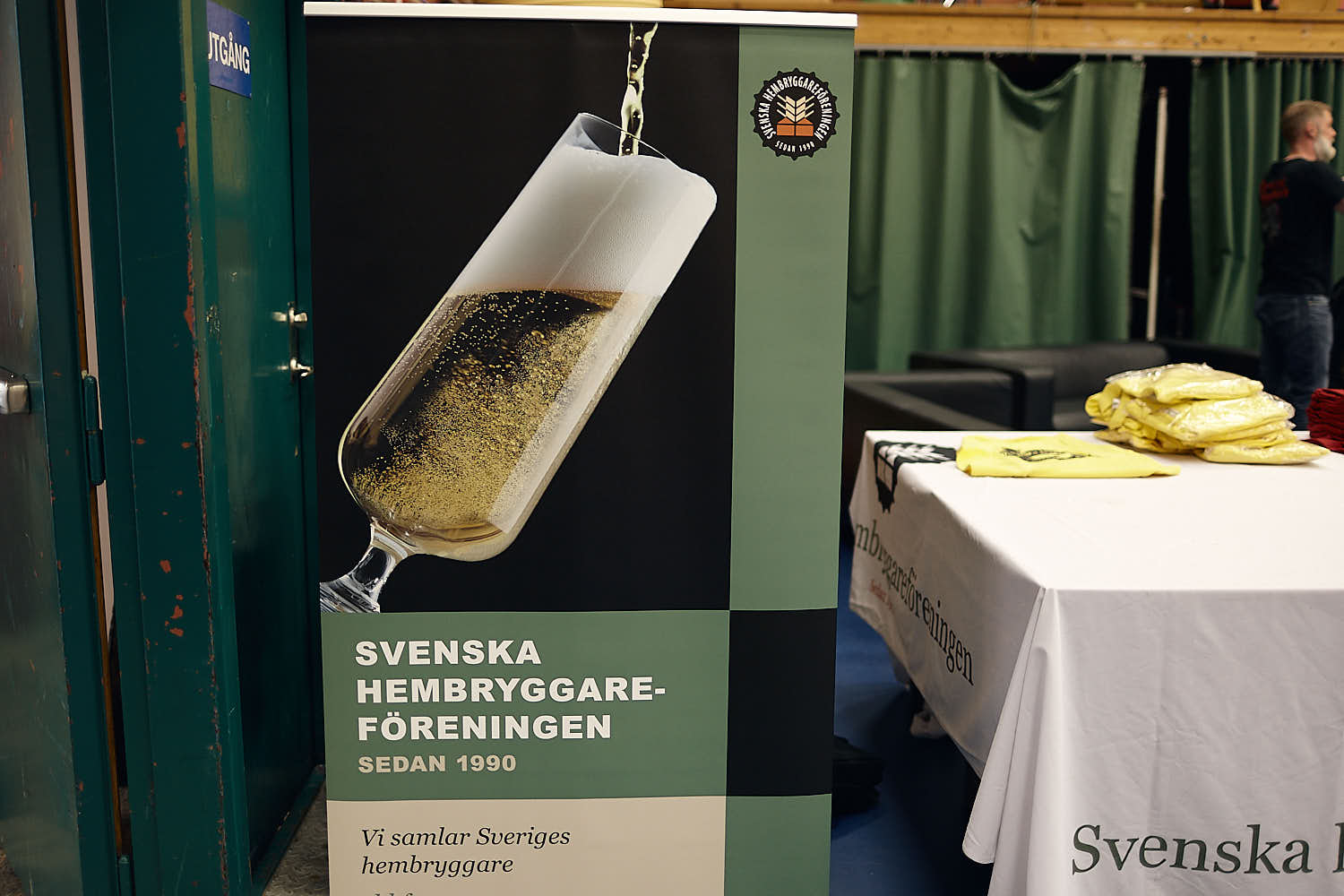 SHBF har också en av mina bilder till rollup:er och liknande. //The national homebrew organization SHBF also have one of my photos for marketing purposes.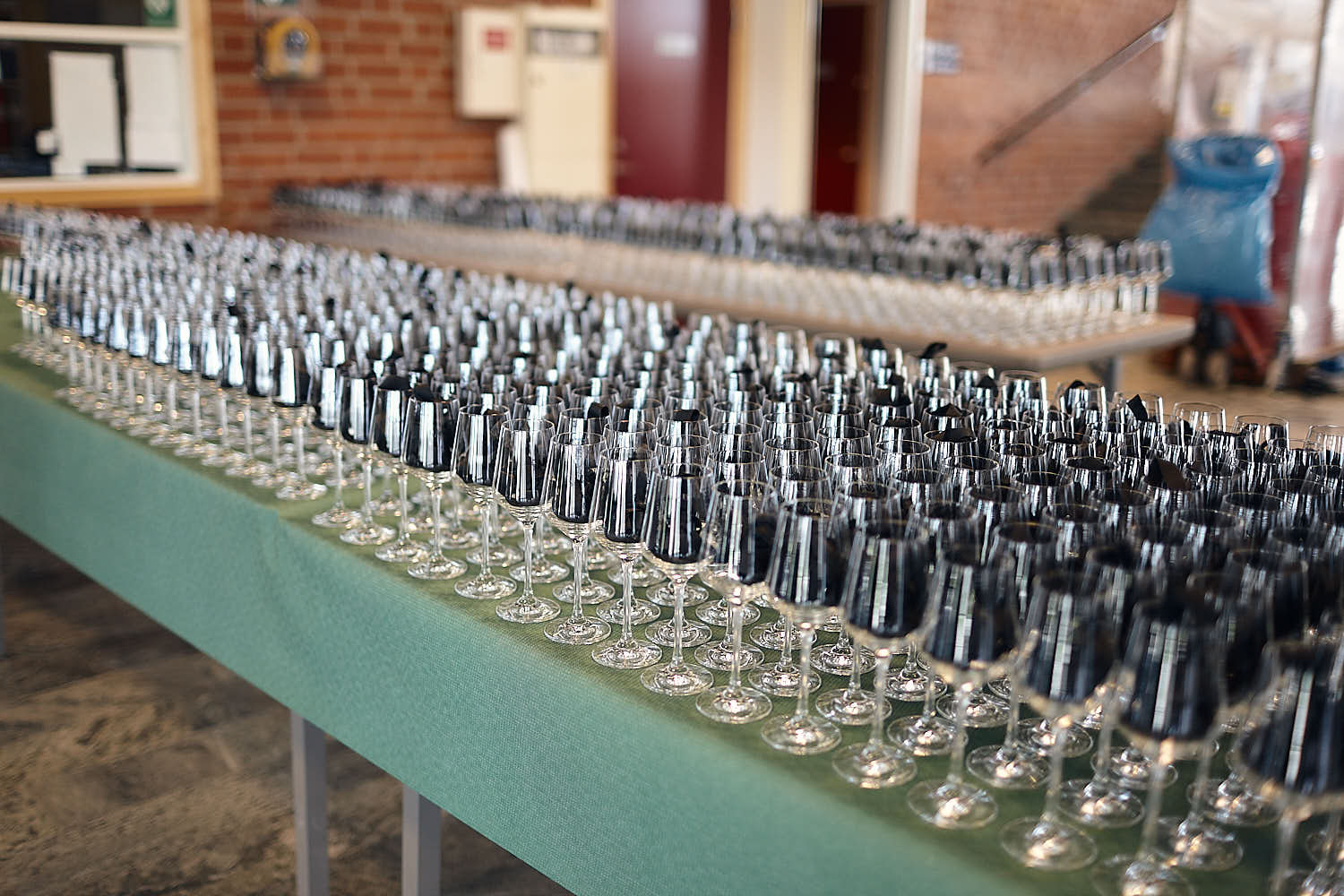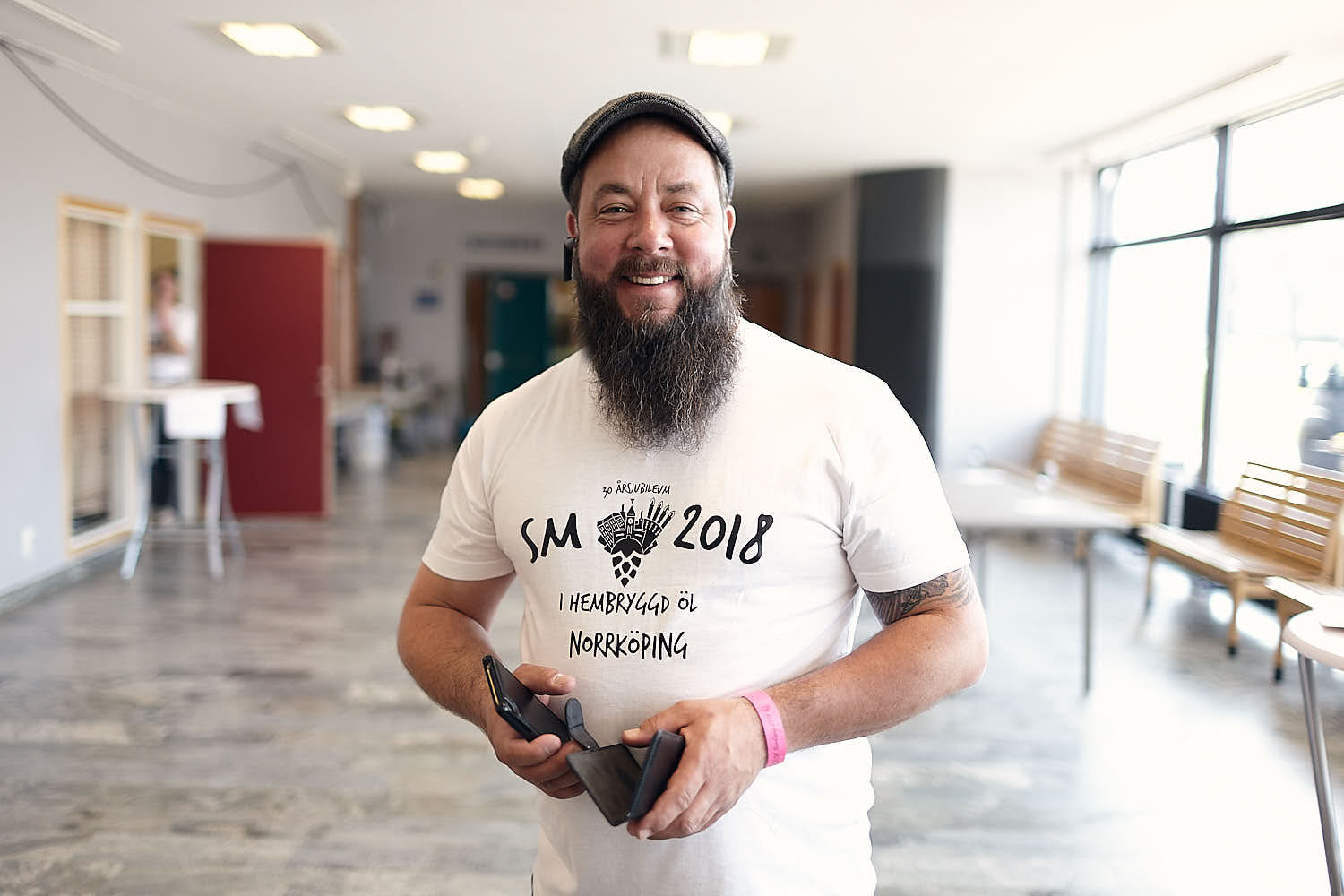 Niclas, en av arrangörerna. //Niclas, one of the organizers.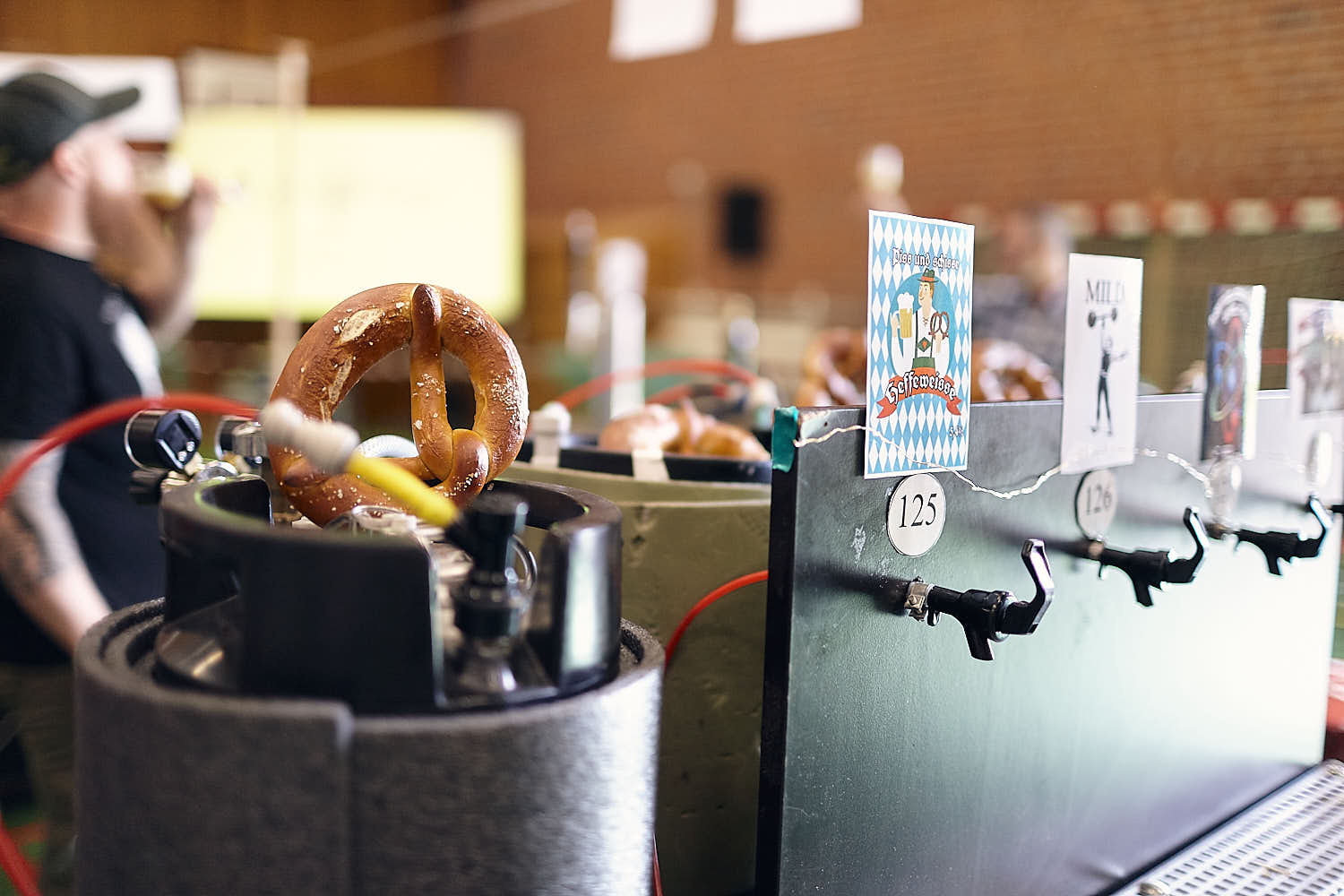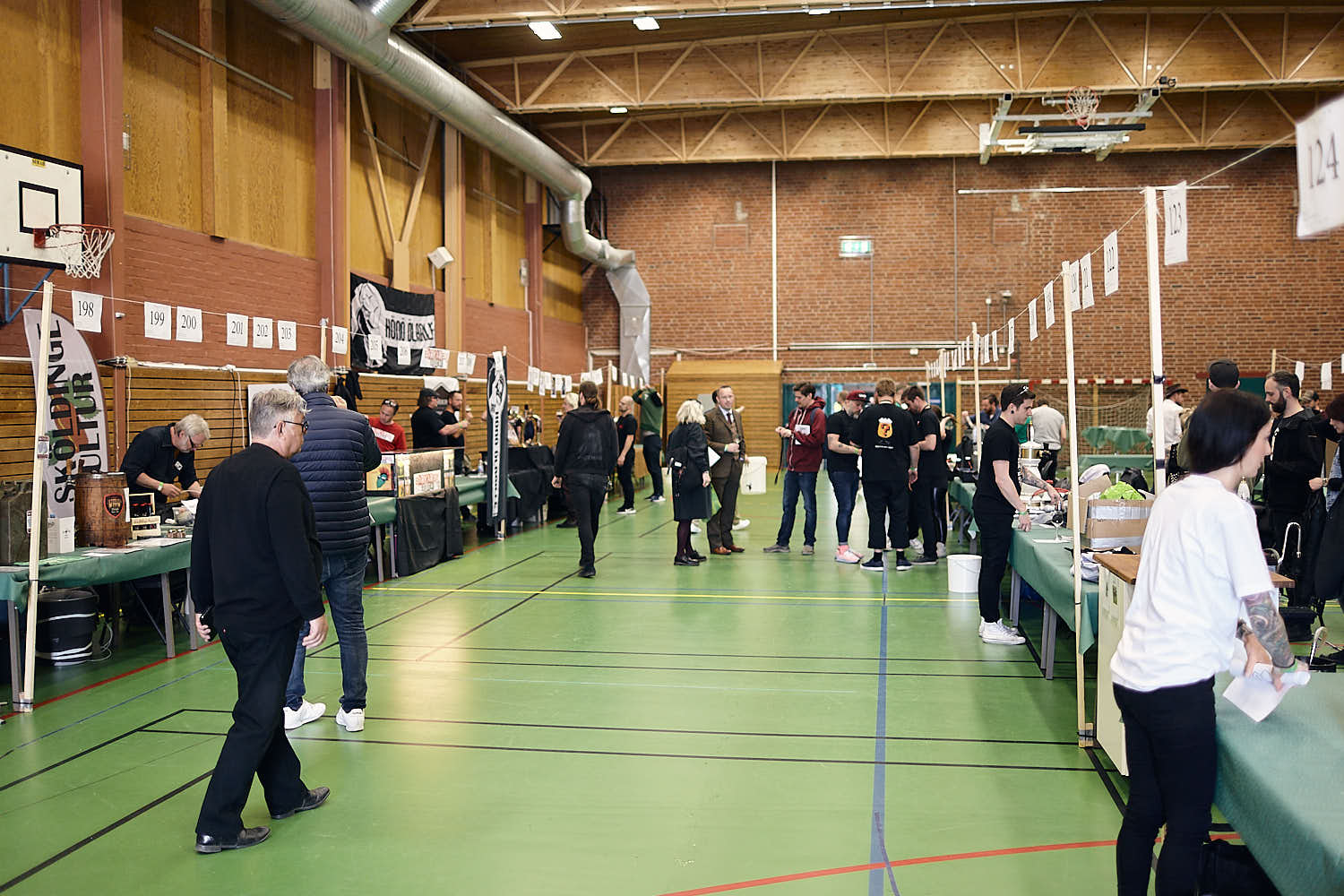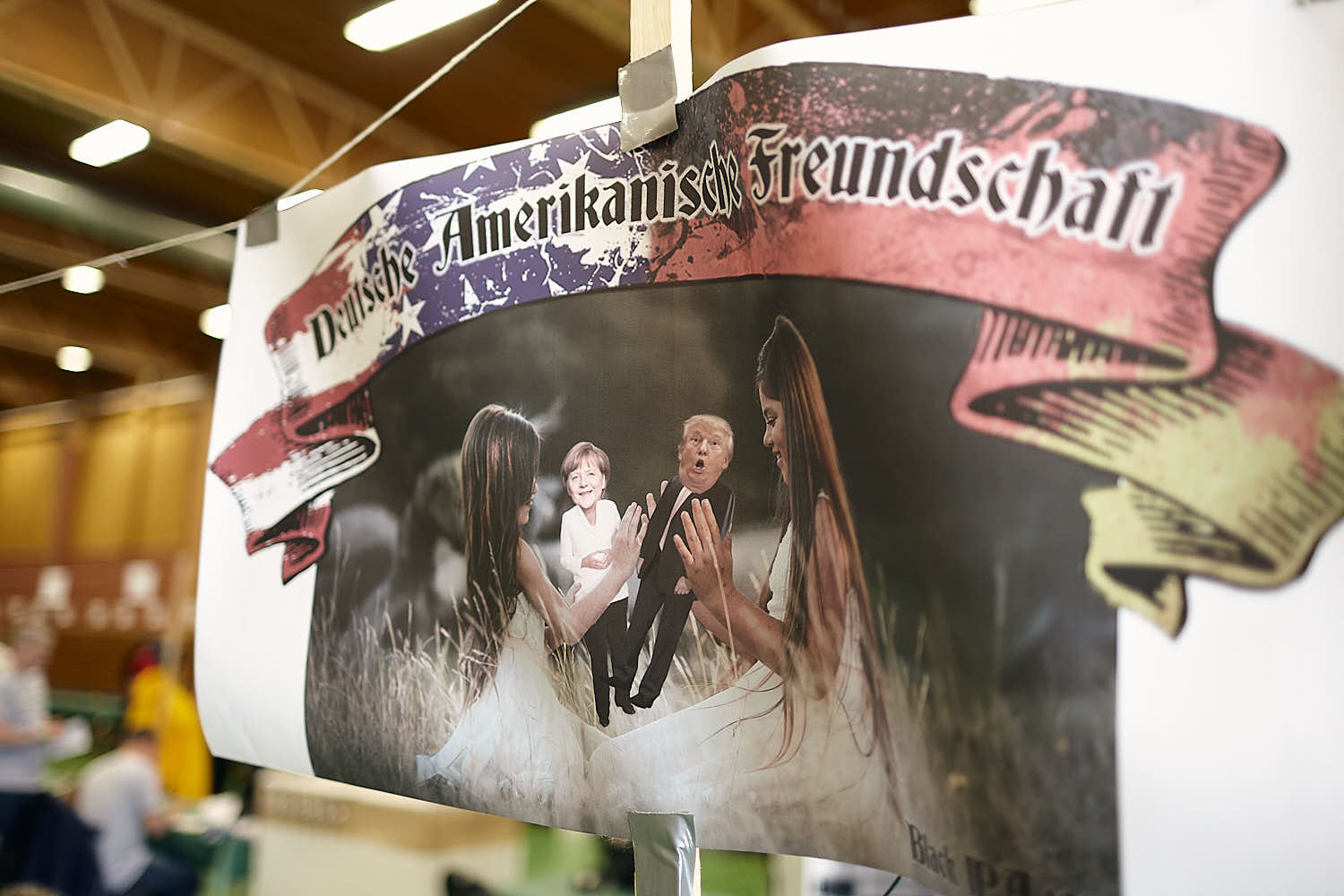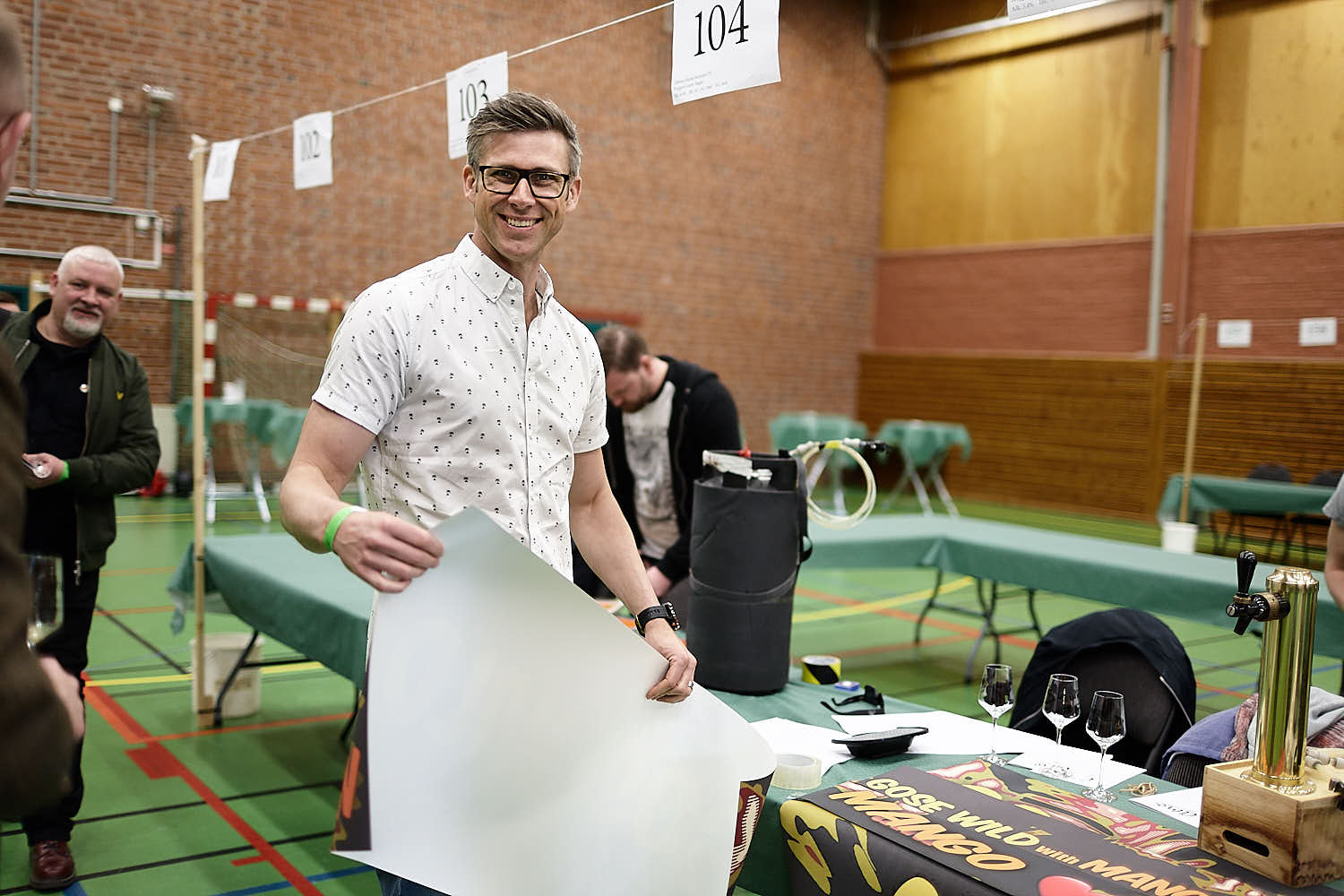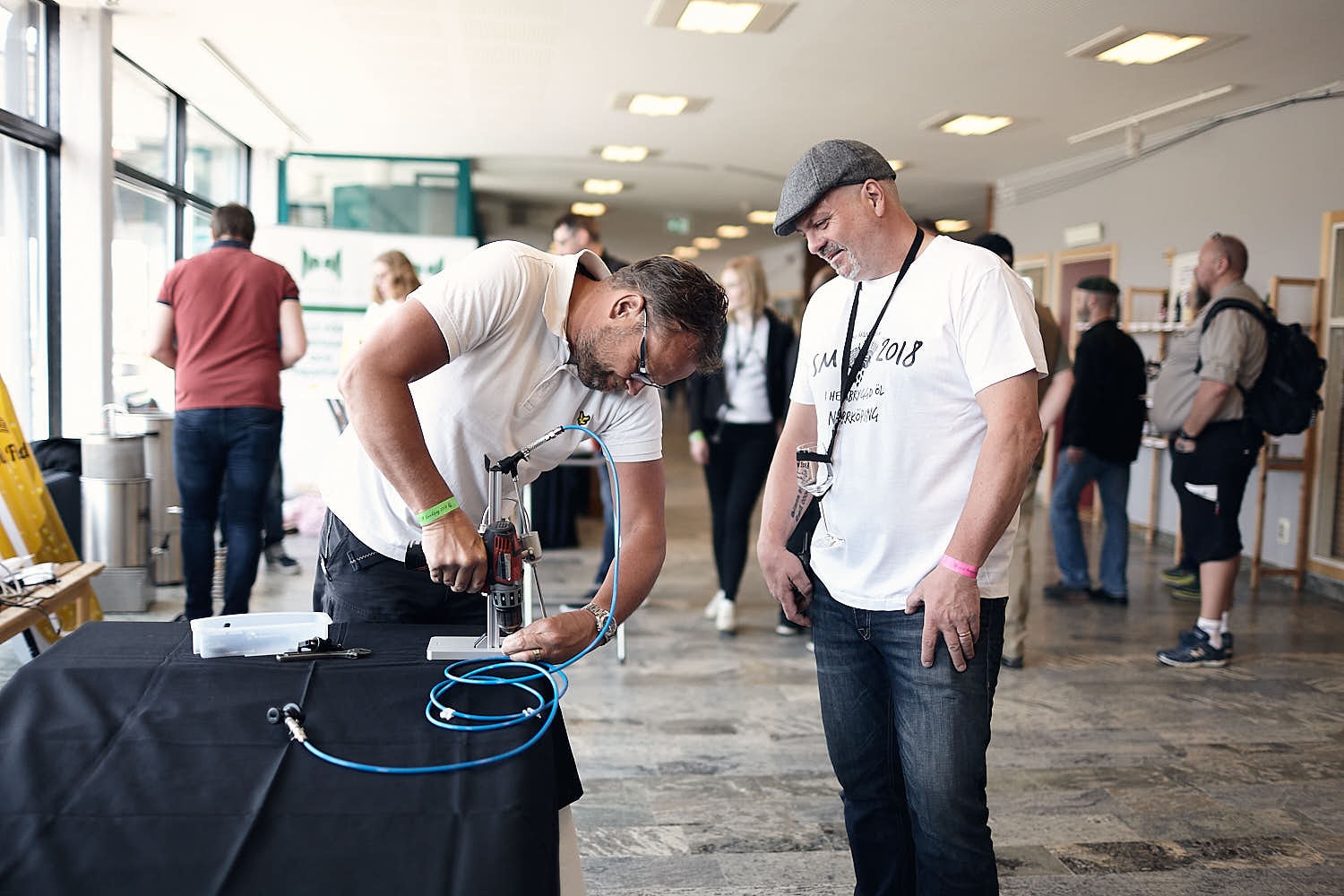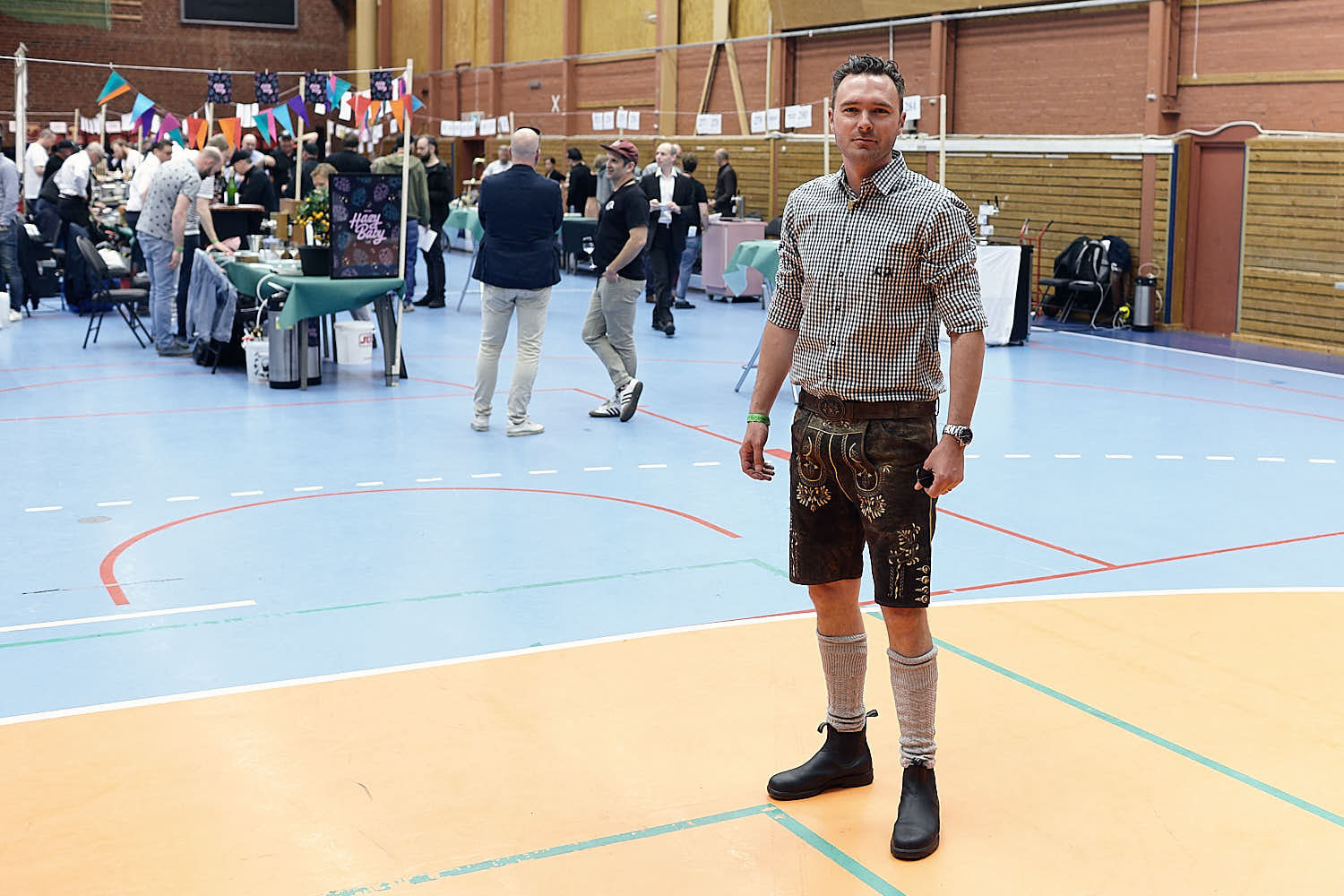 Här står jag redo i mina lederhosen. Utklädd eller inte var det någon som undrade, ni får fortsätta undra! //Here I am ready for the event in my lederhosen. Costume or not?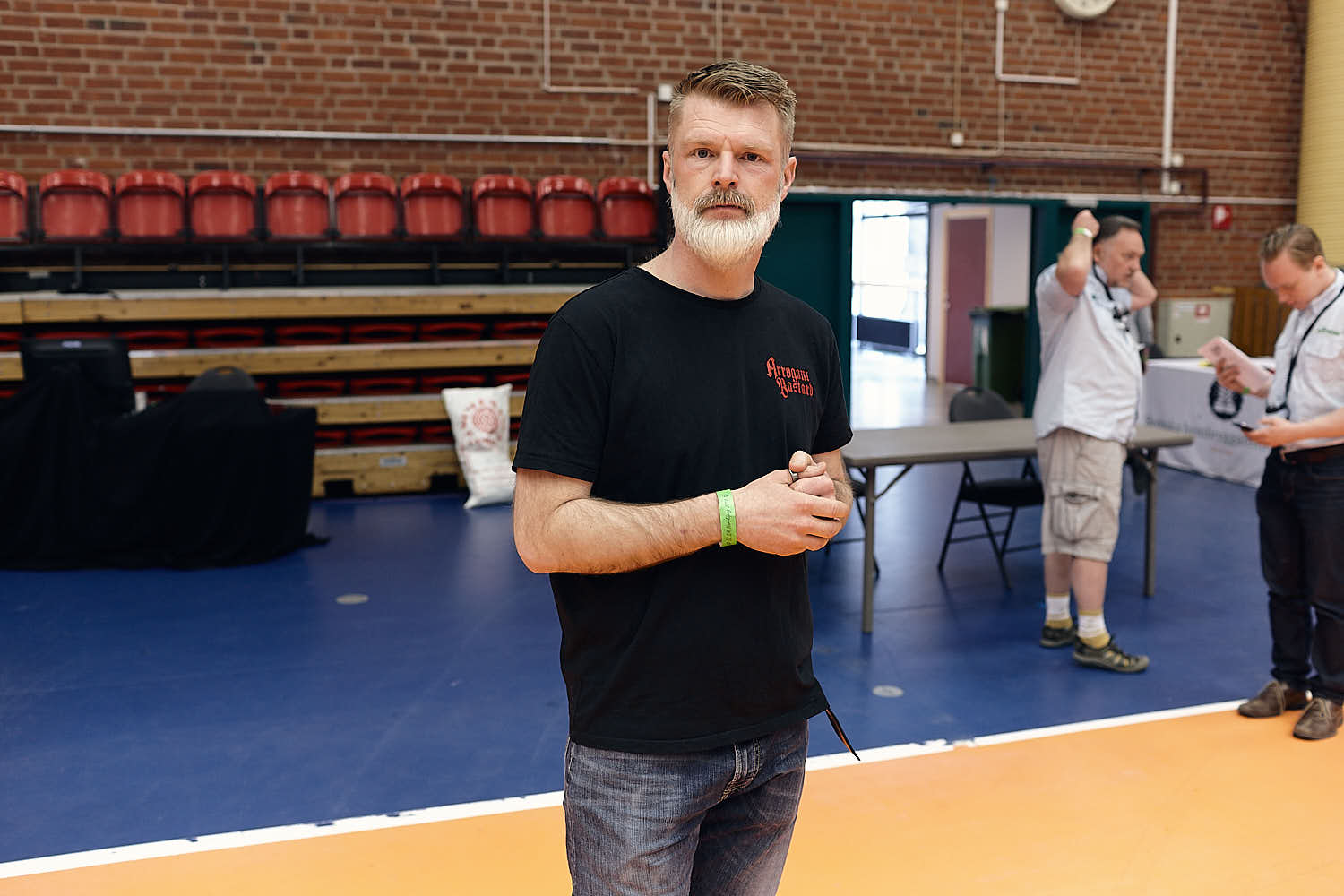 Jonas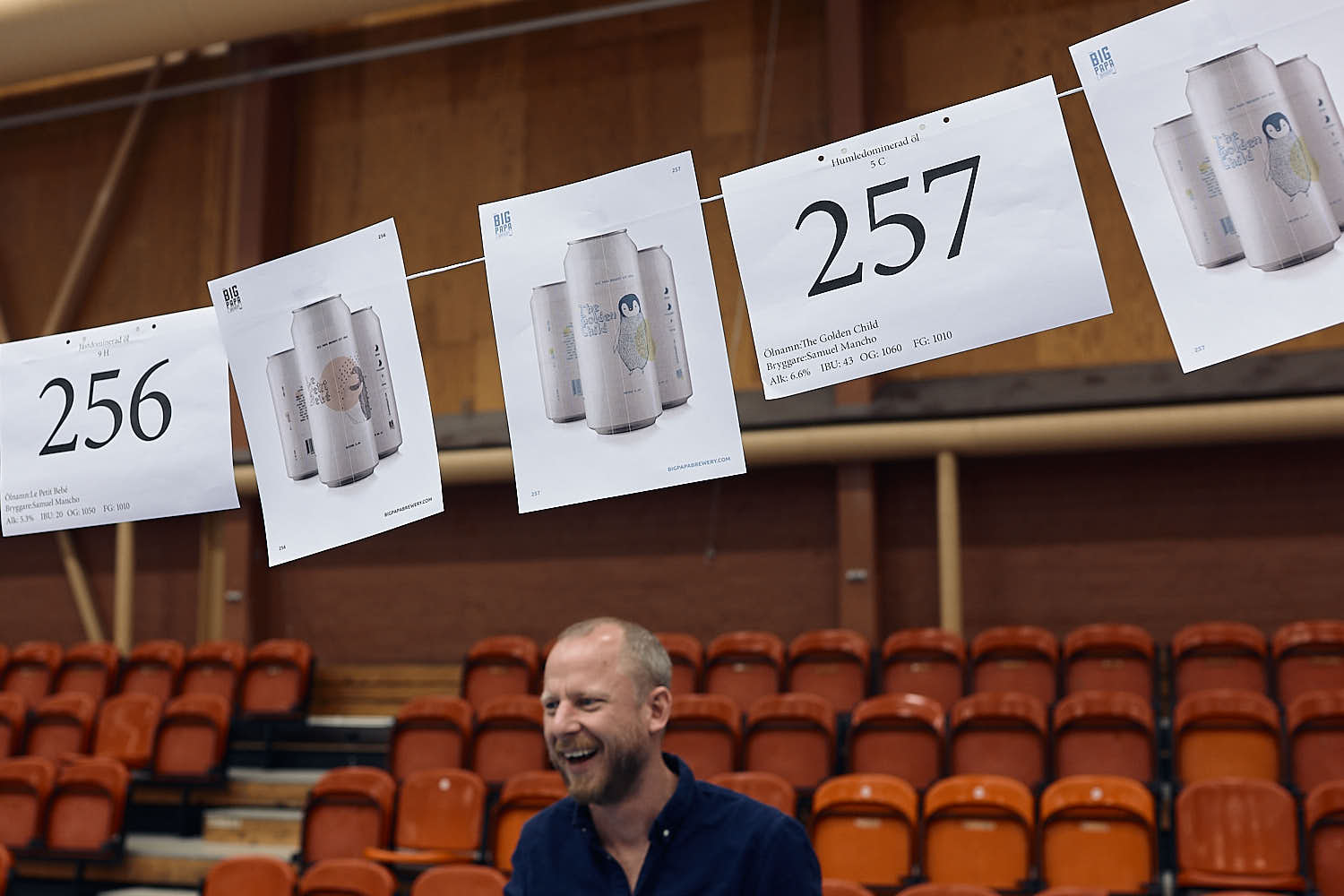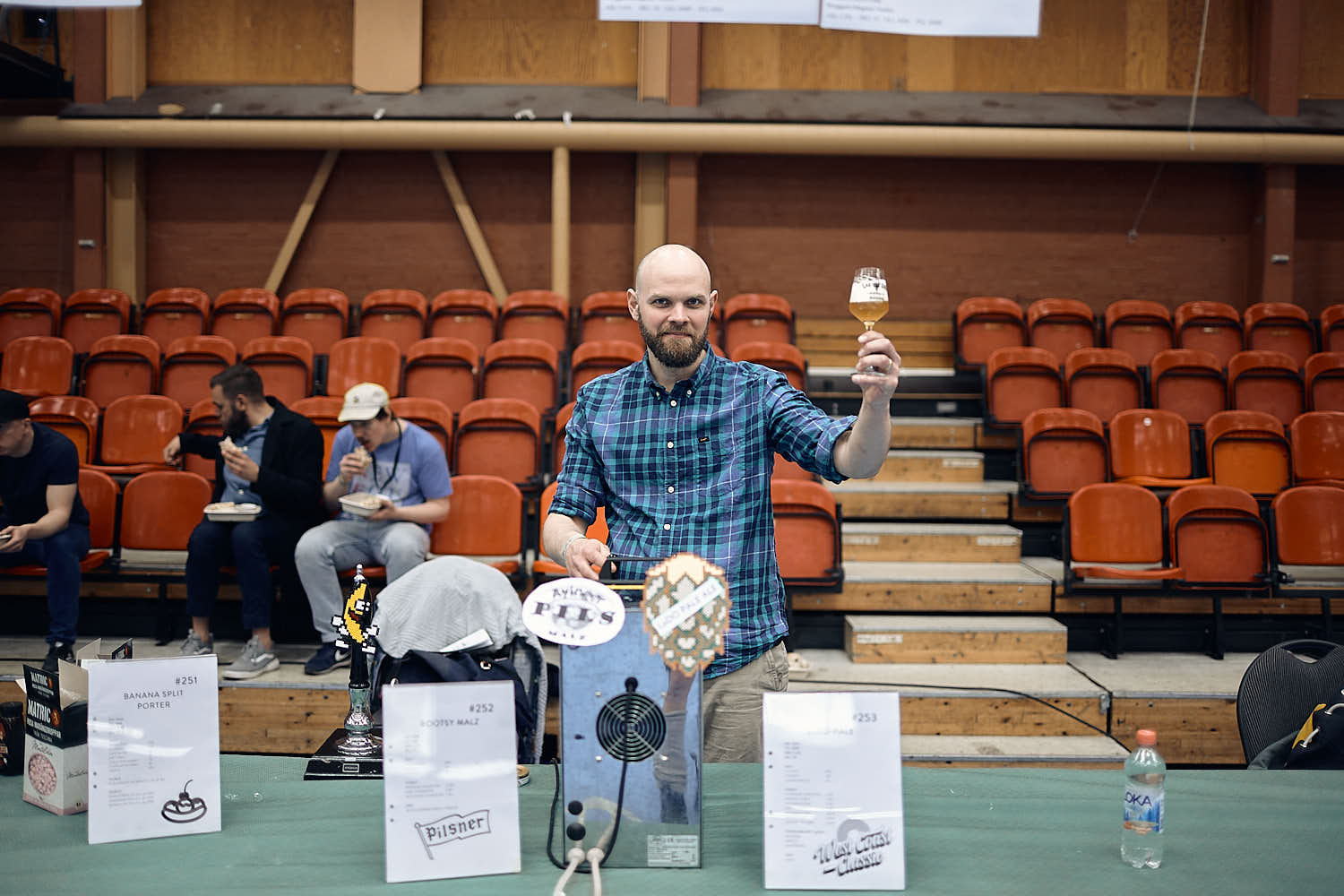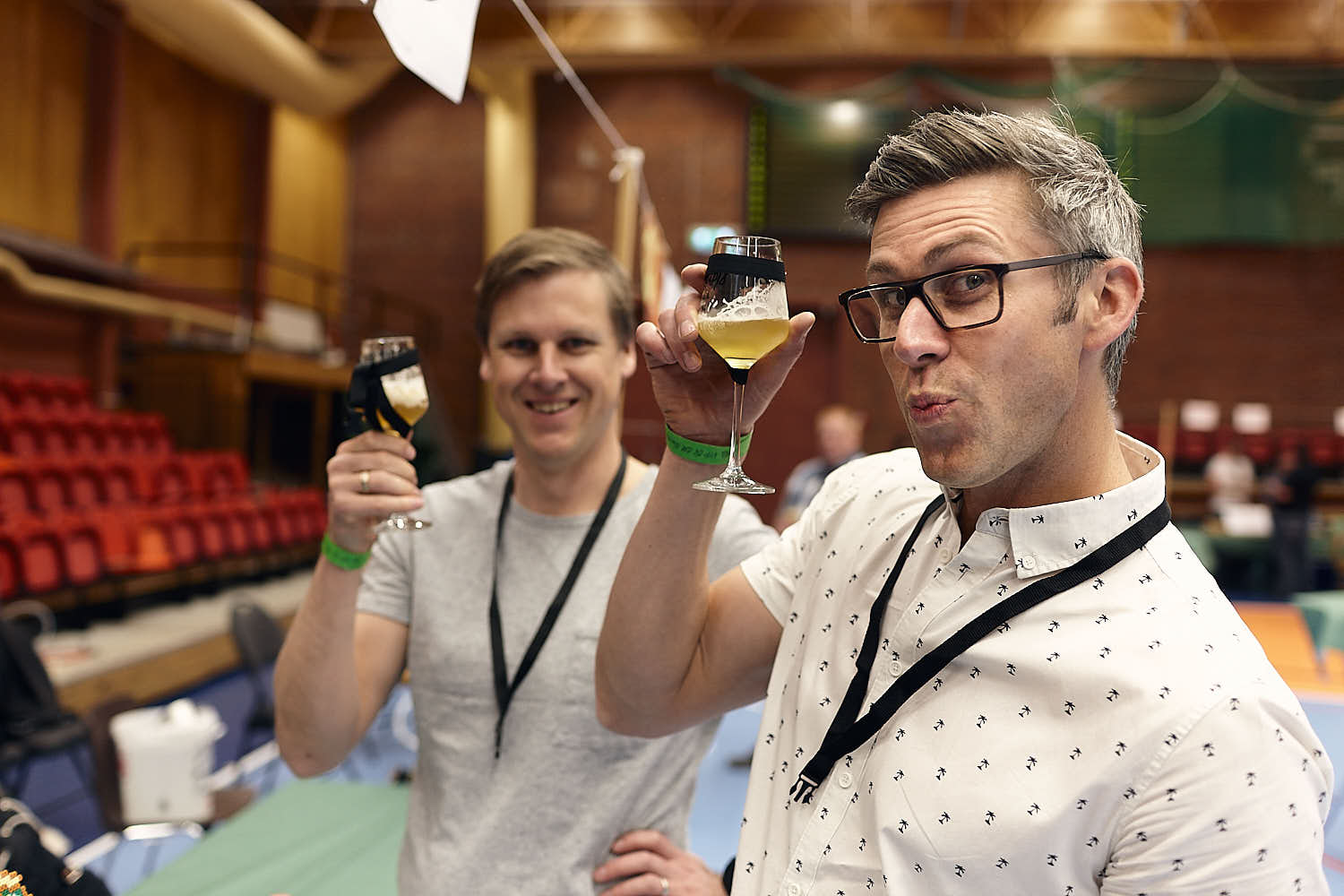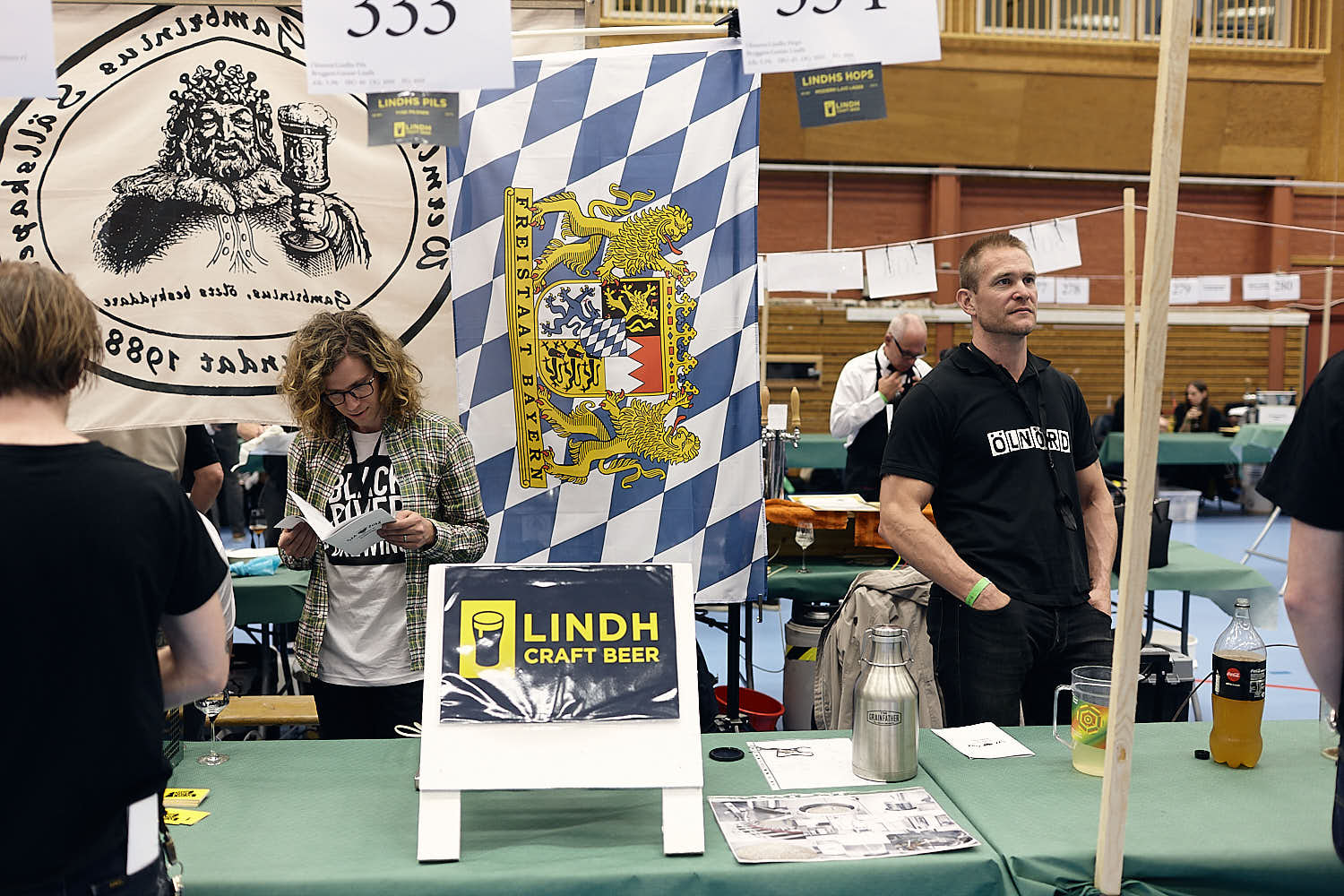 Mitt lilla bås. //My little stand.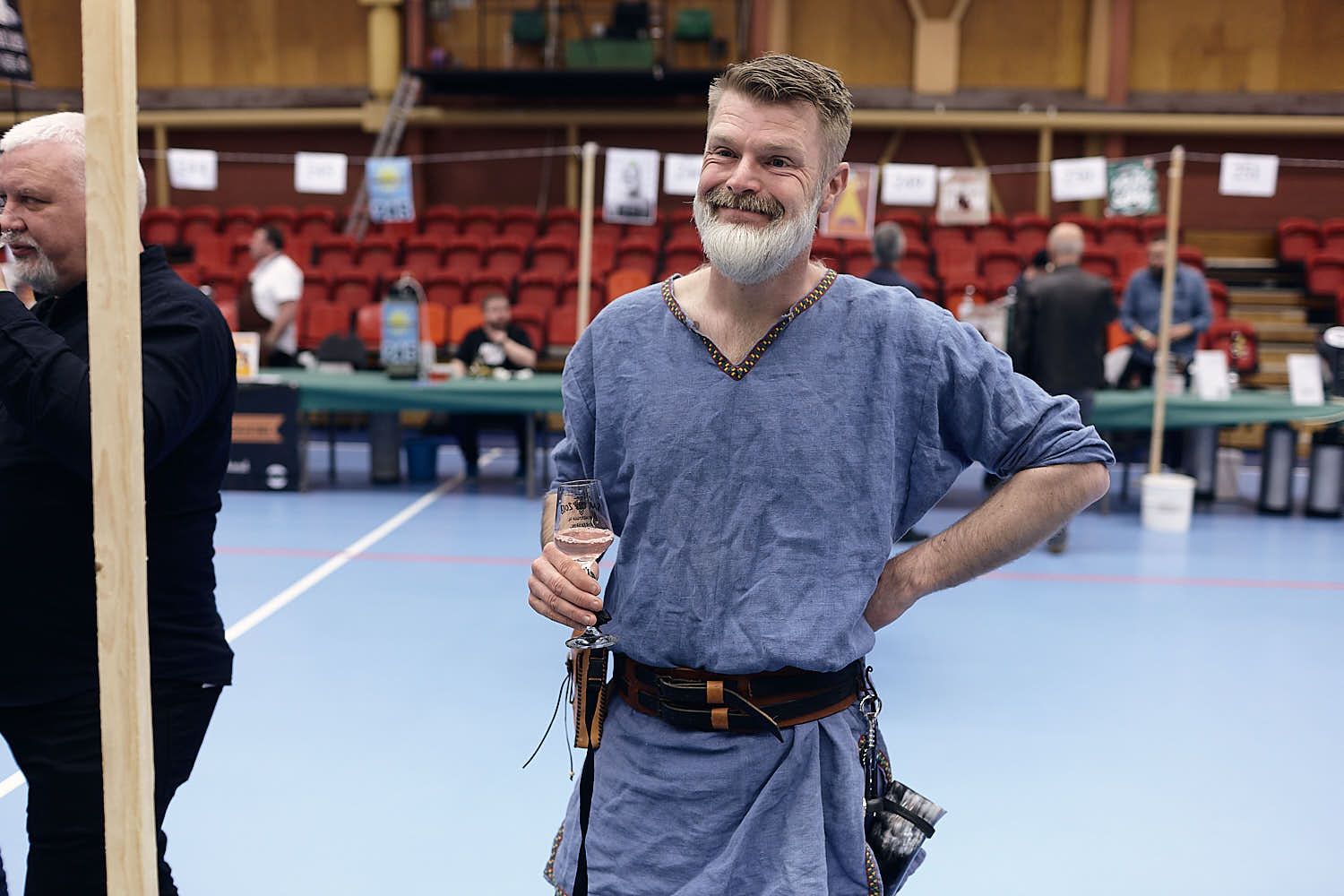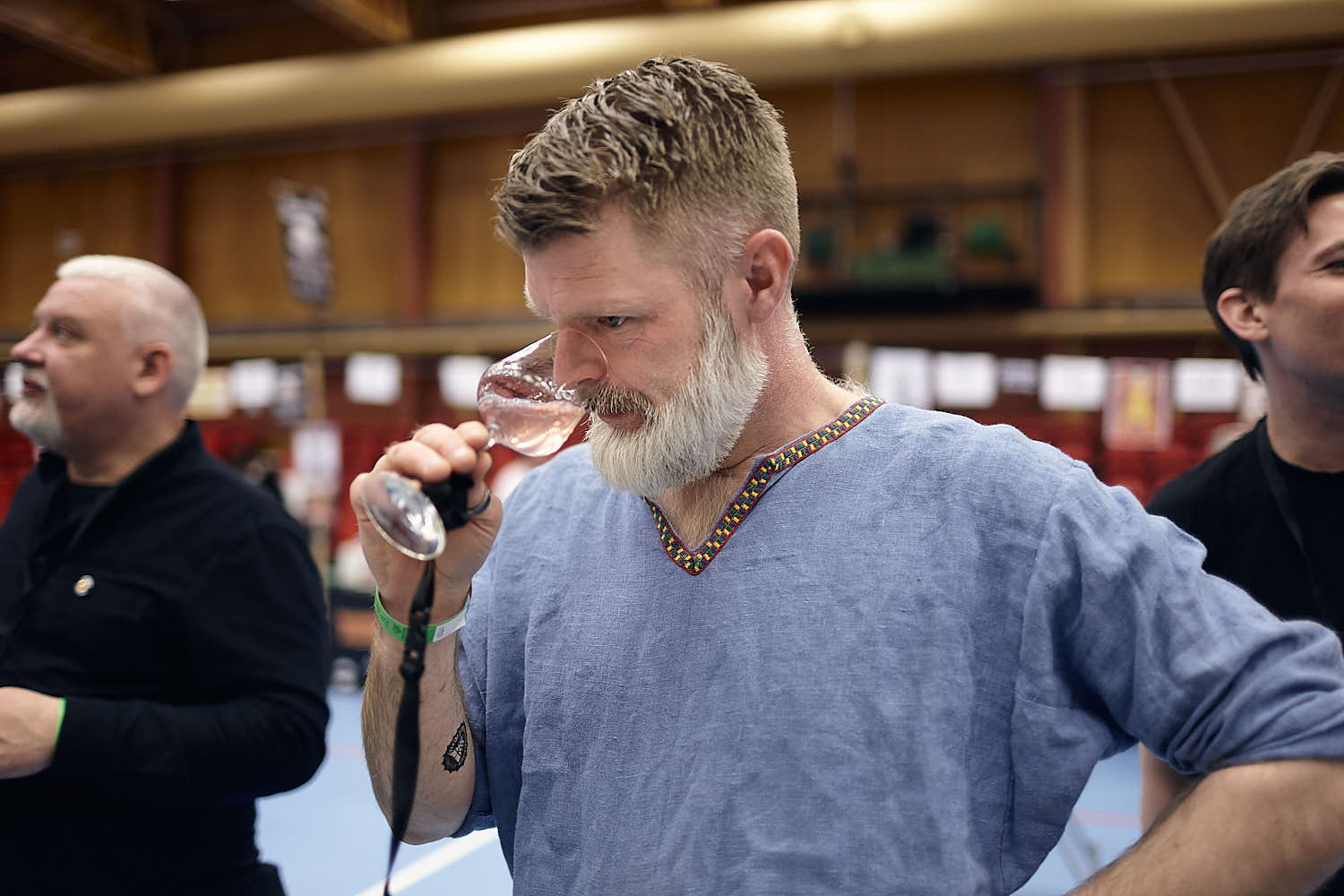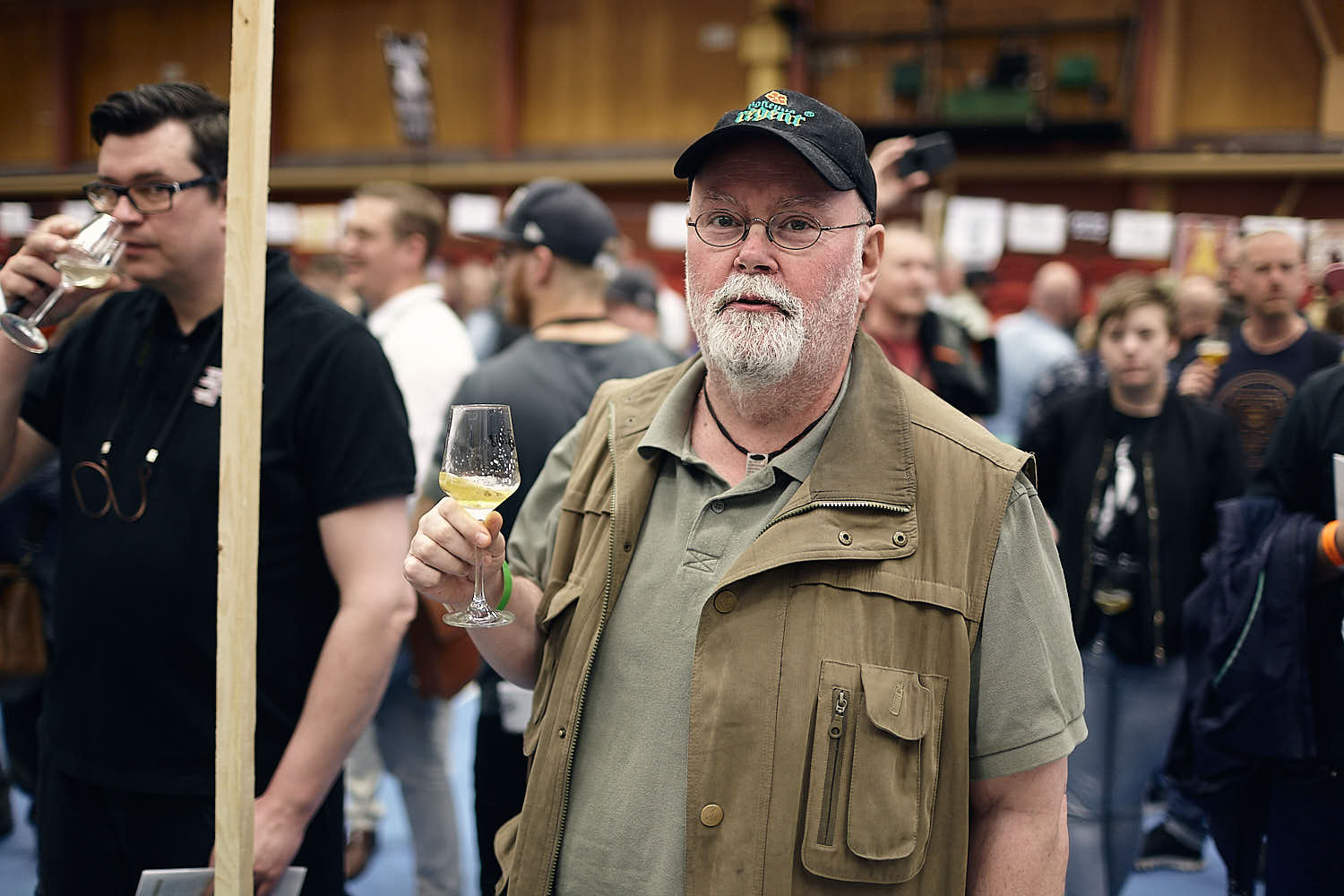 Janko provsmakar min pils. //Janko tastes my pils.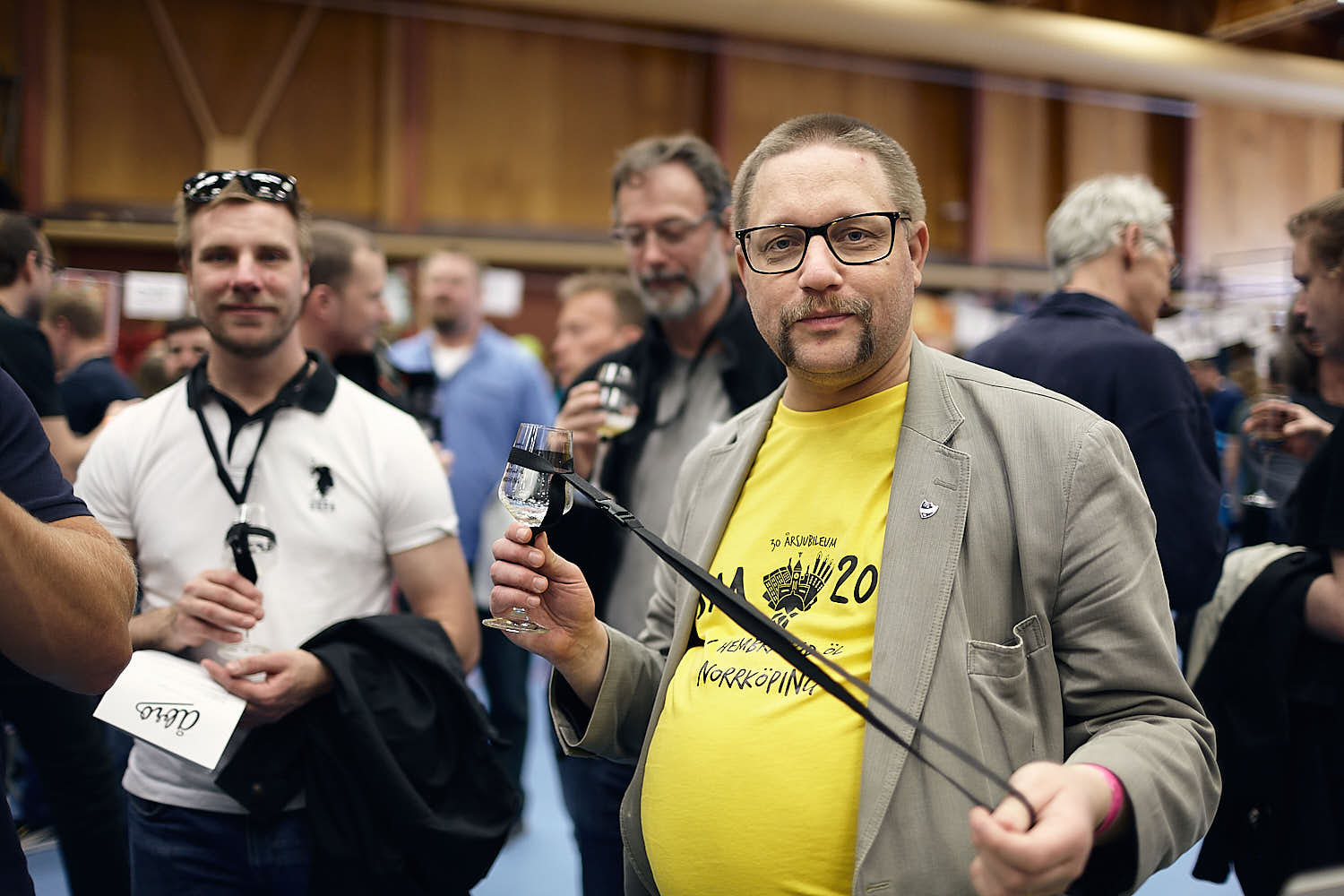 Magnus Barks provsmakar mina öl. //Magnus Bark tastes my beers.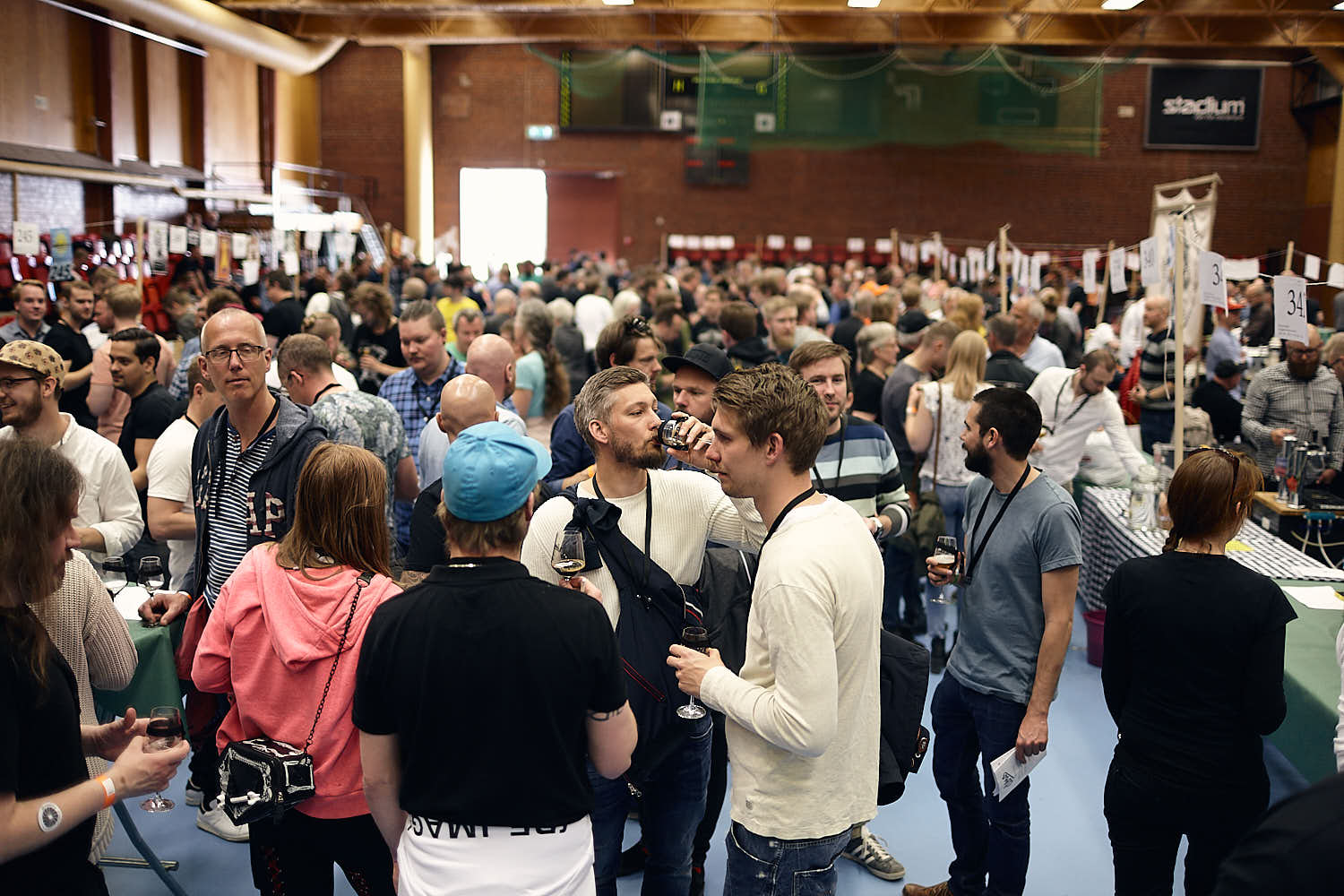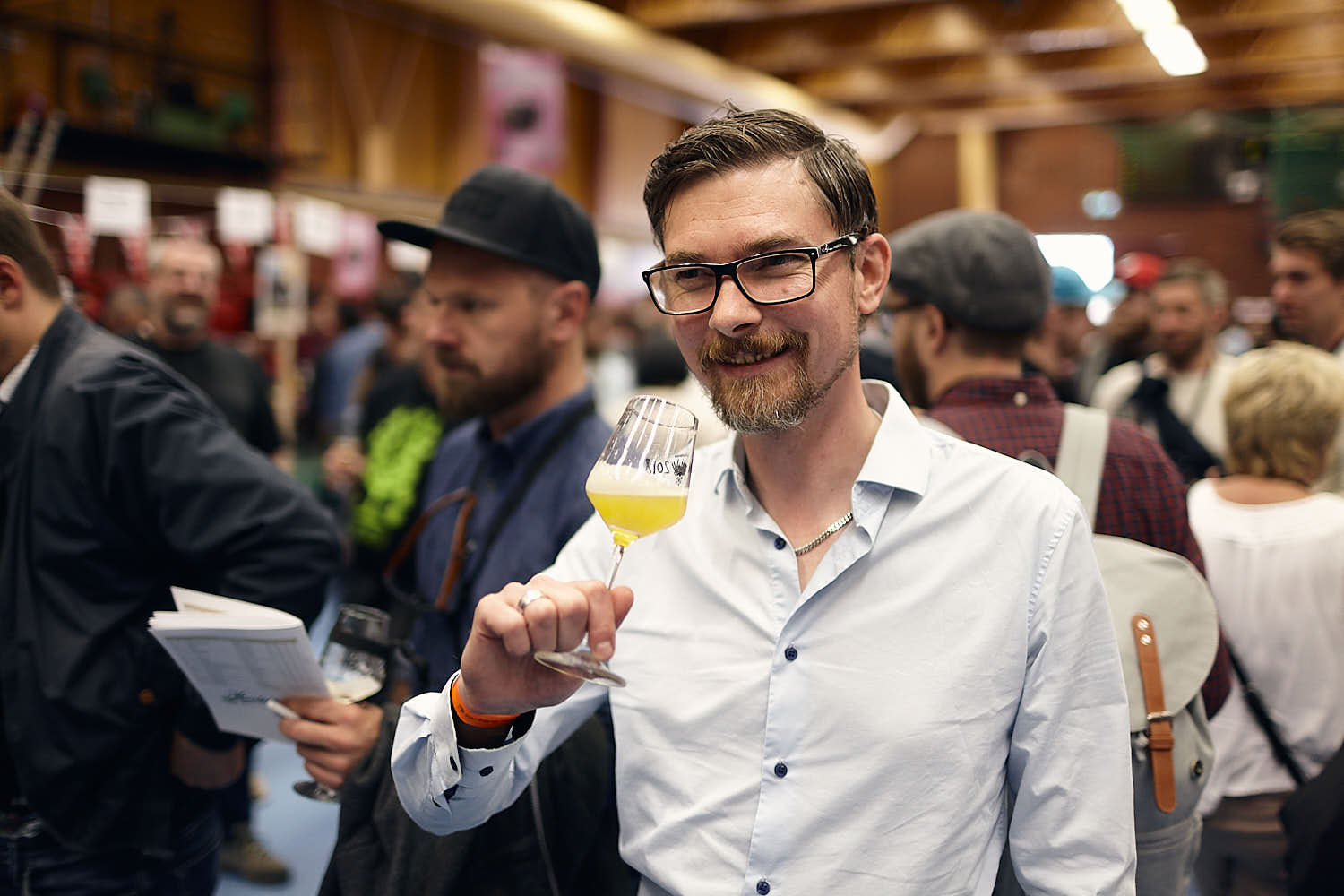 Min gamle vän Emanuel kom förbi såklart. //My old friend Emanuel came by of course.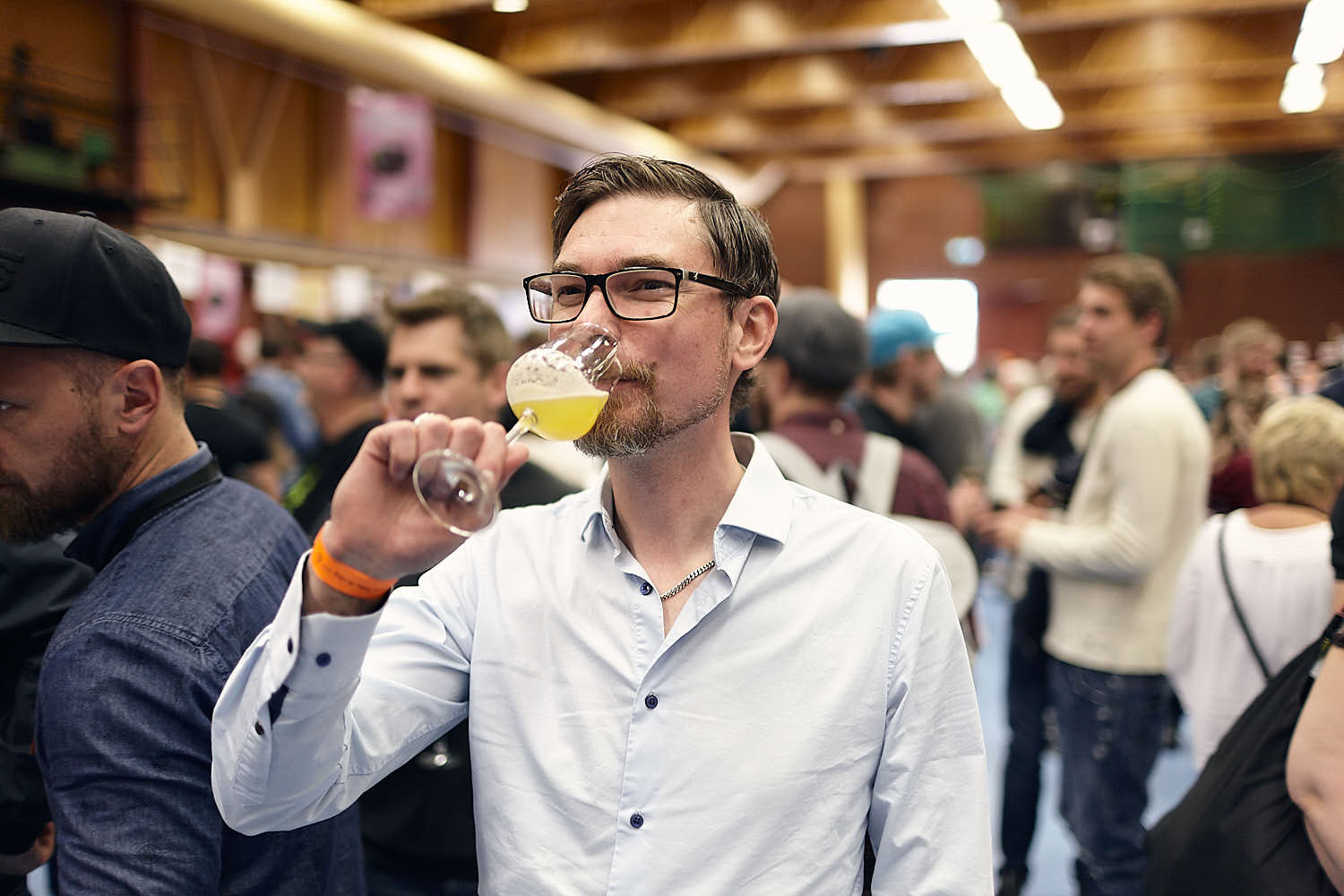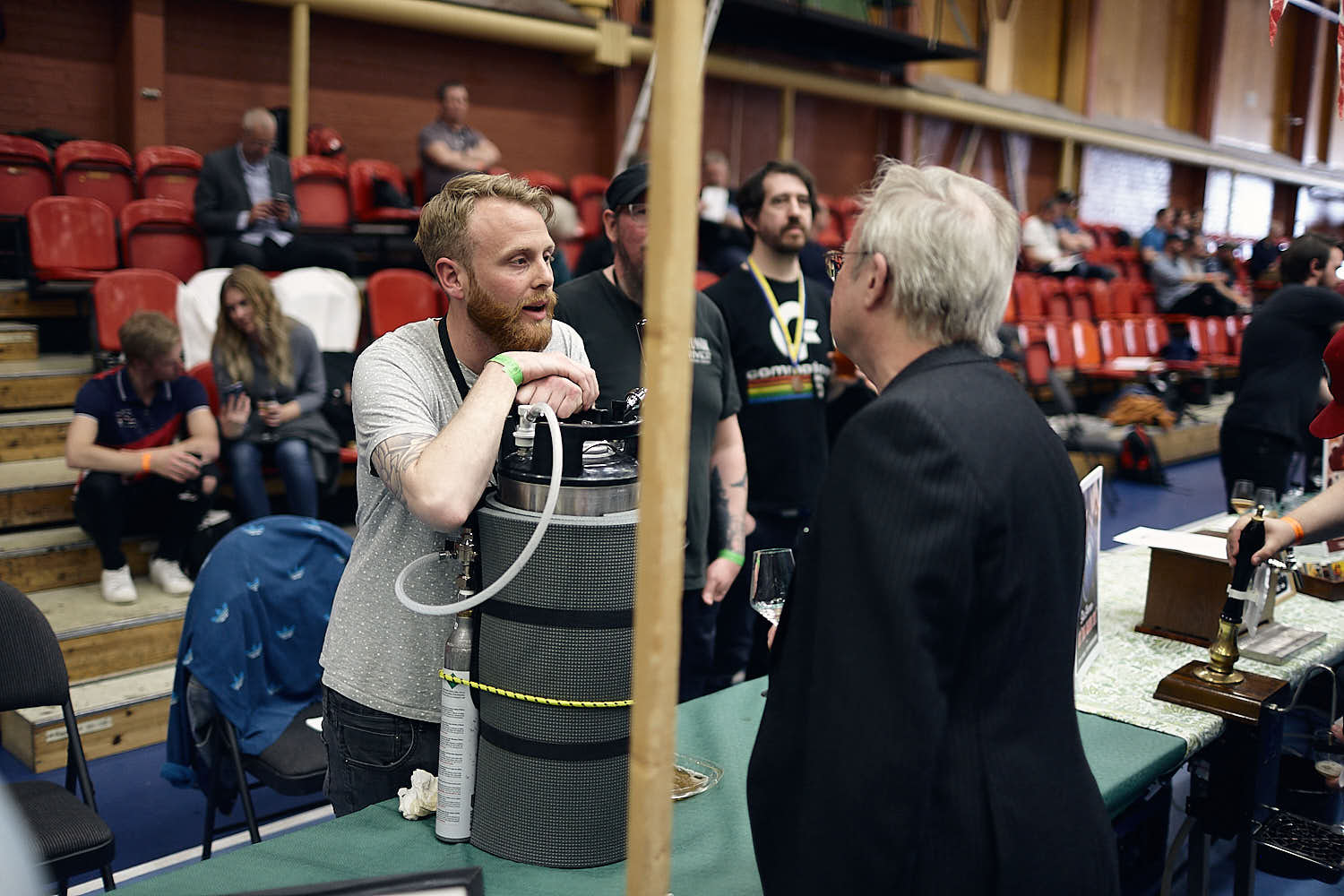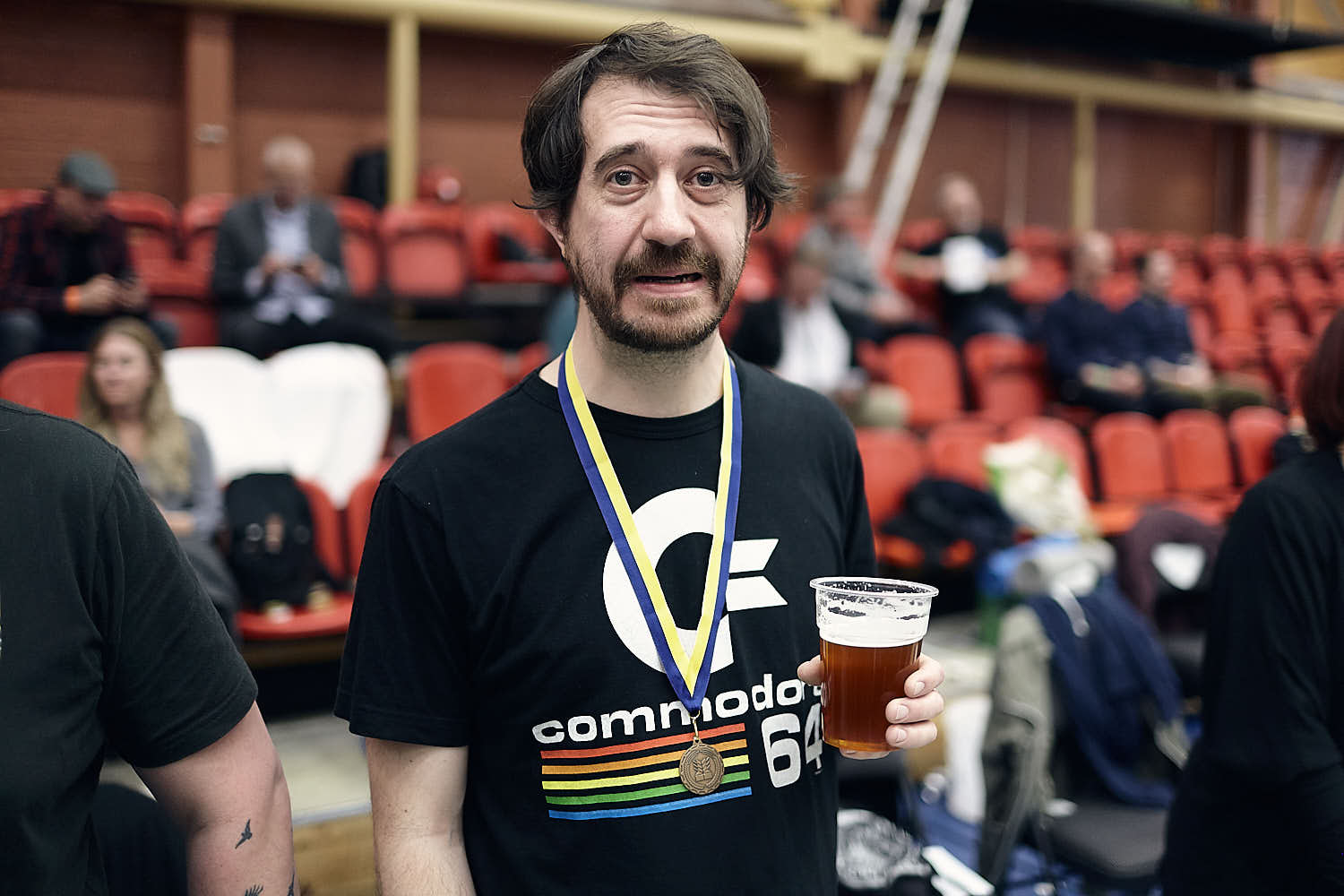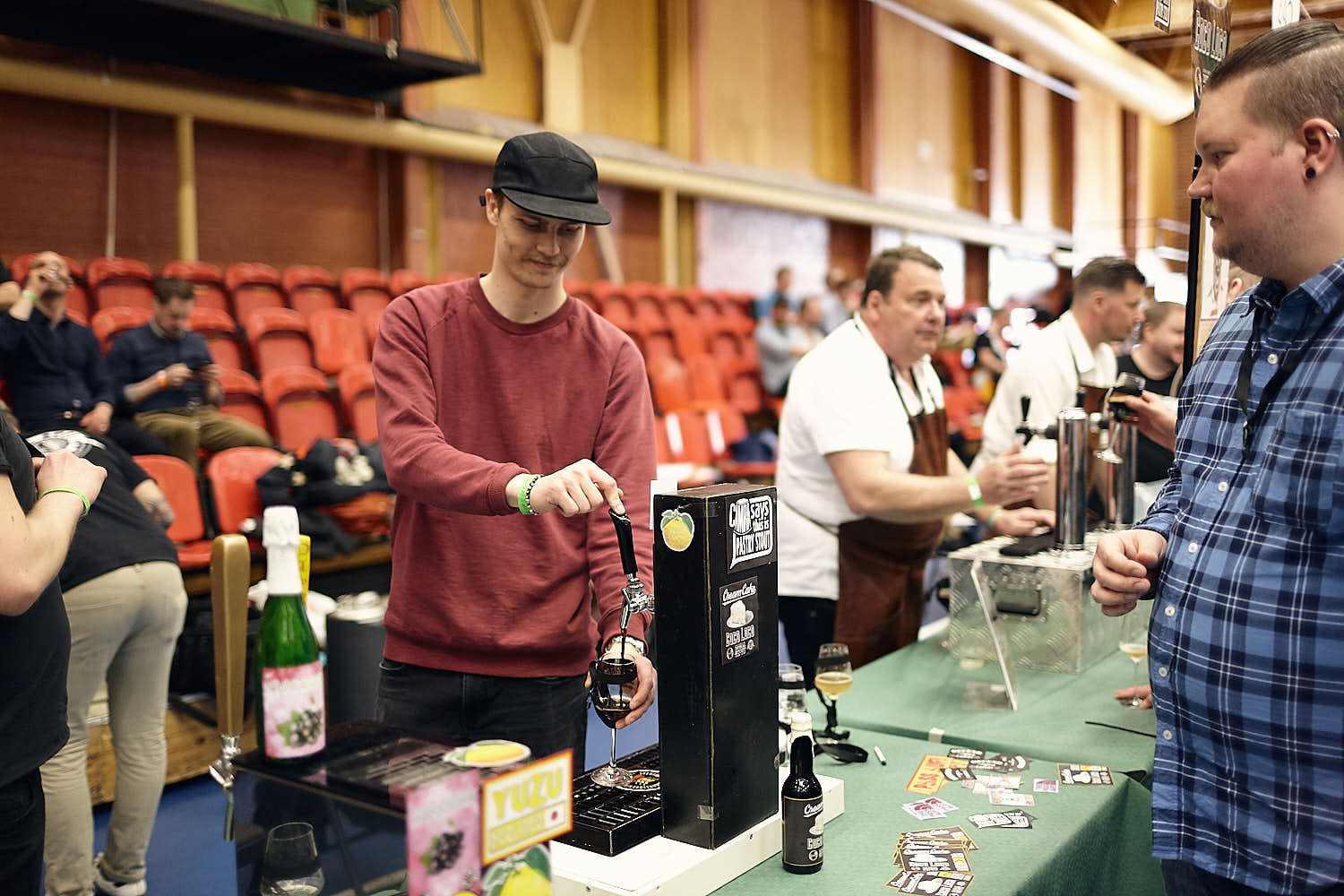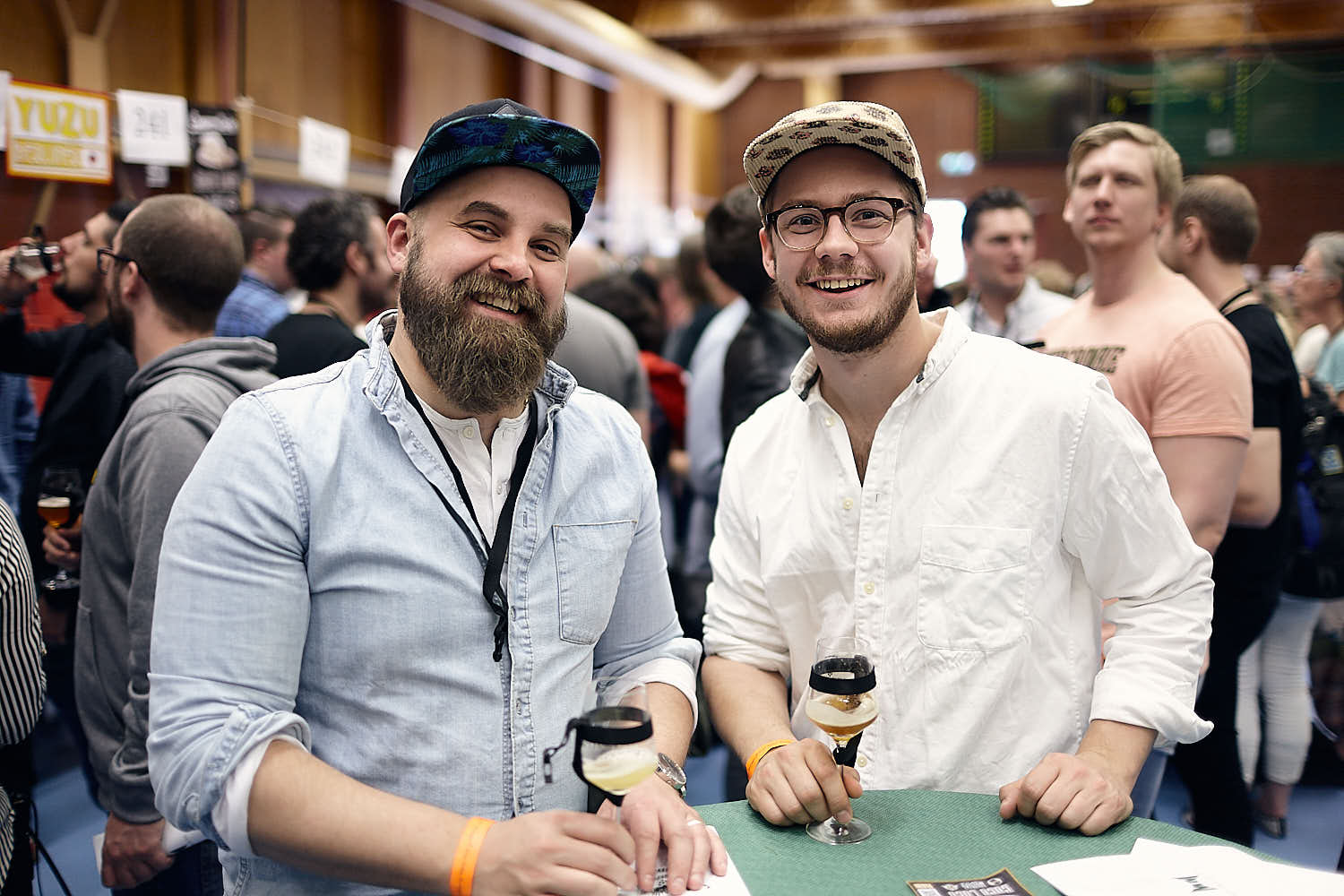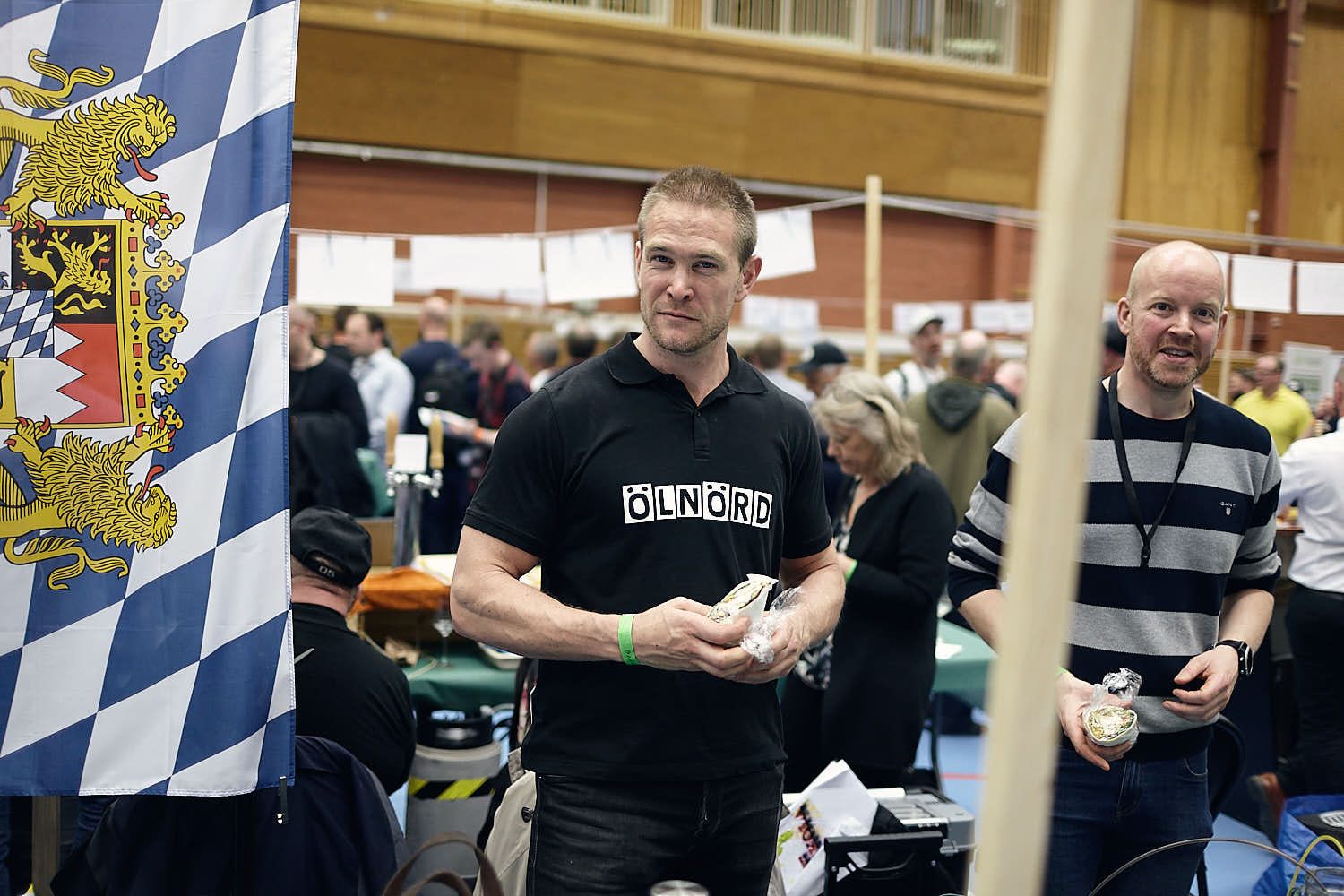 Henrik Lindqvist som har mer medaljer än jag kan räkna. Grymt duktig bryggare! //Henrik Lindqvist who has more medals than I can count. Awesome brewer!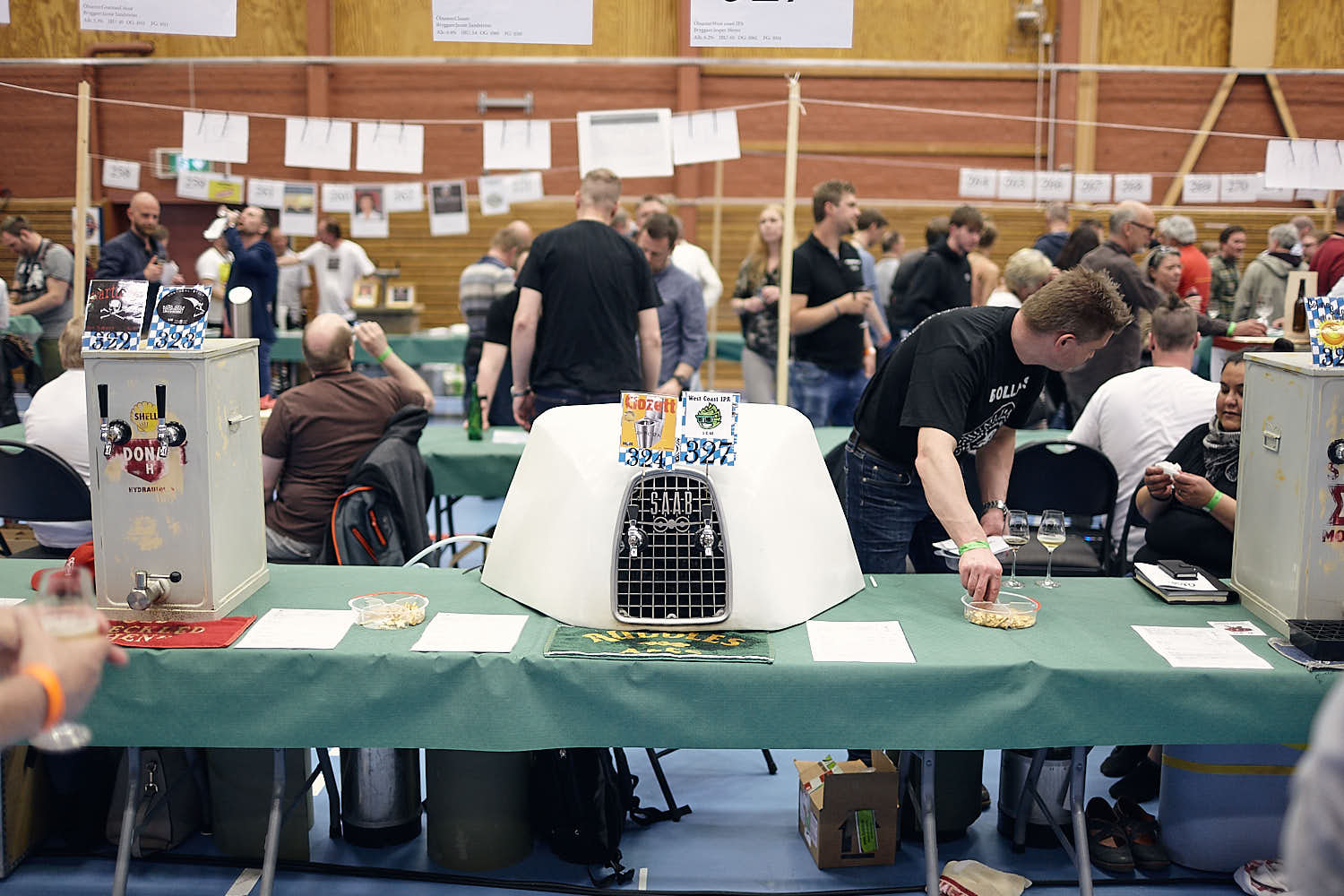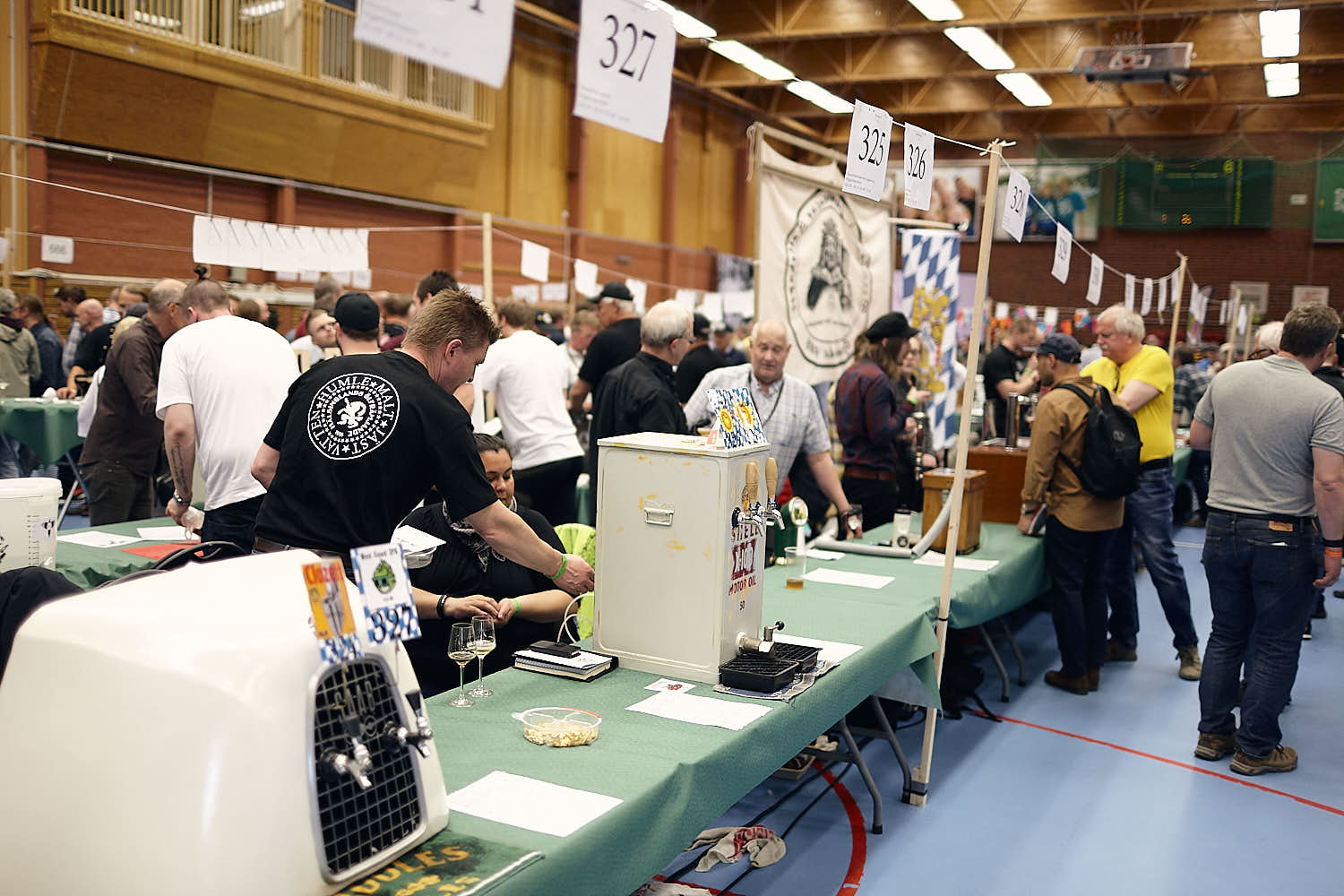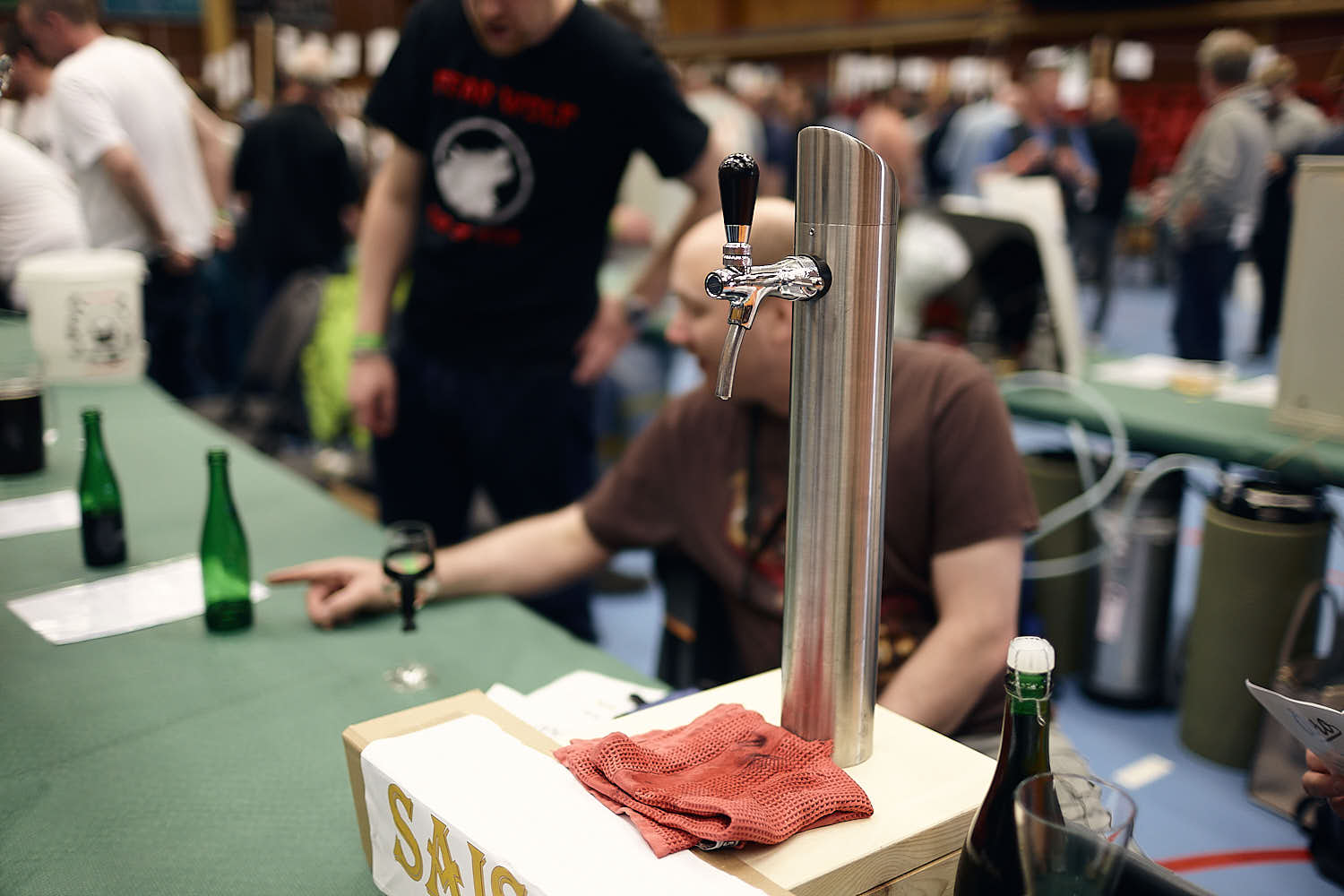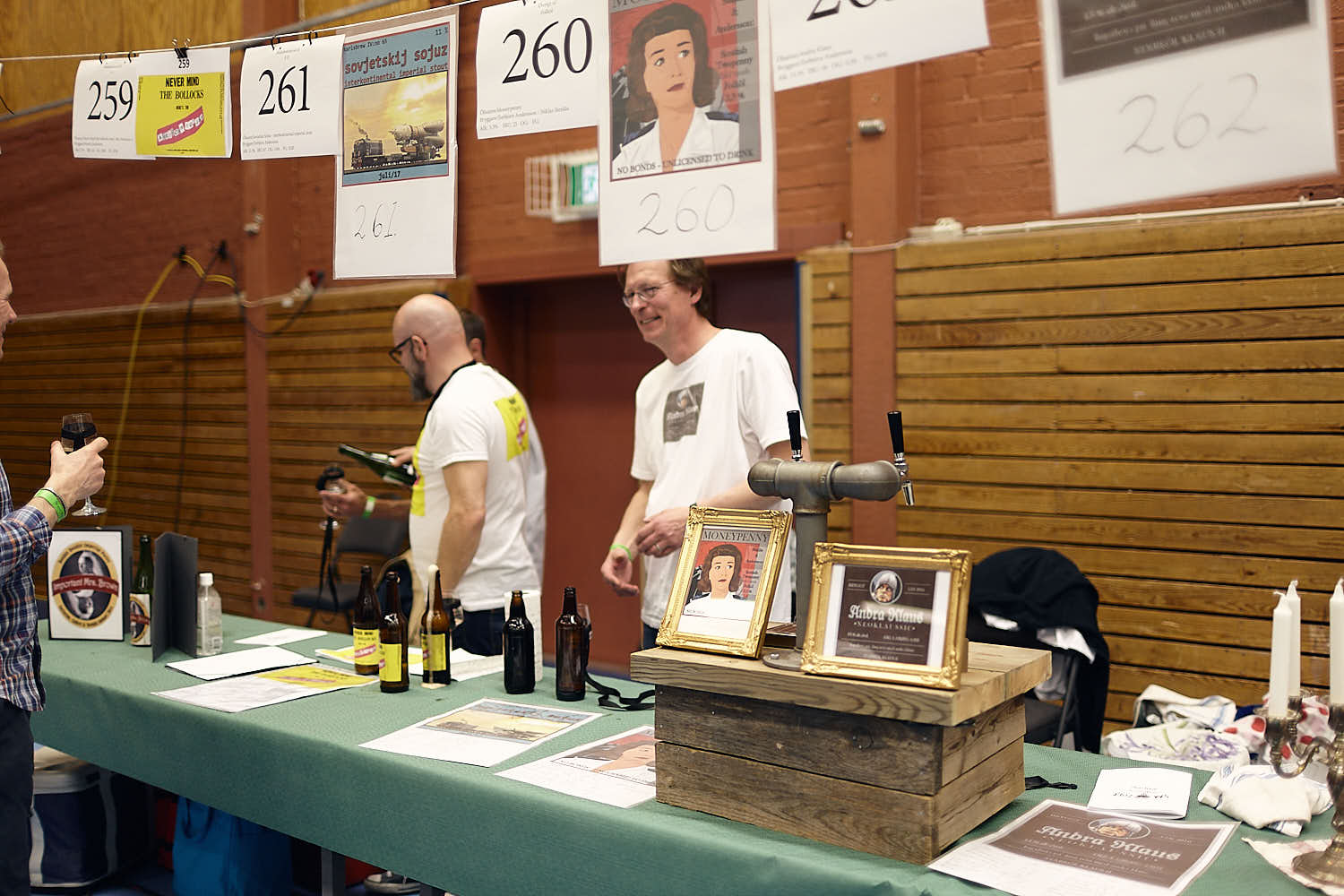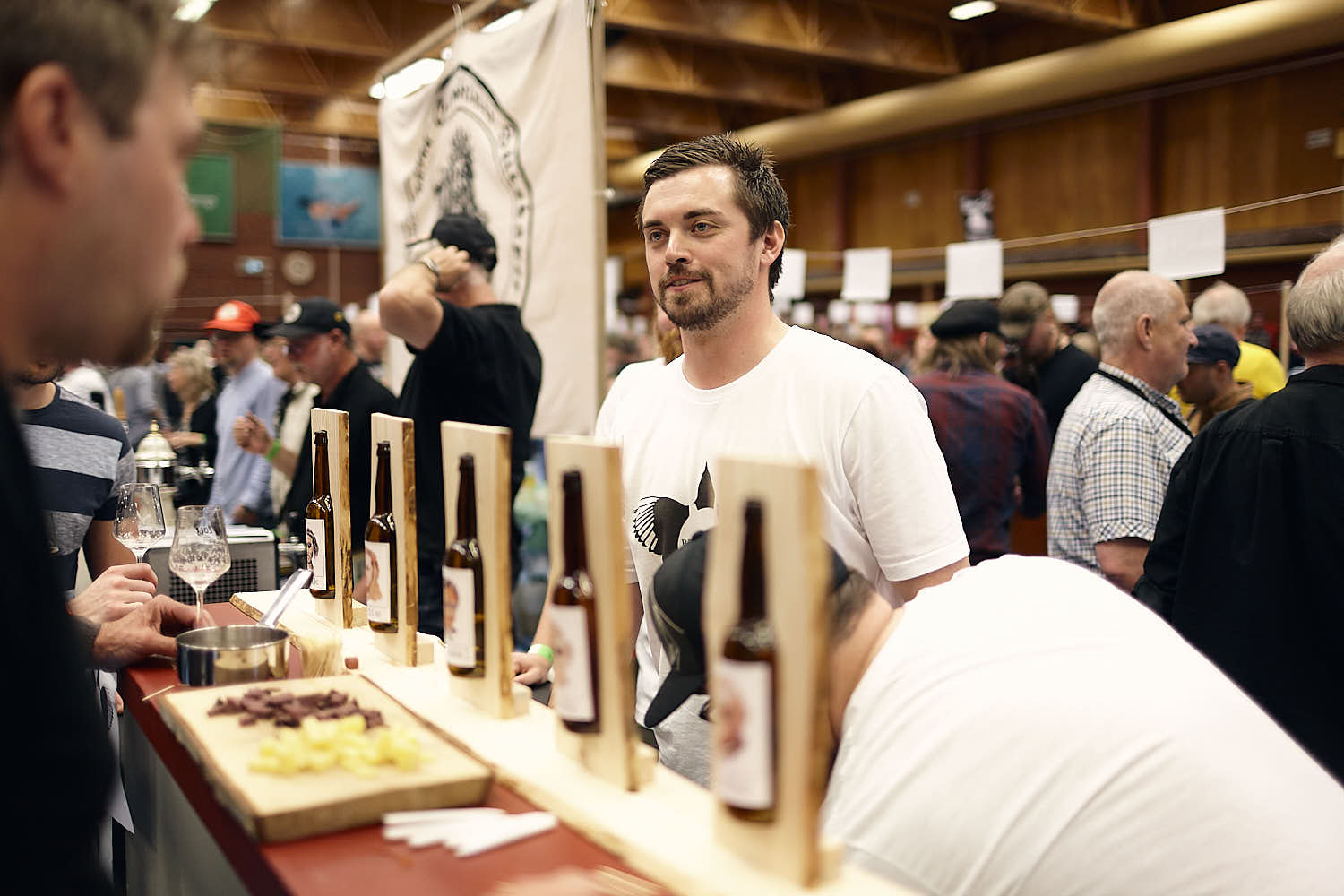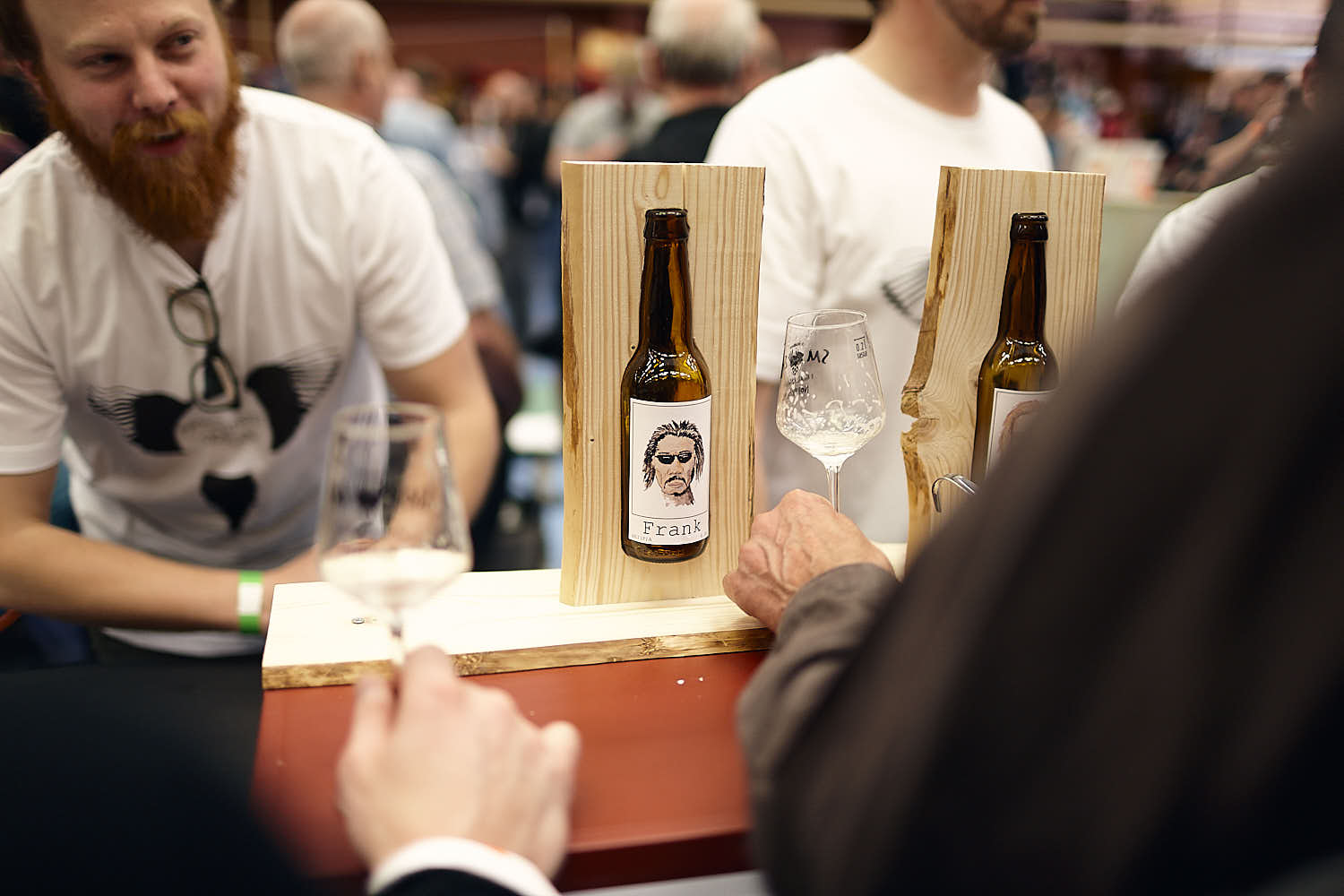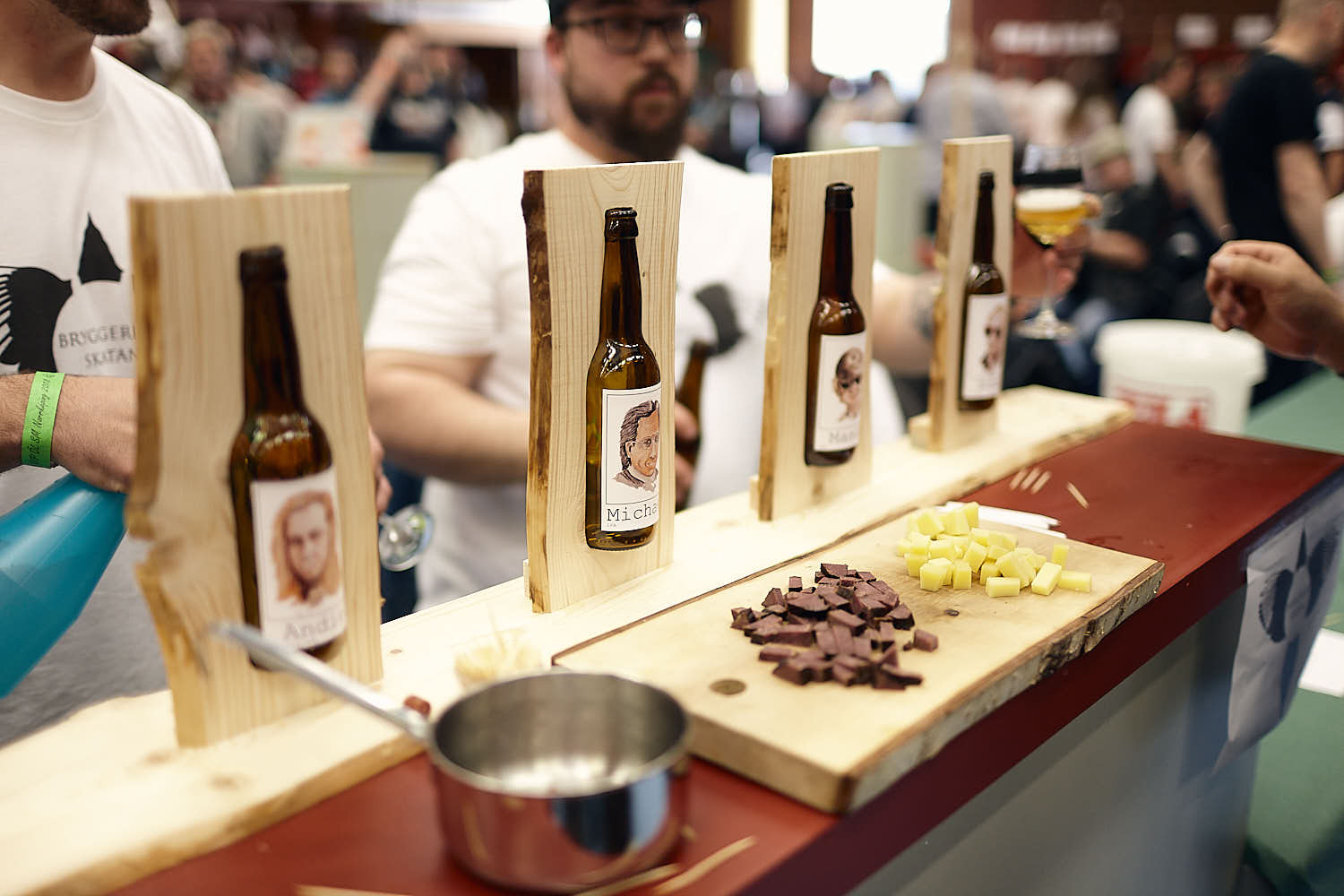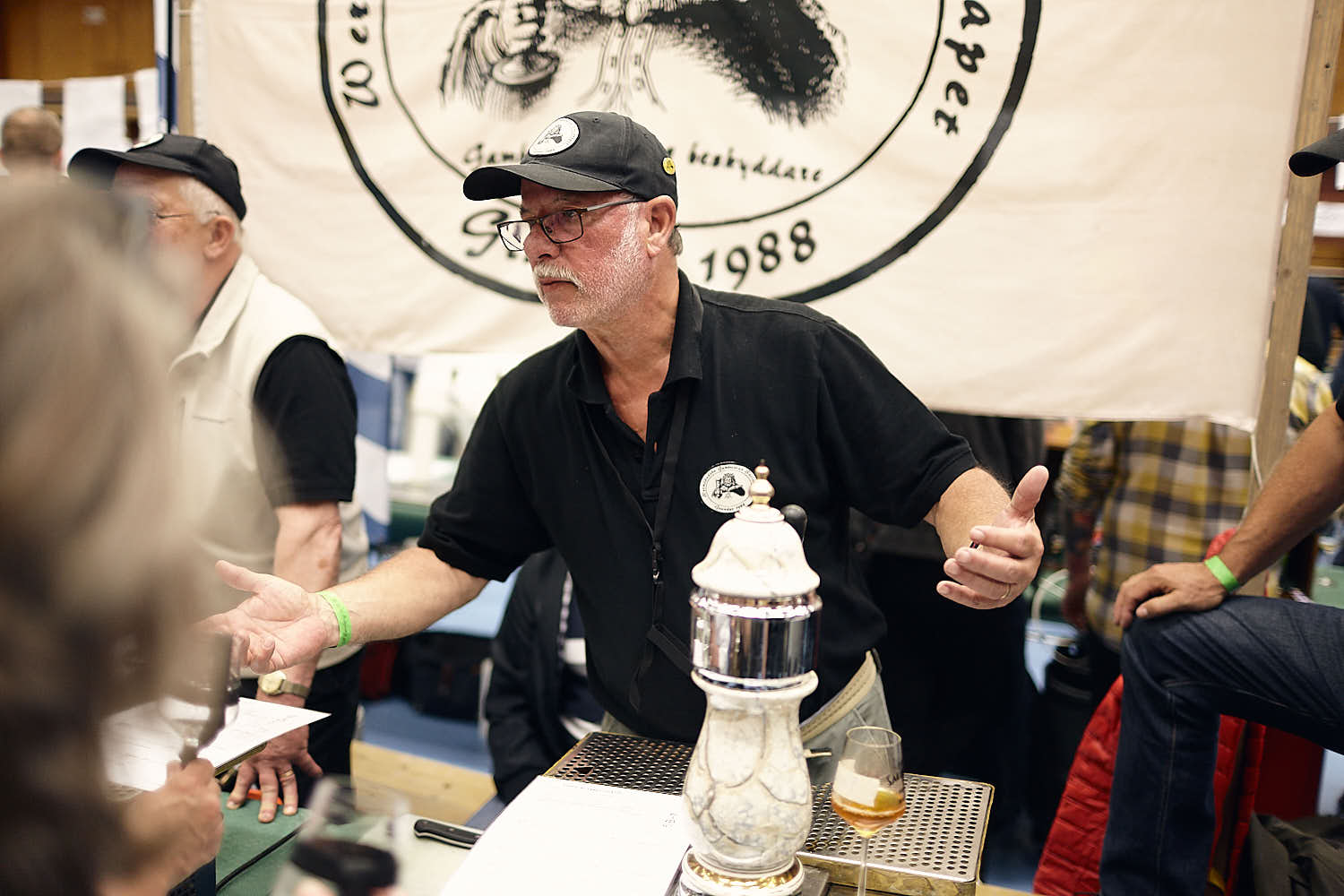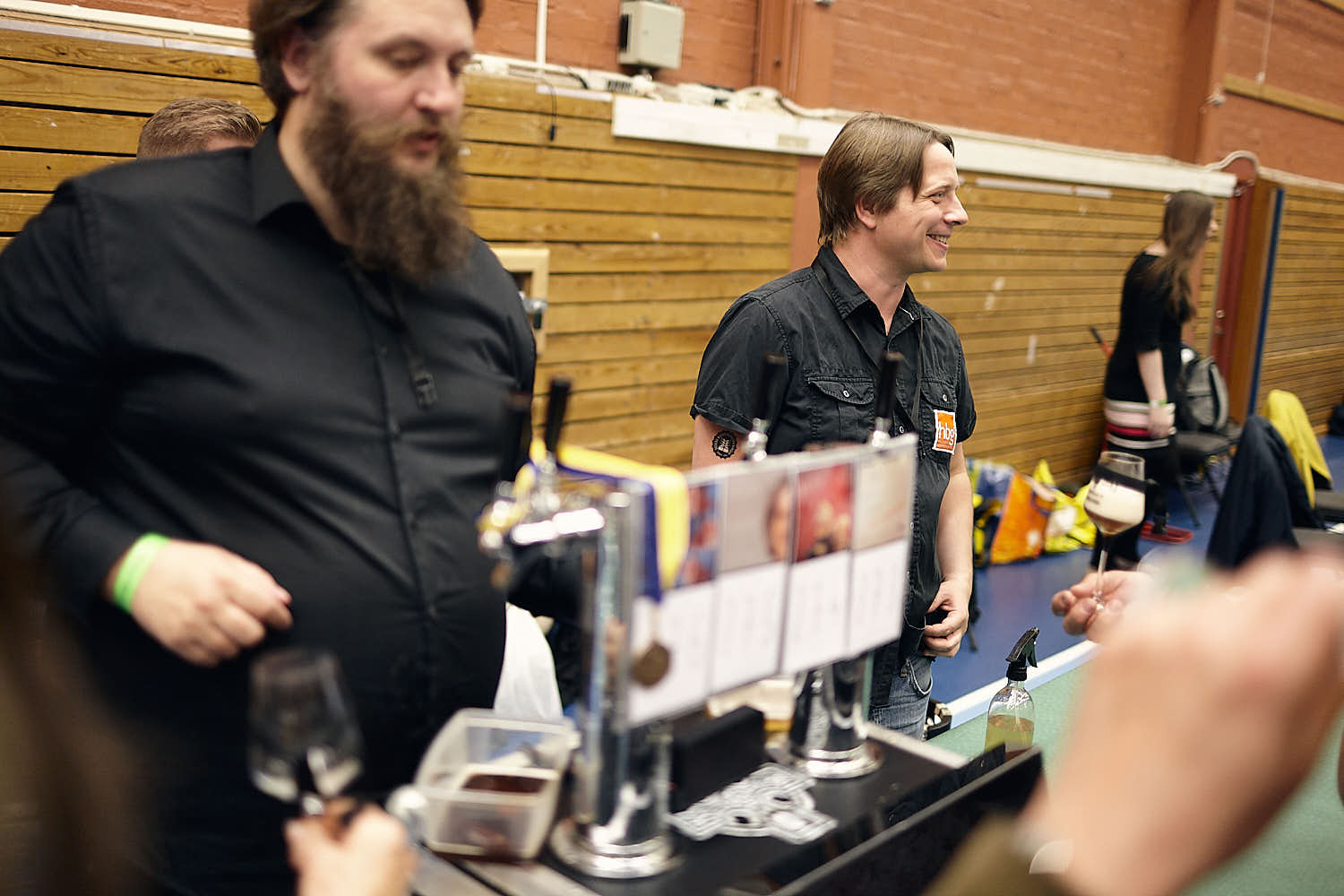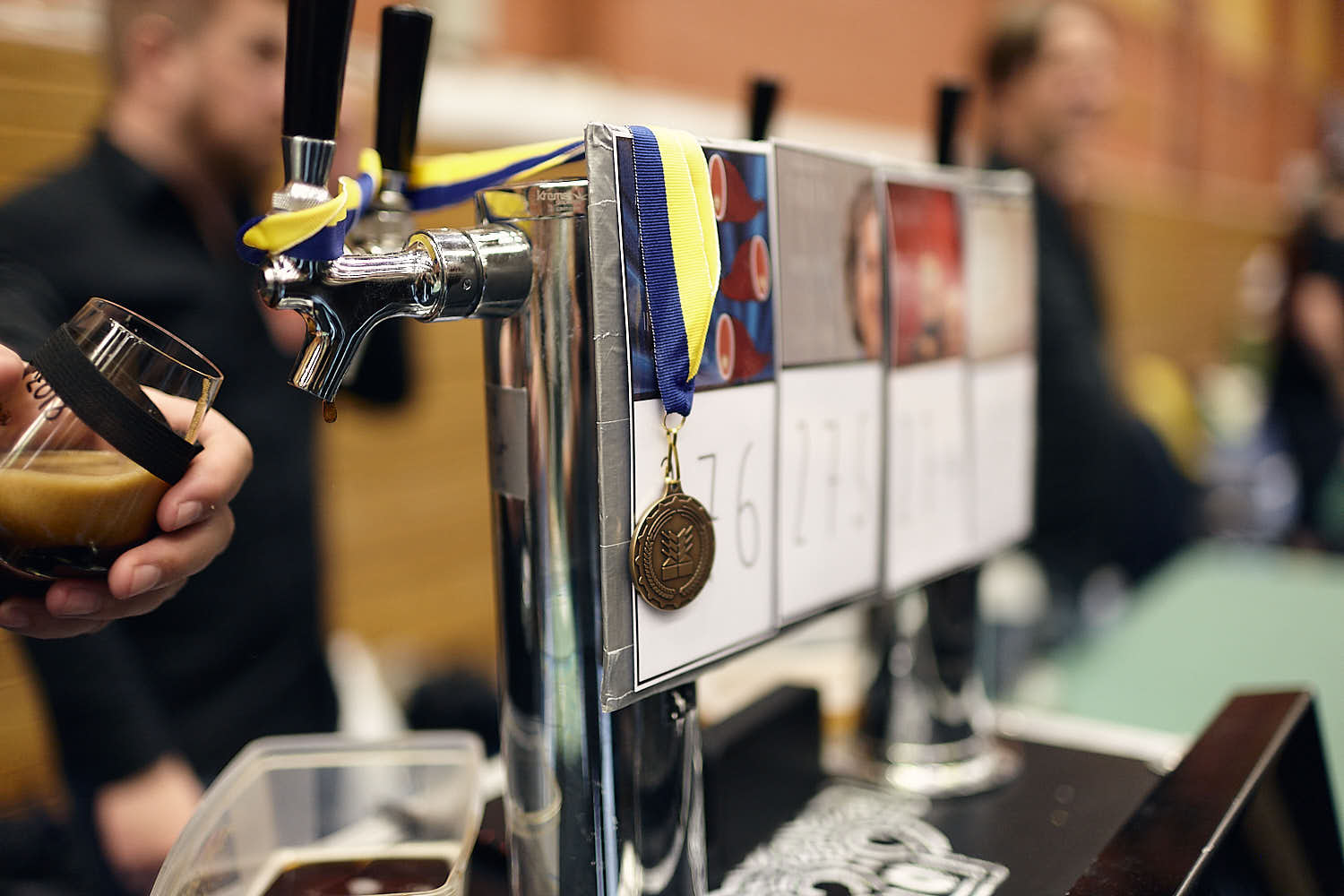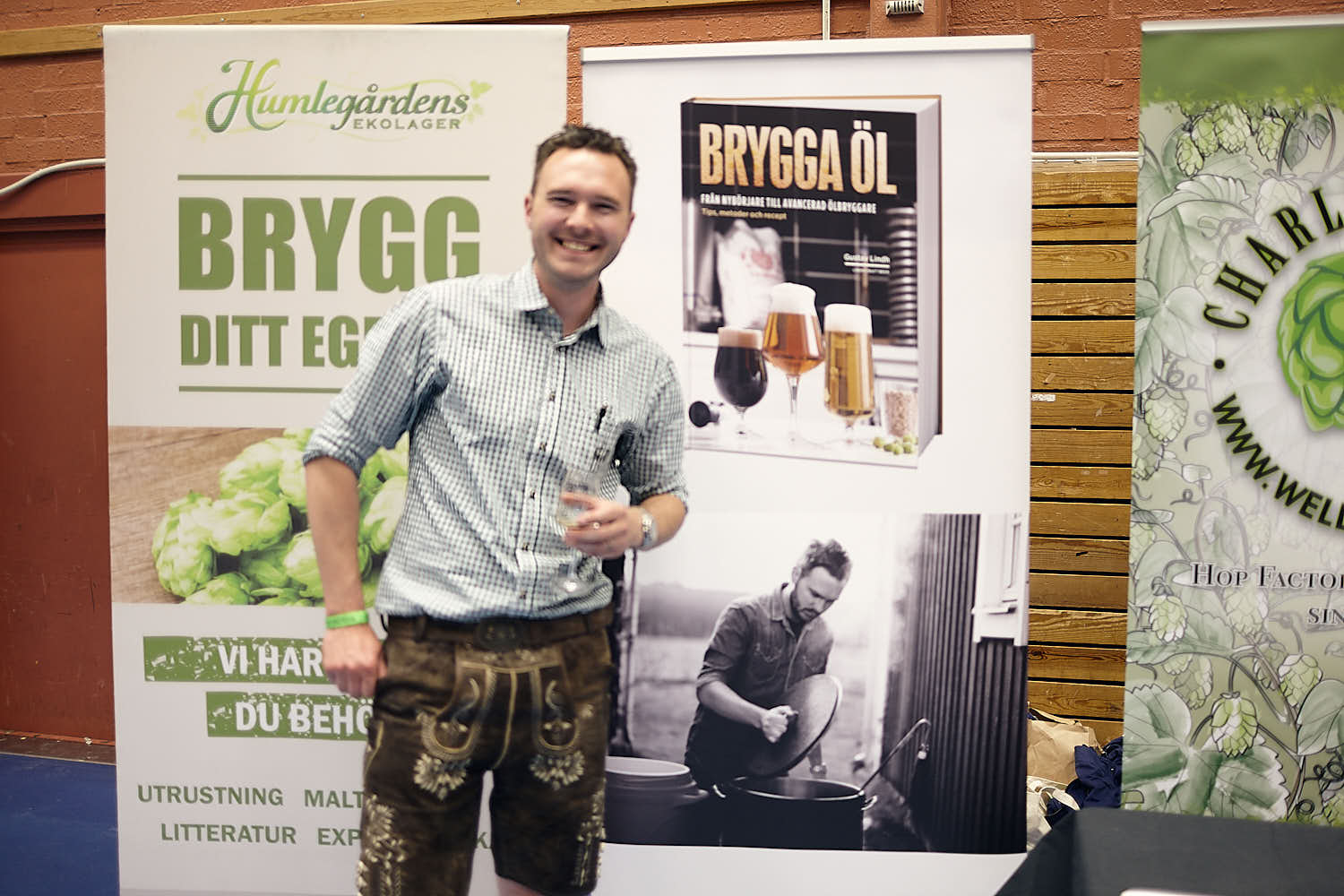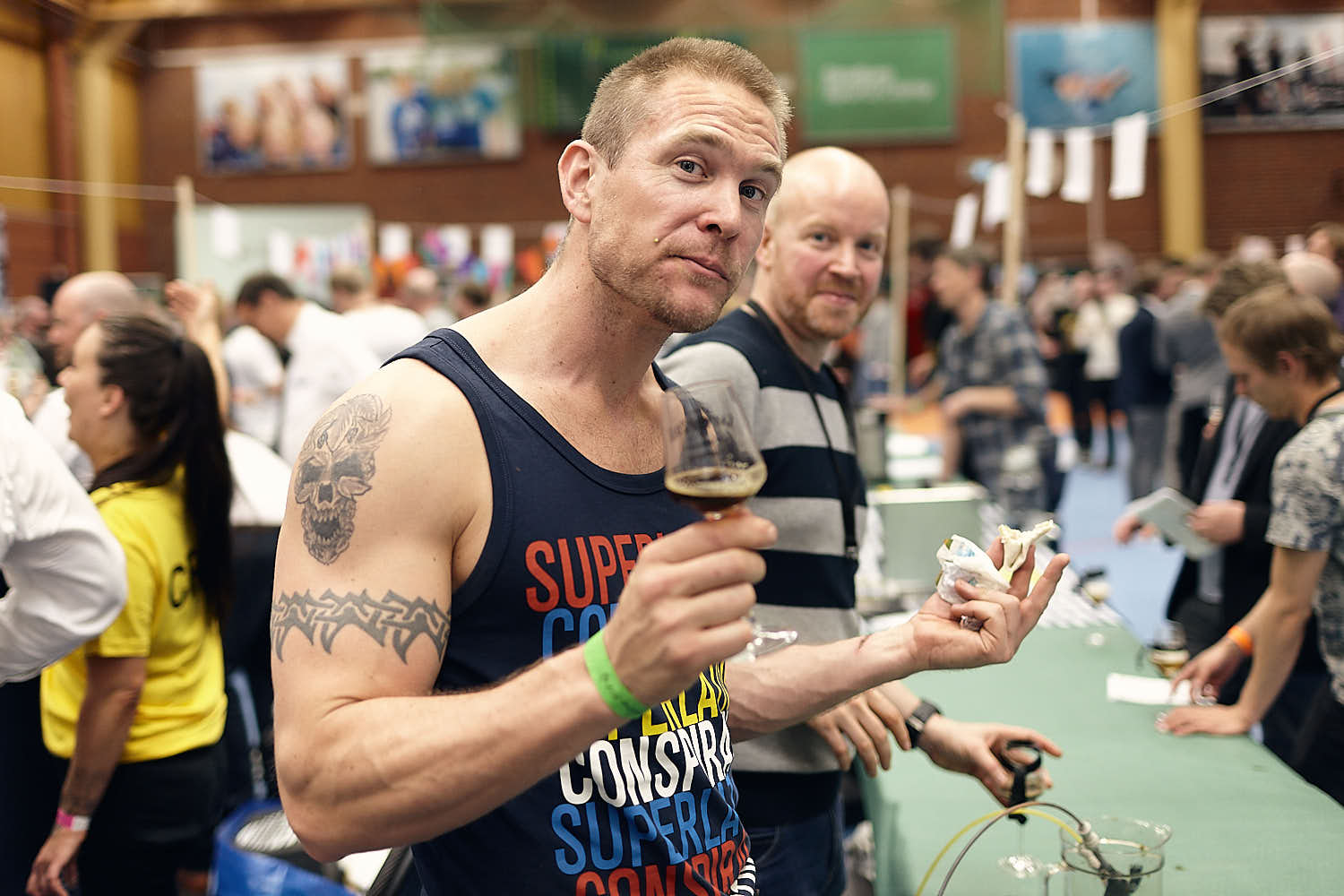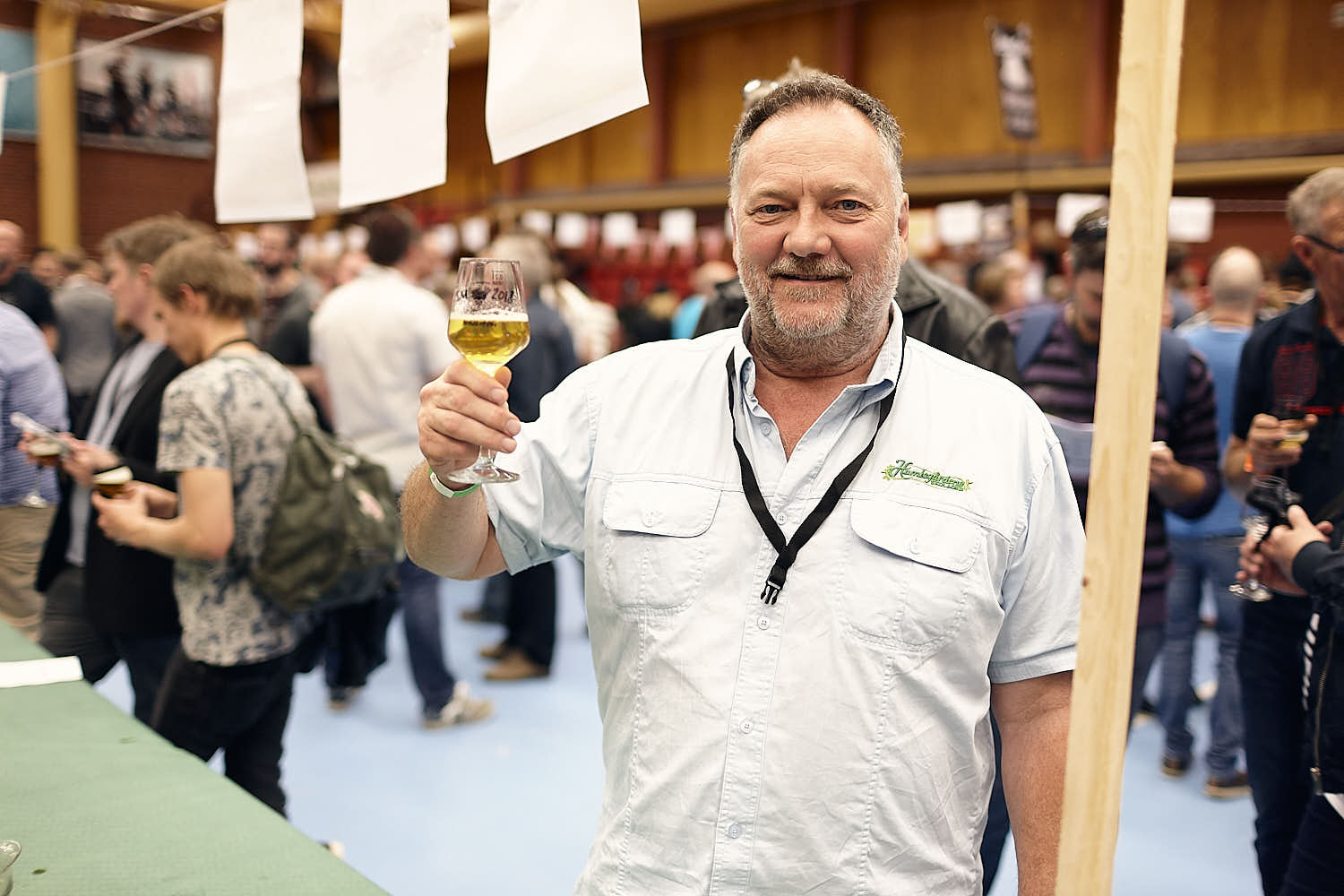 Svante Ekelin från Humlegårdens Ekolager provsmakar min pils. //Svante Ekelin from swedens largest homebrew supplies shop "Humlegården" tries my pils.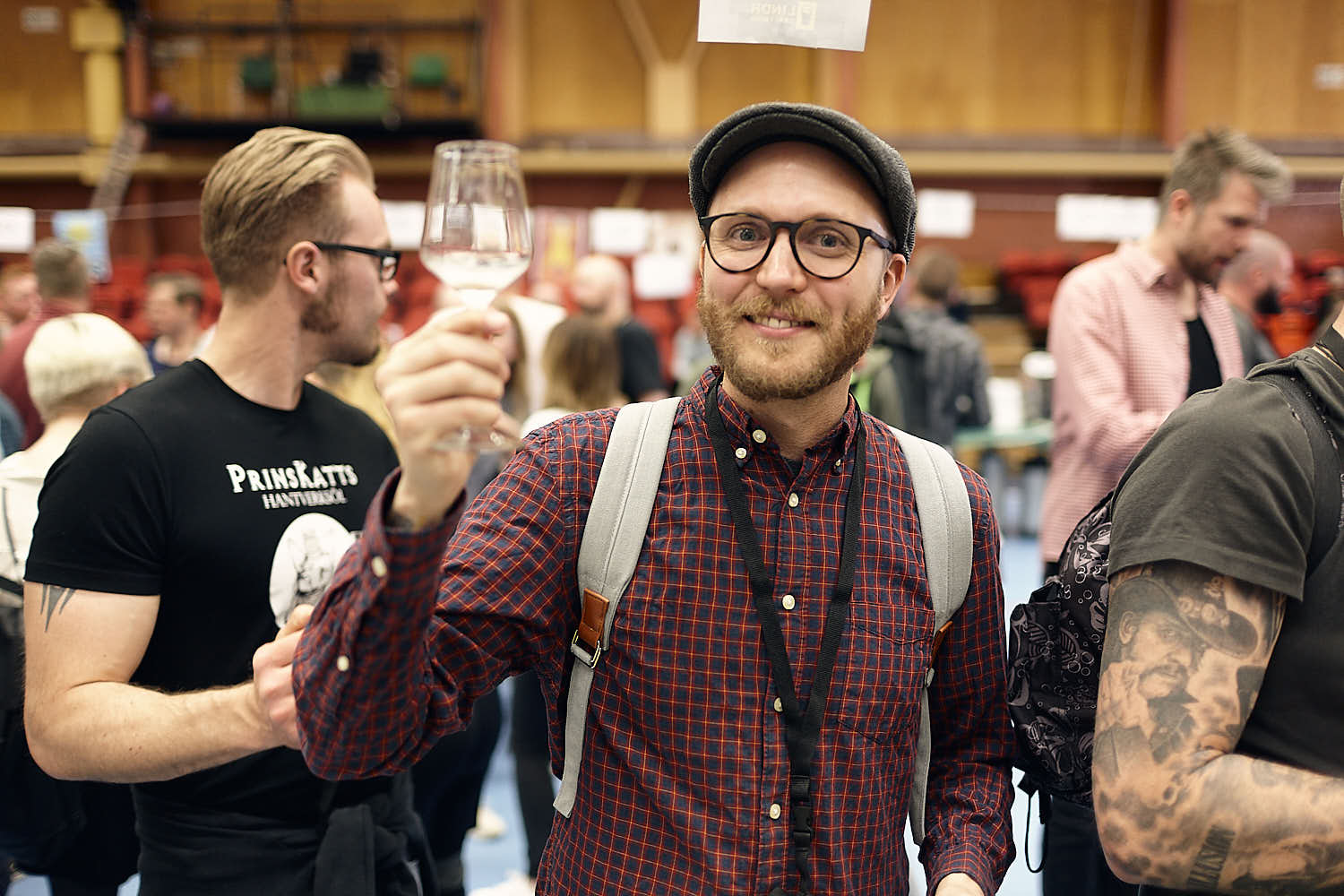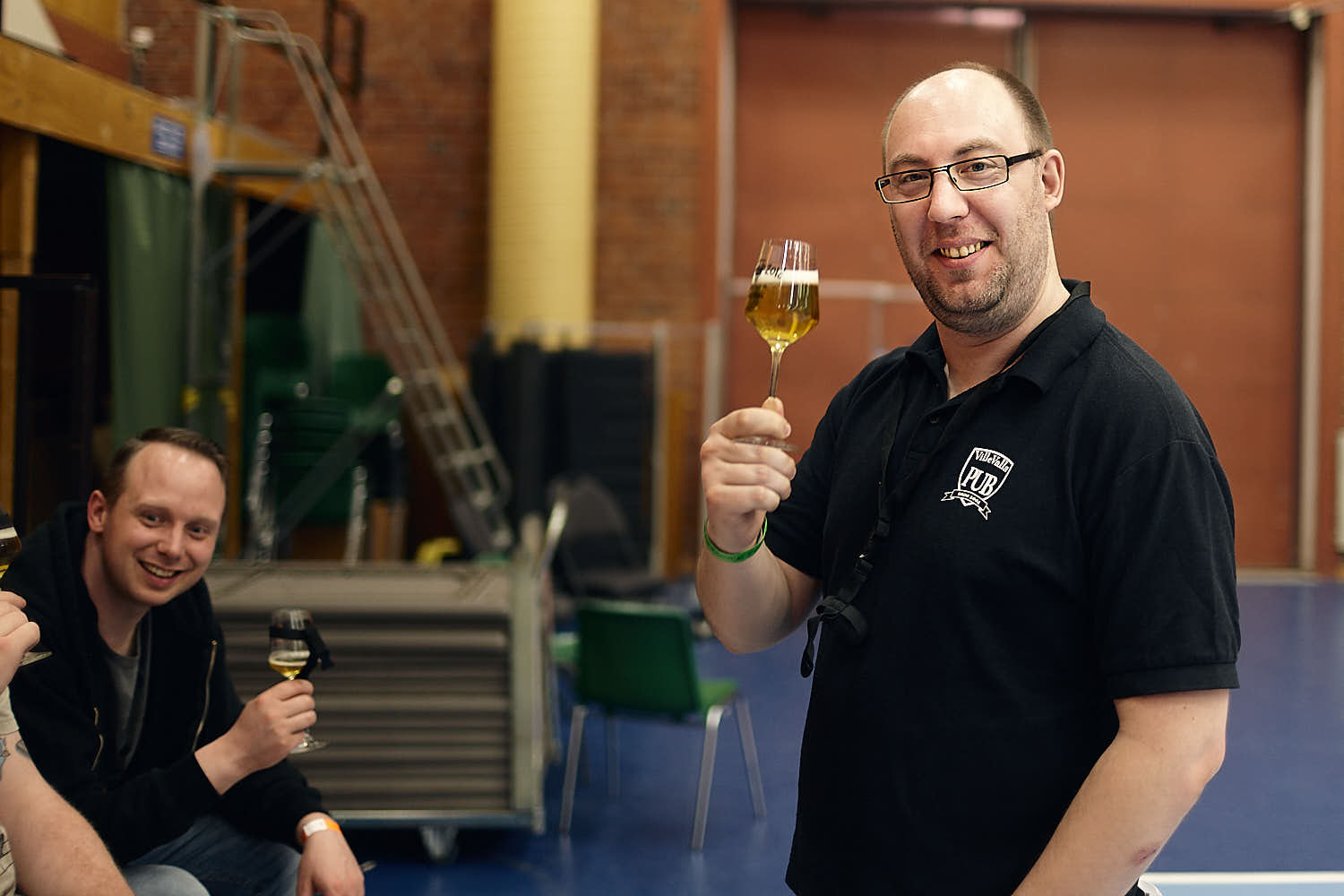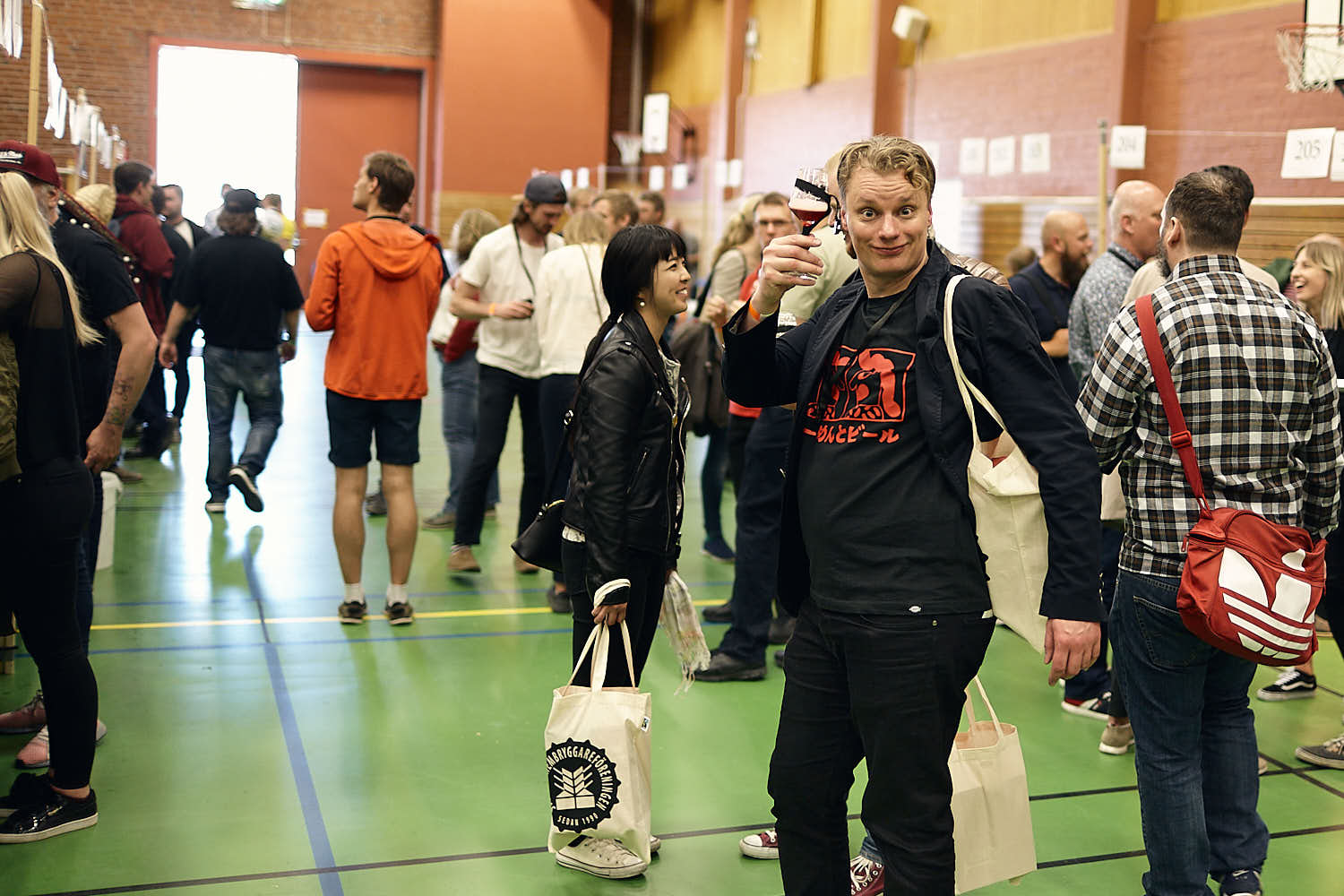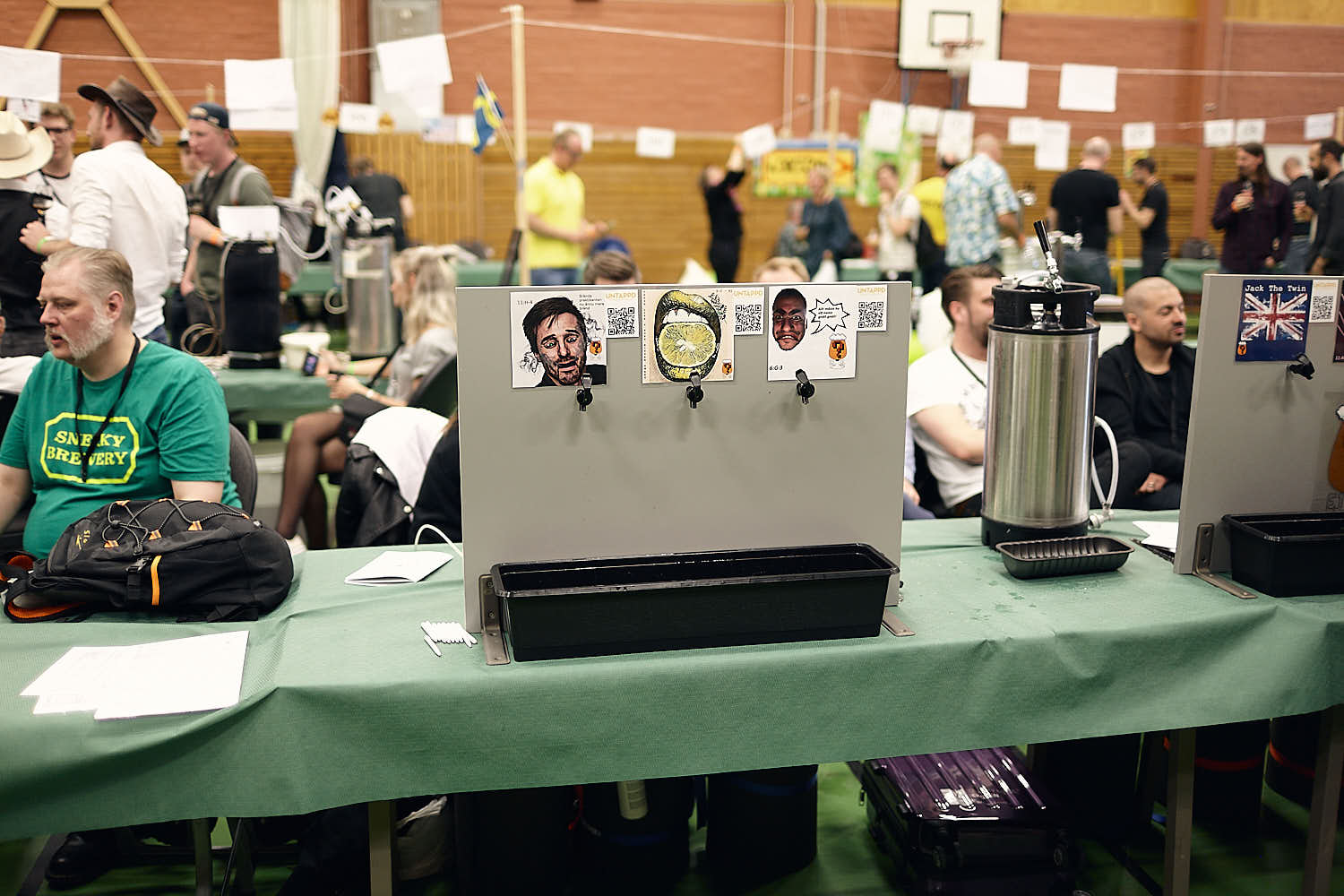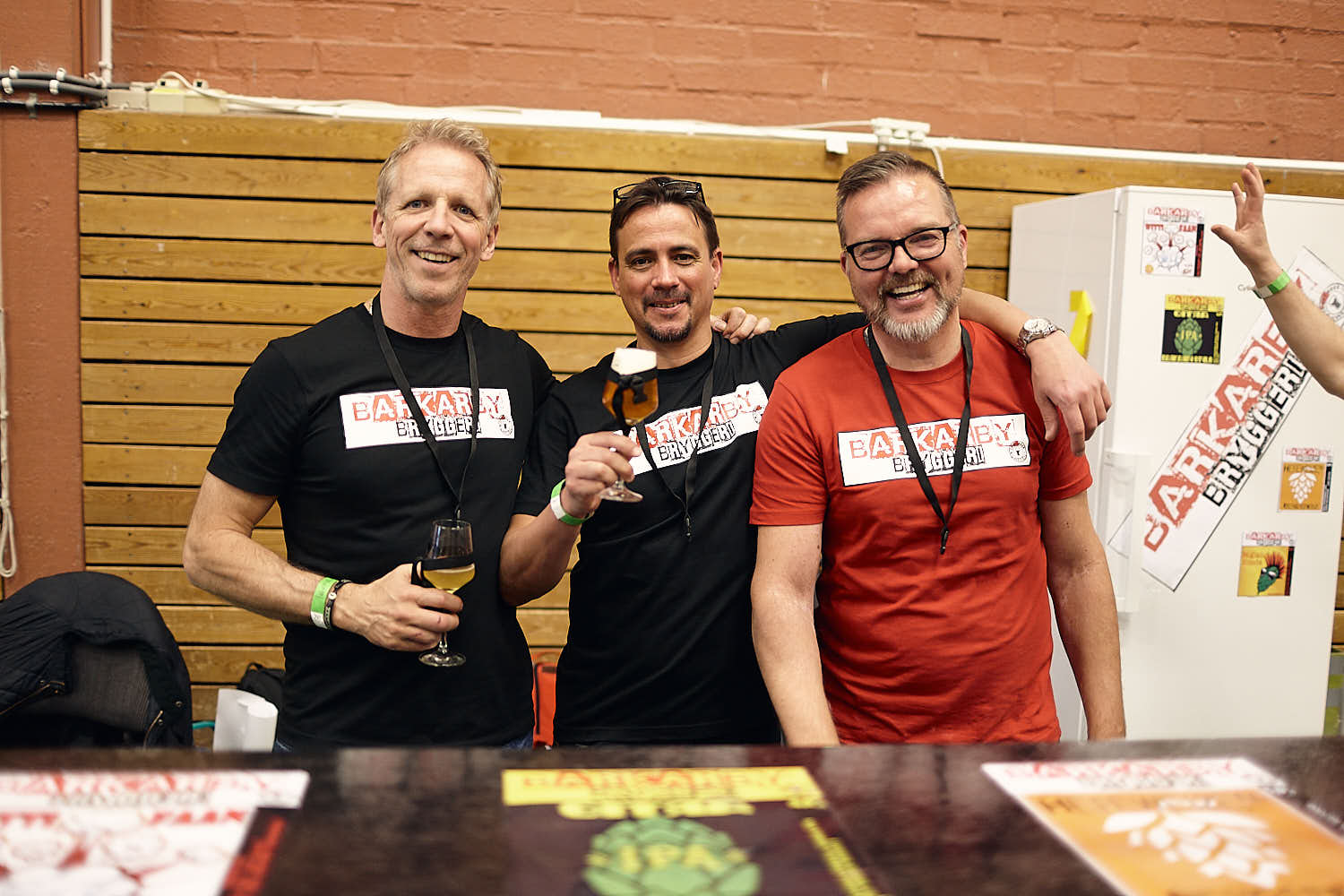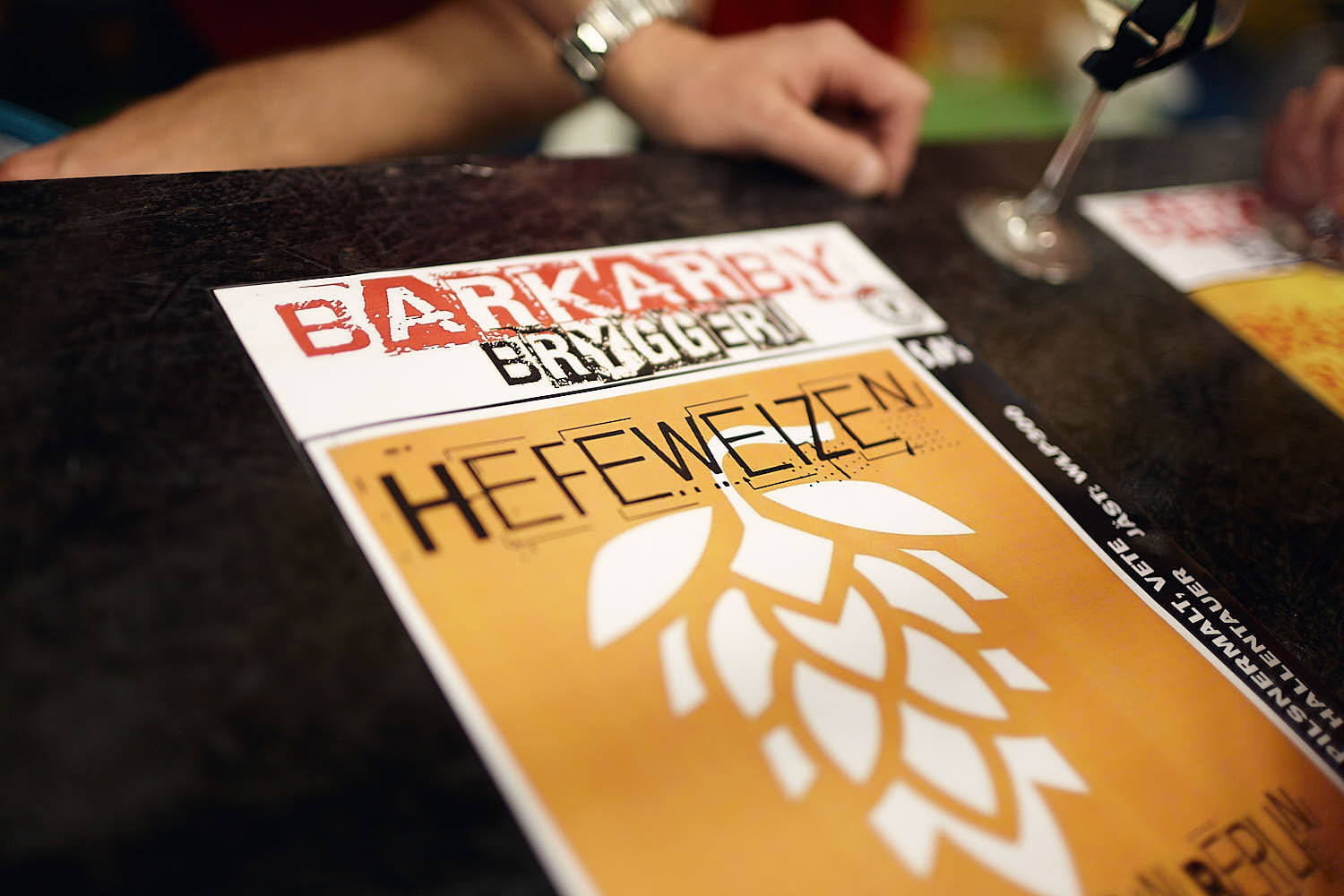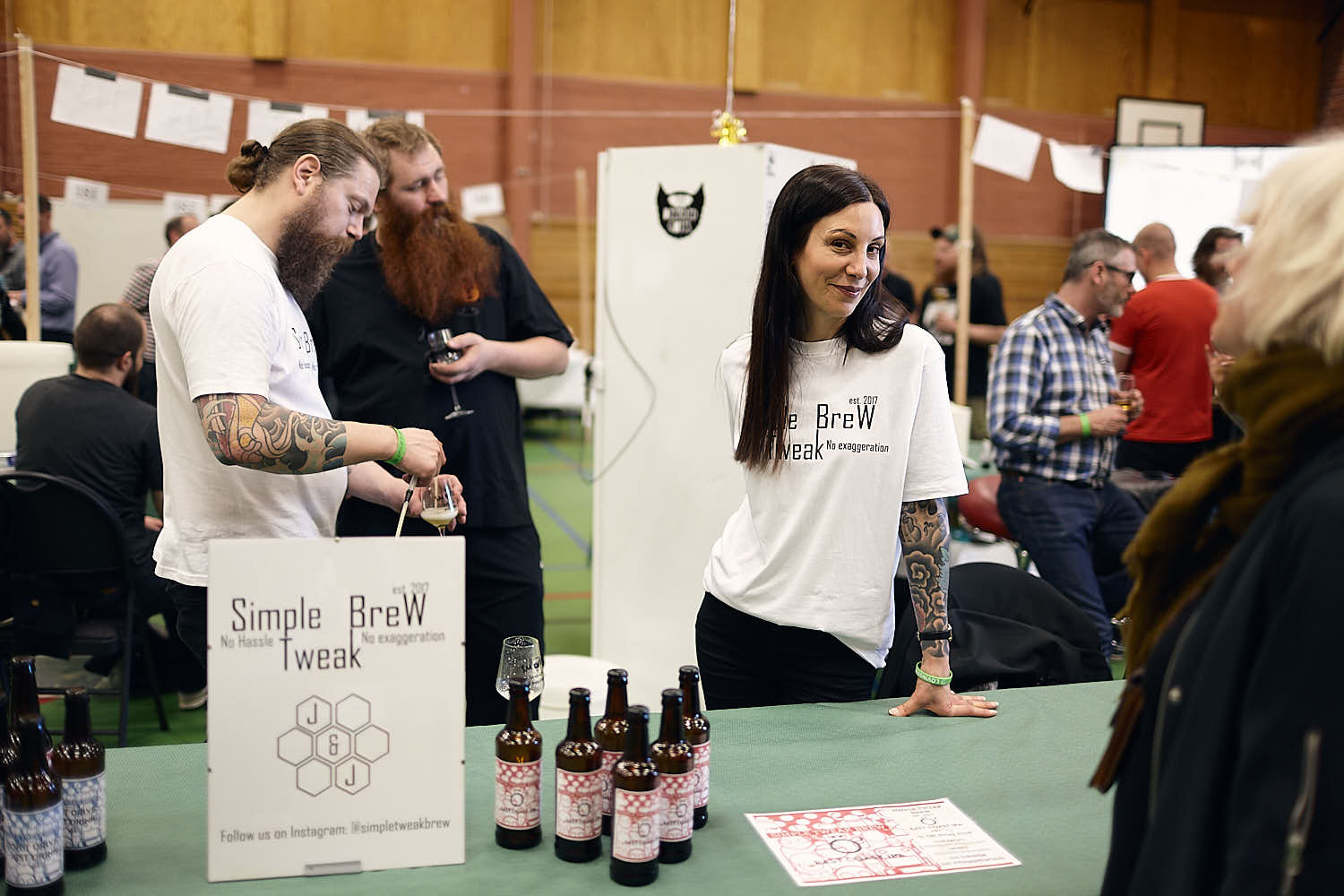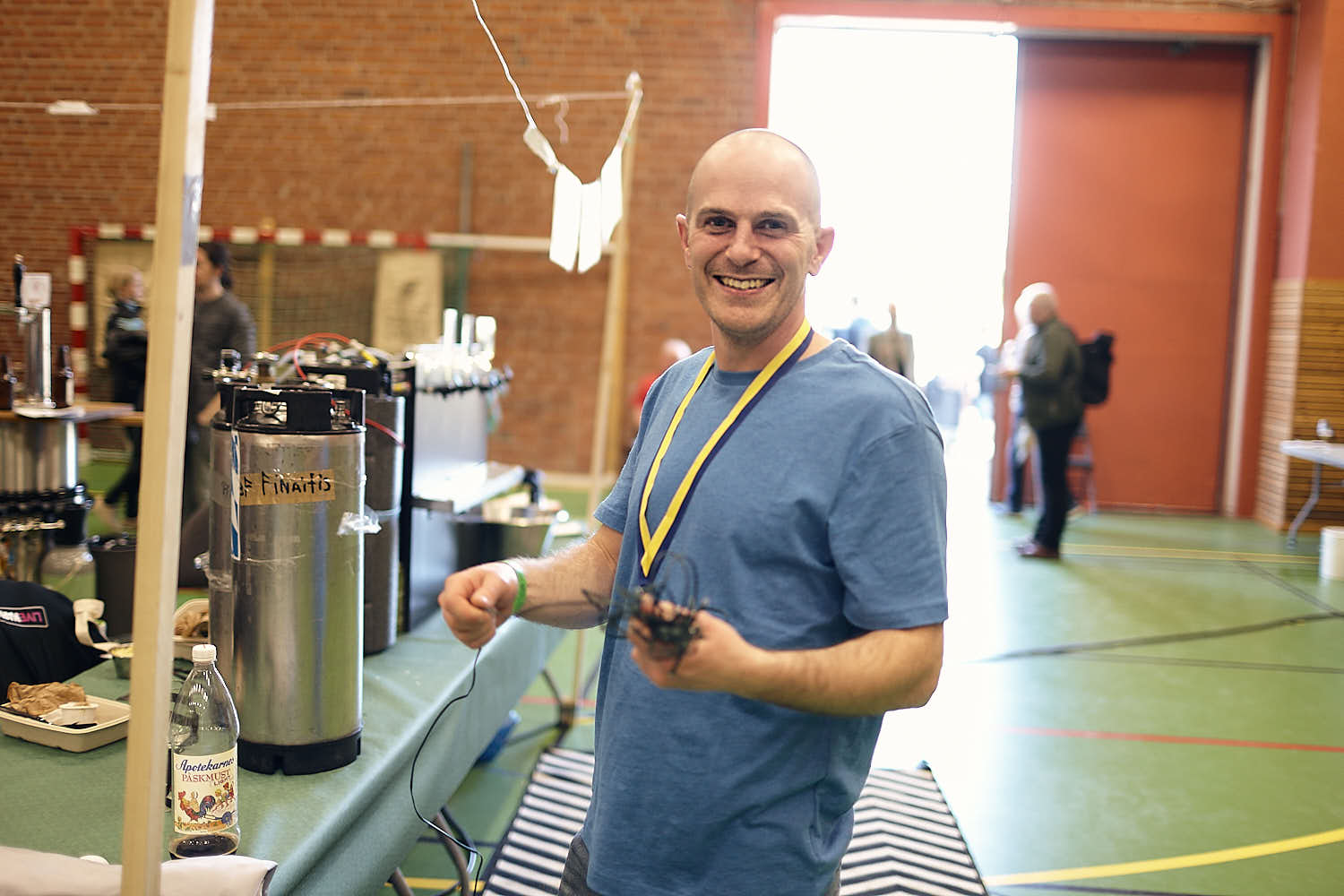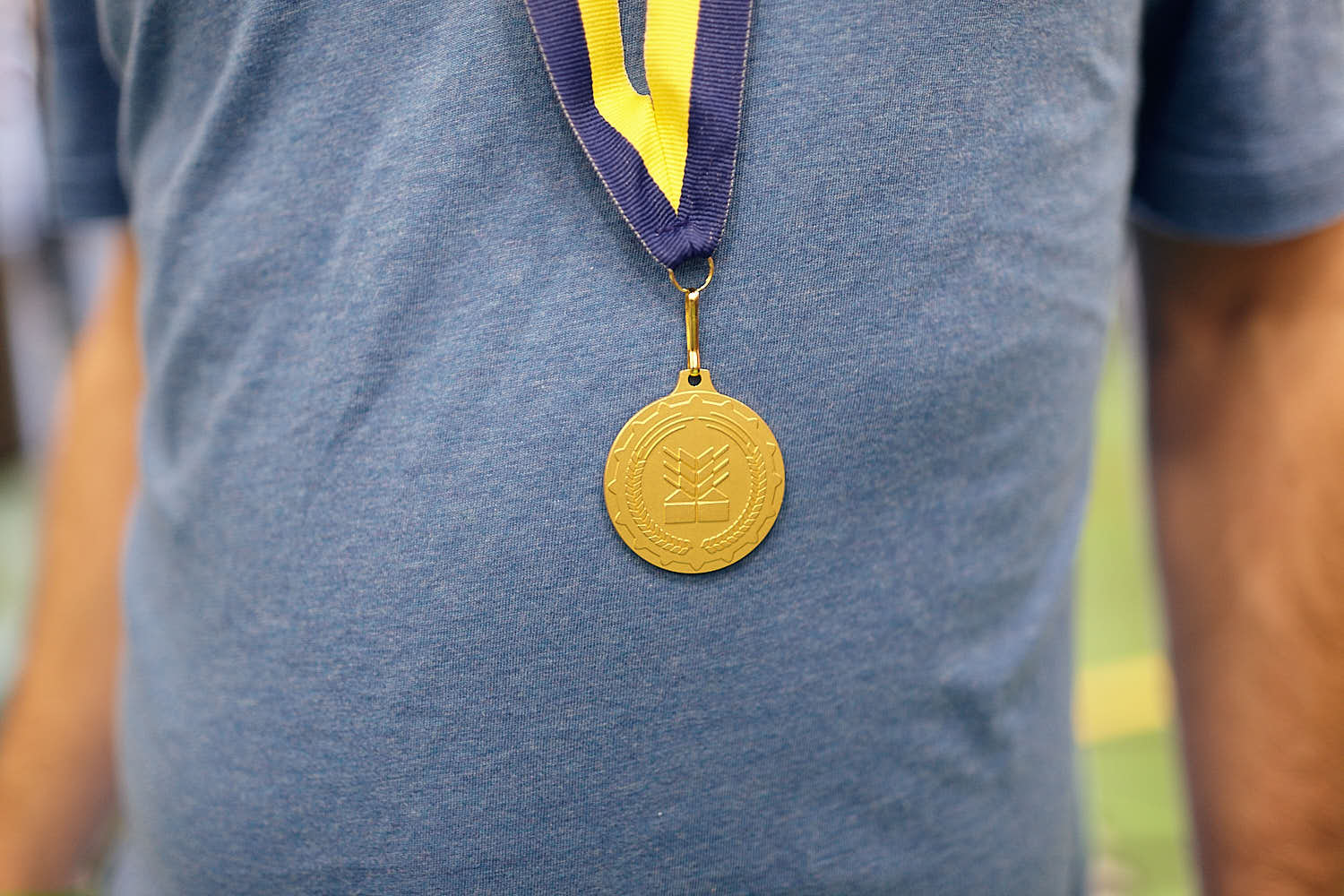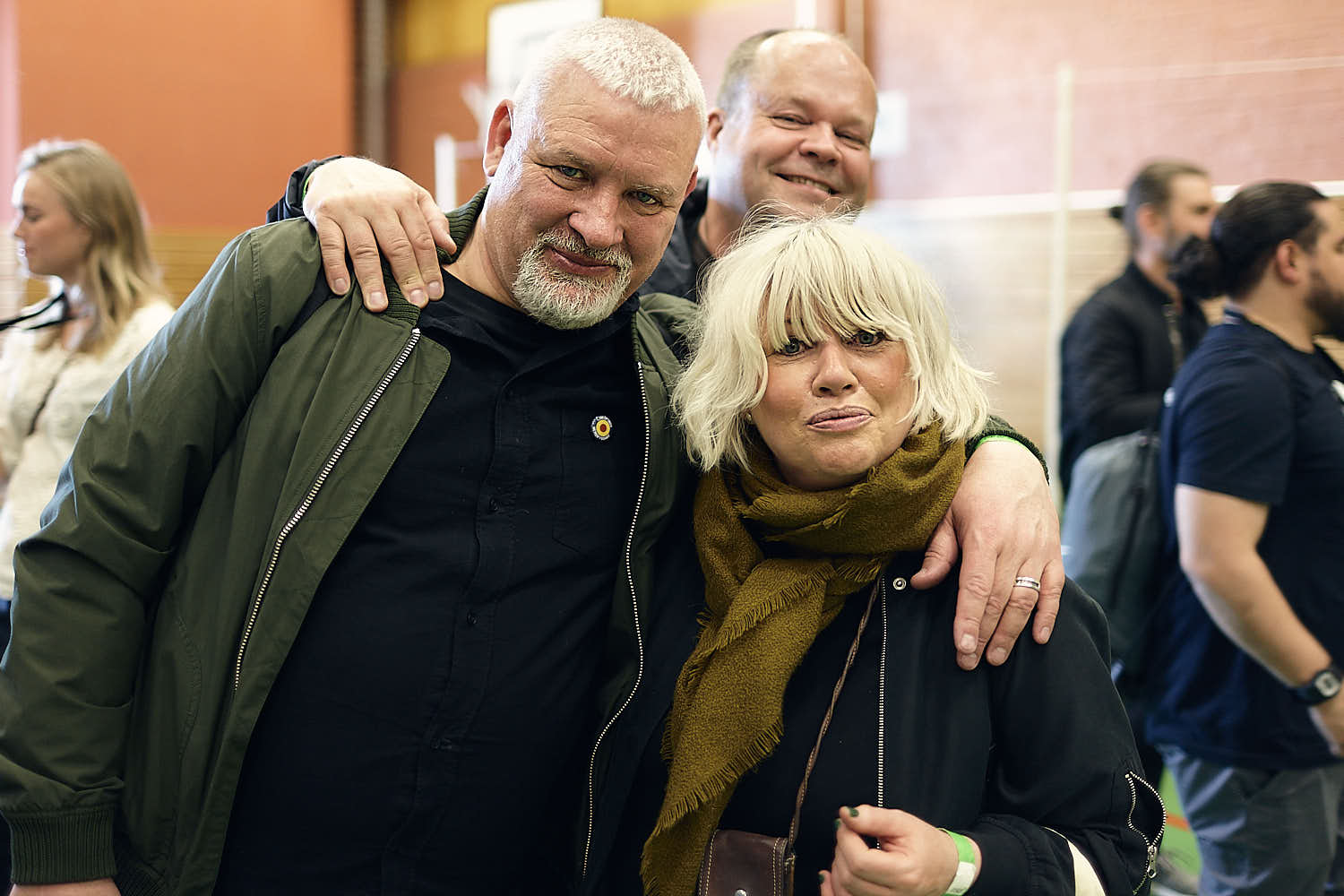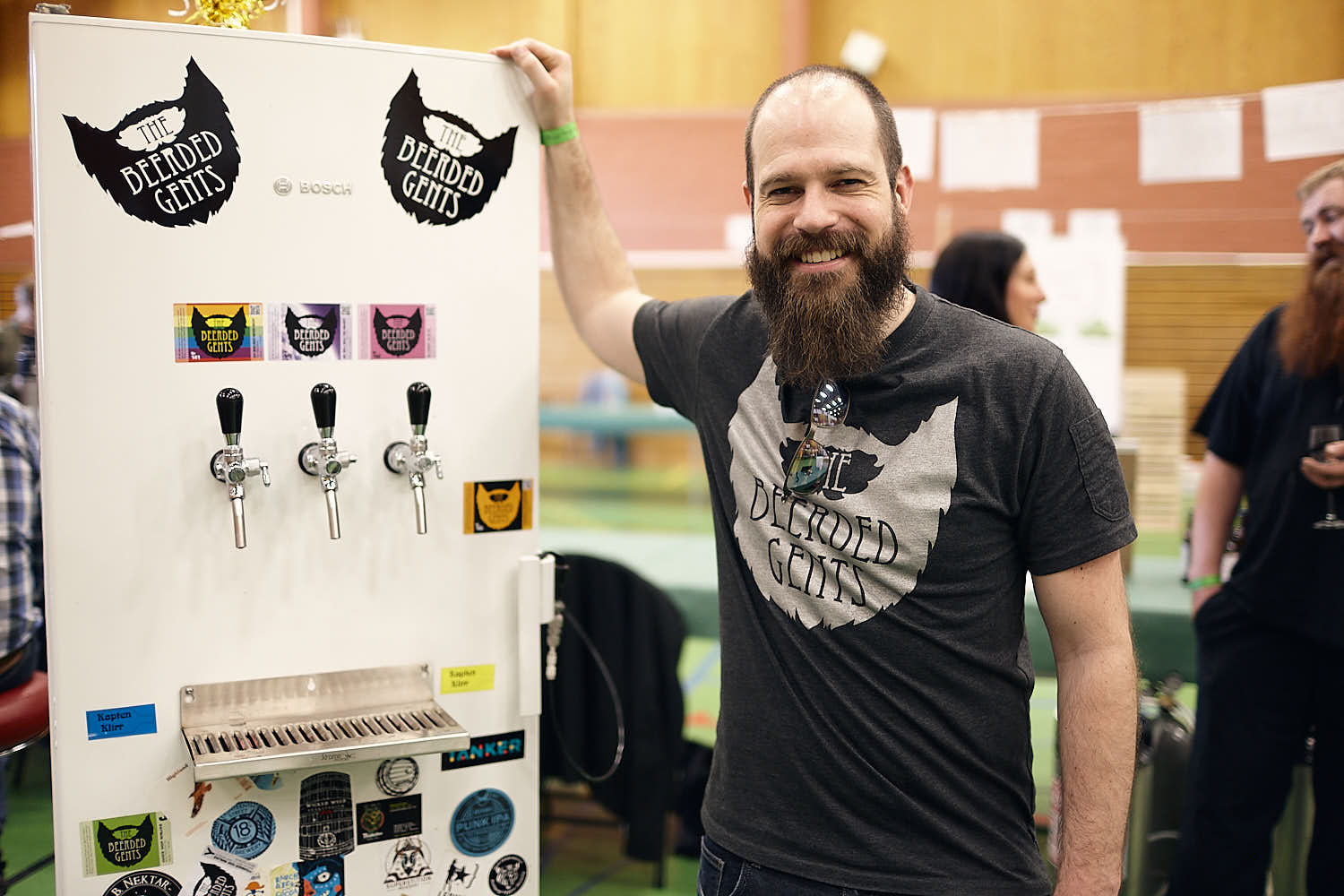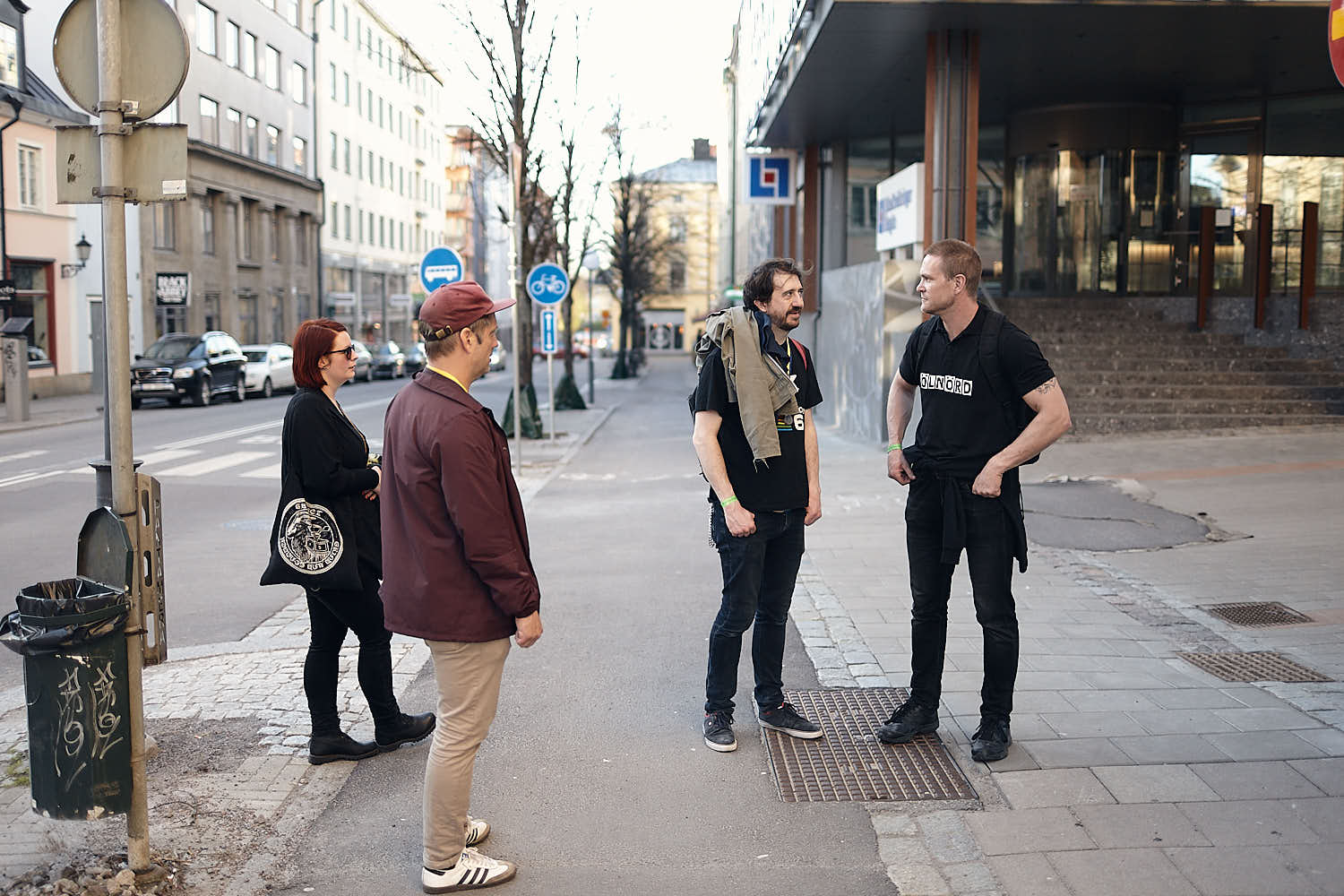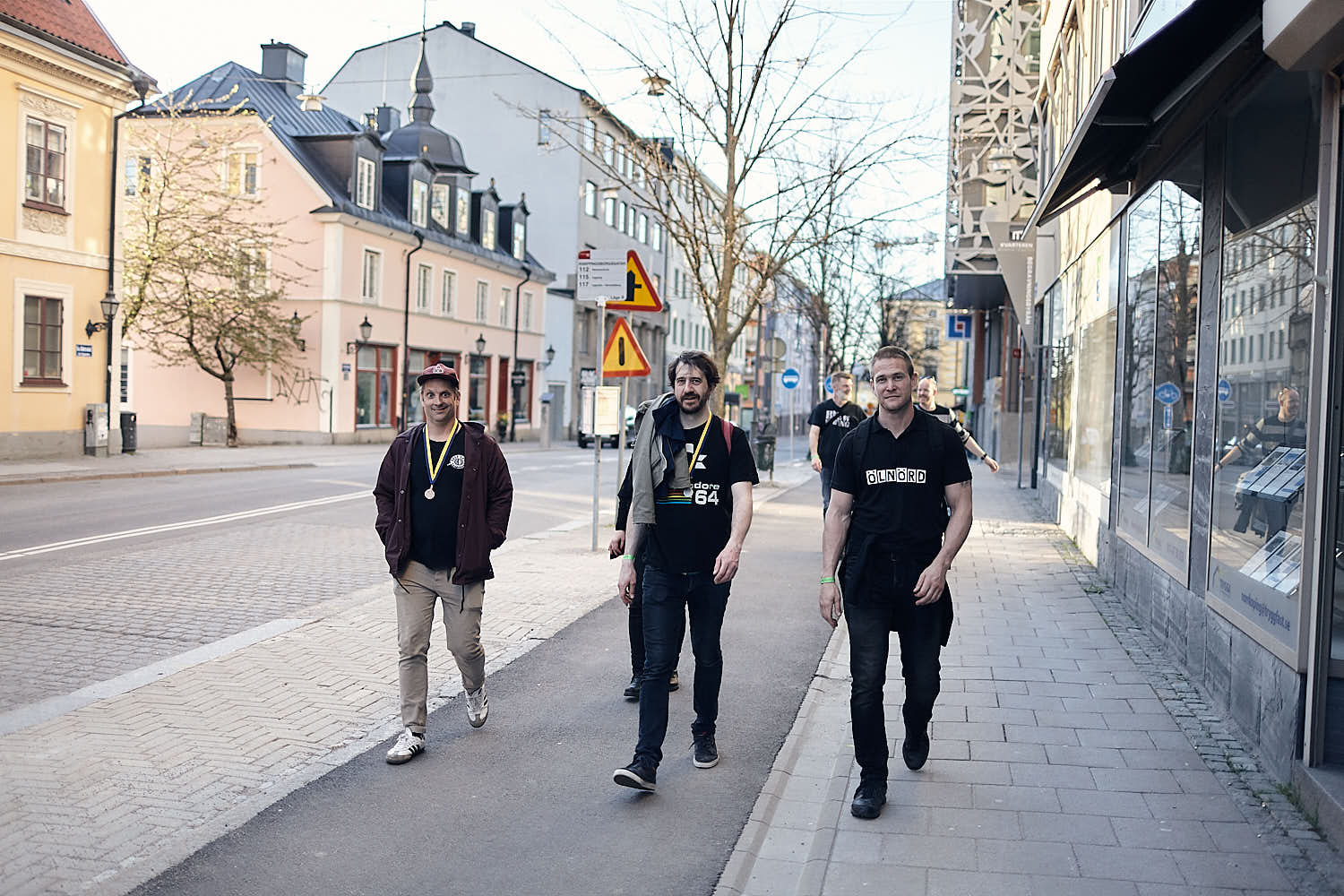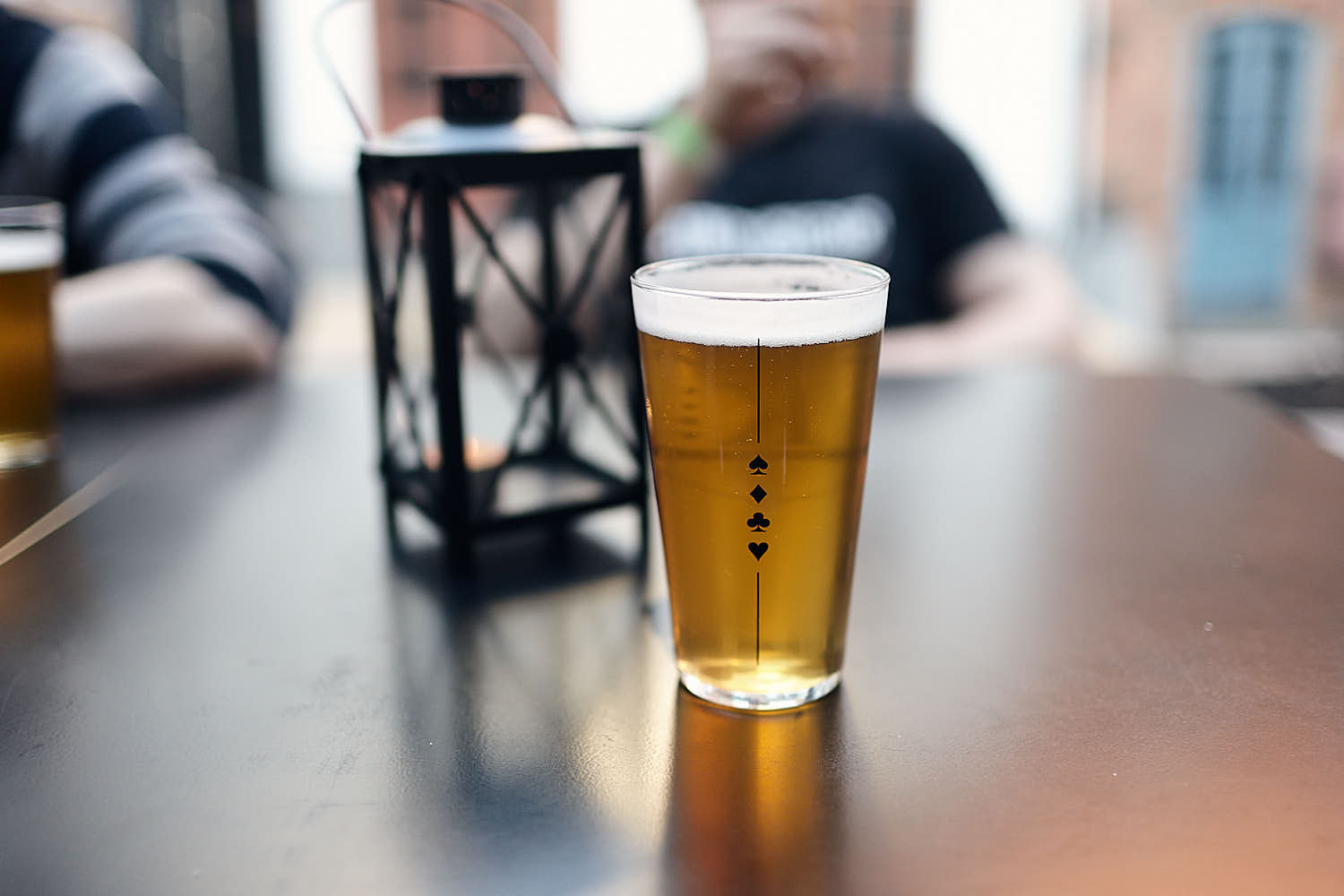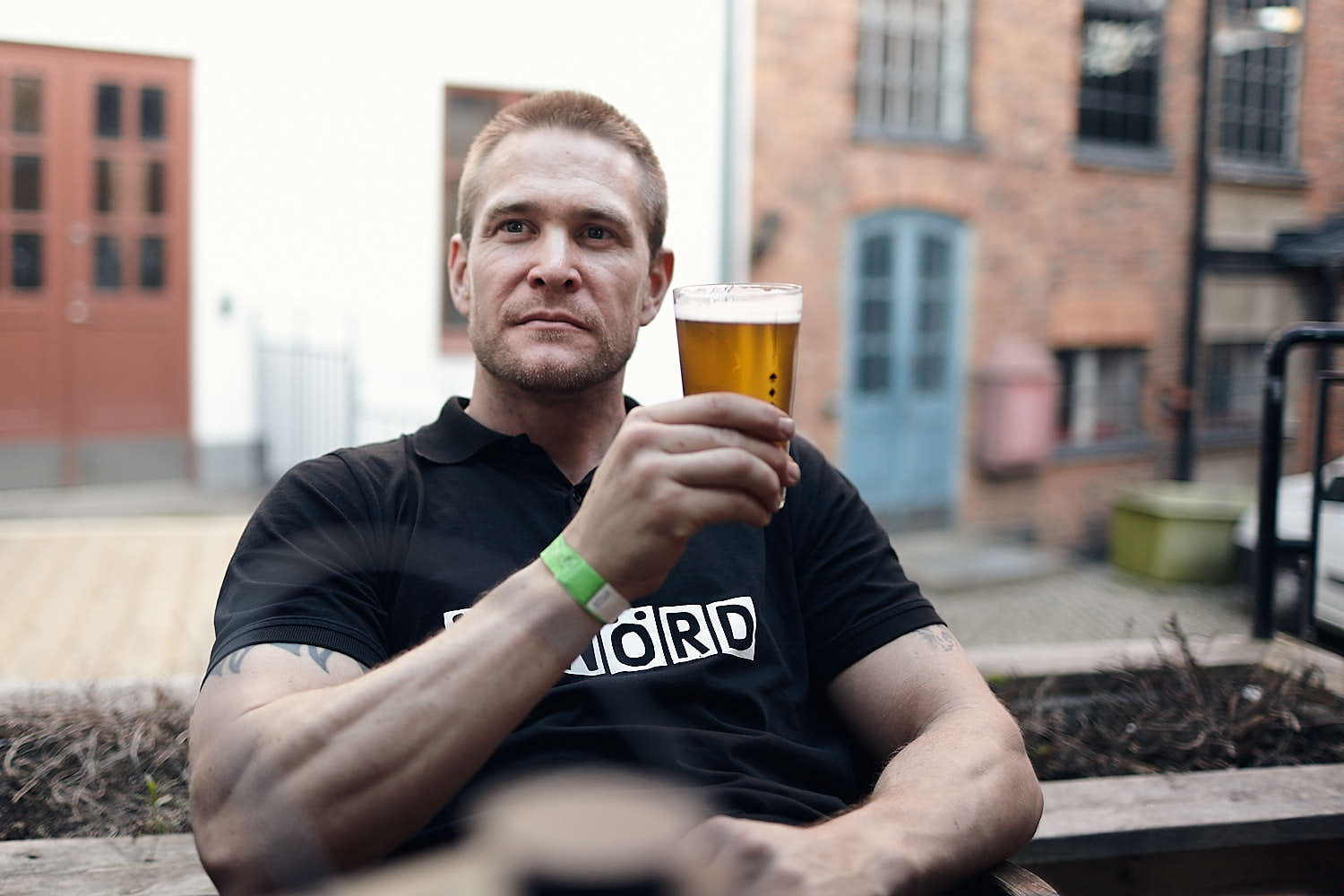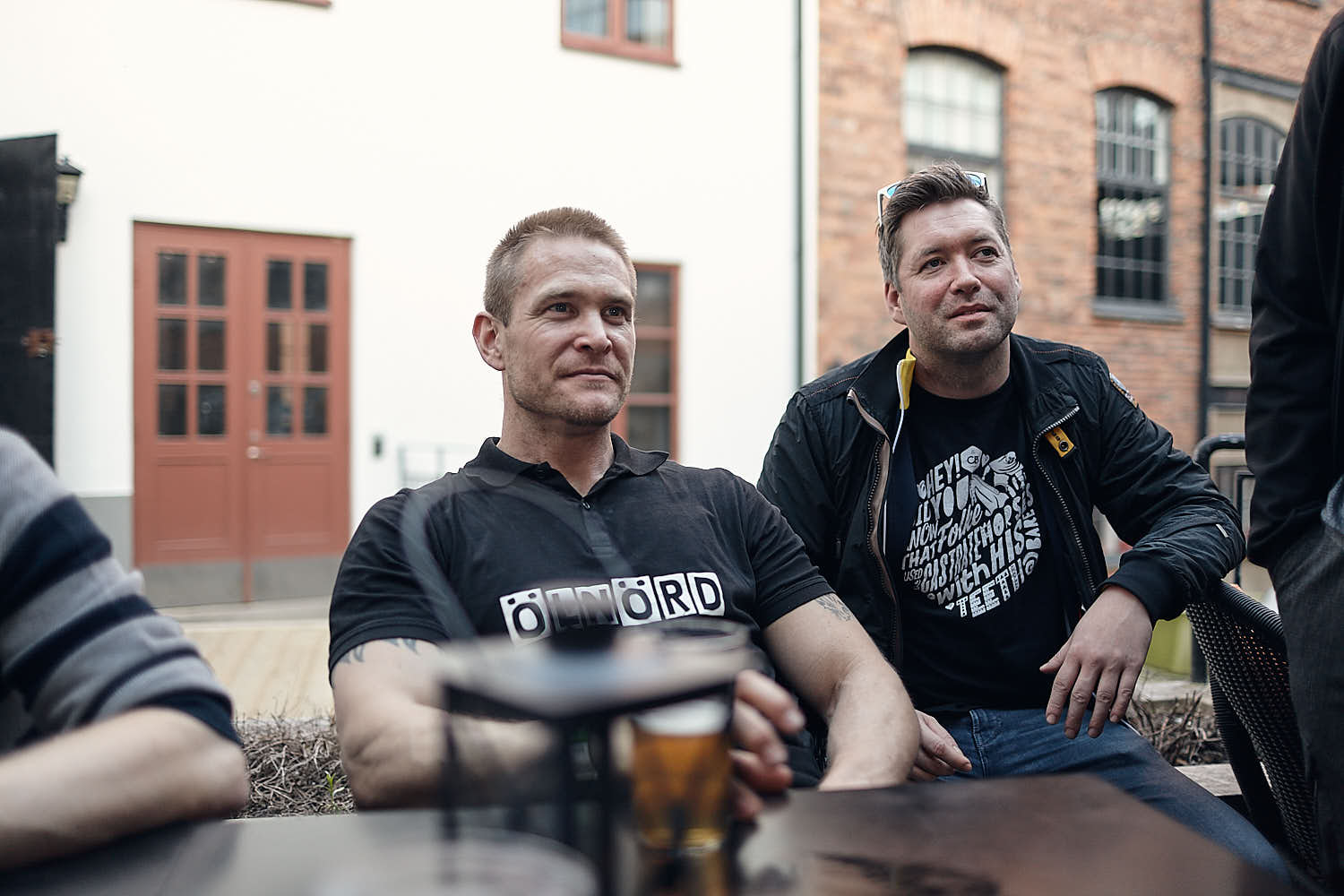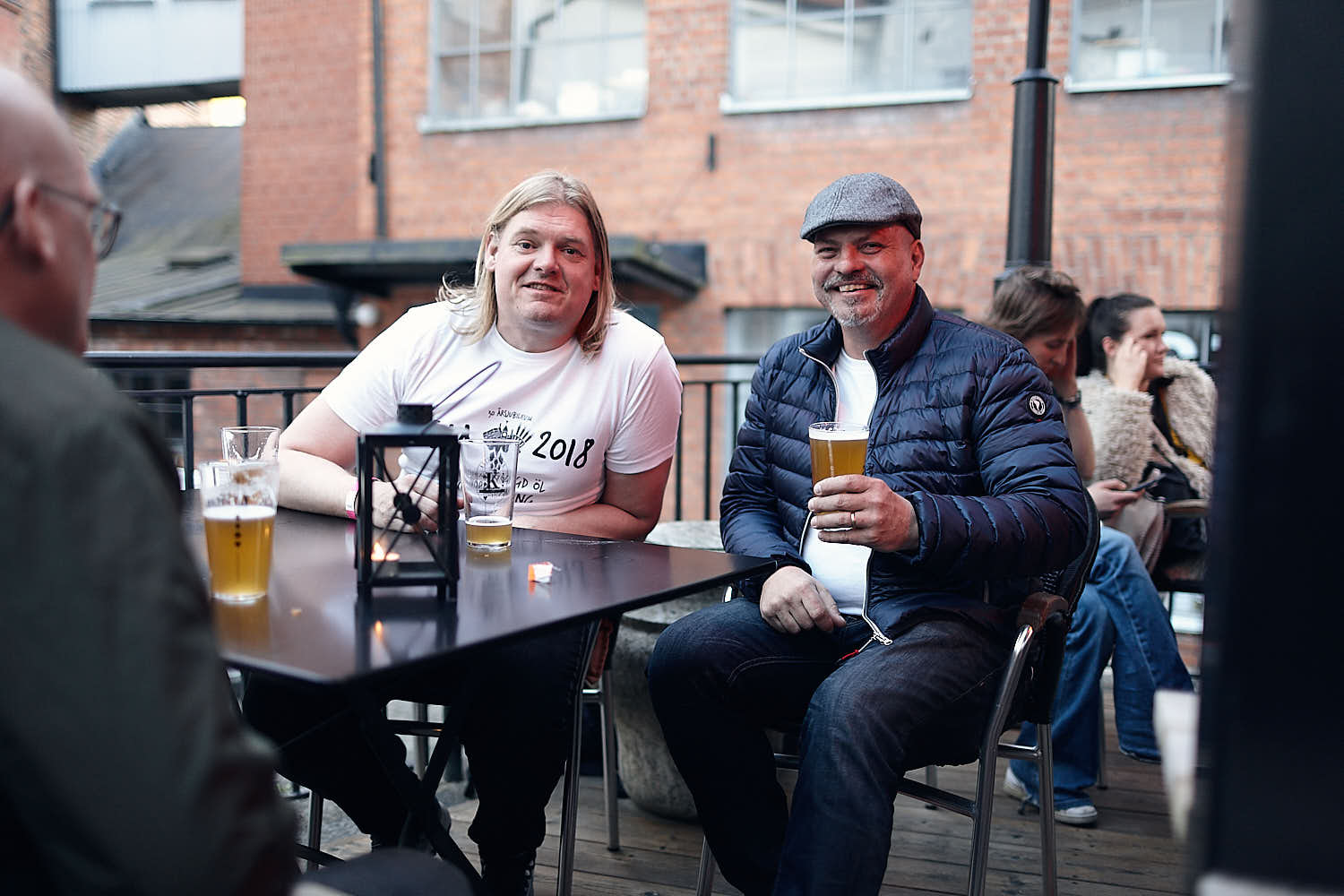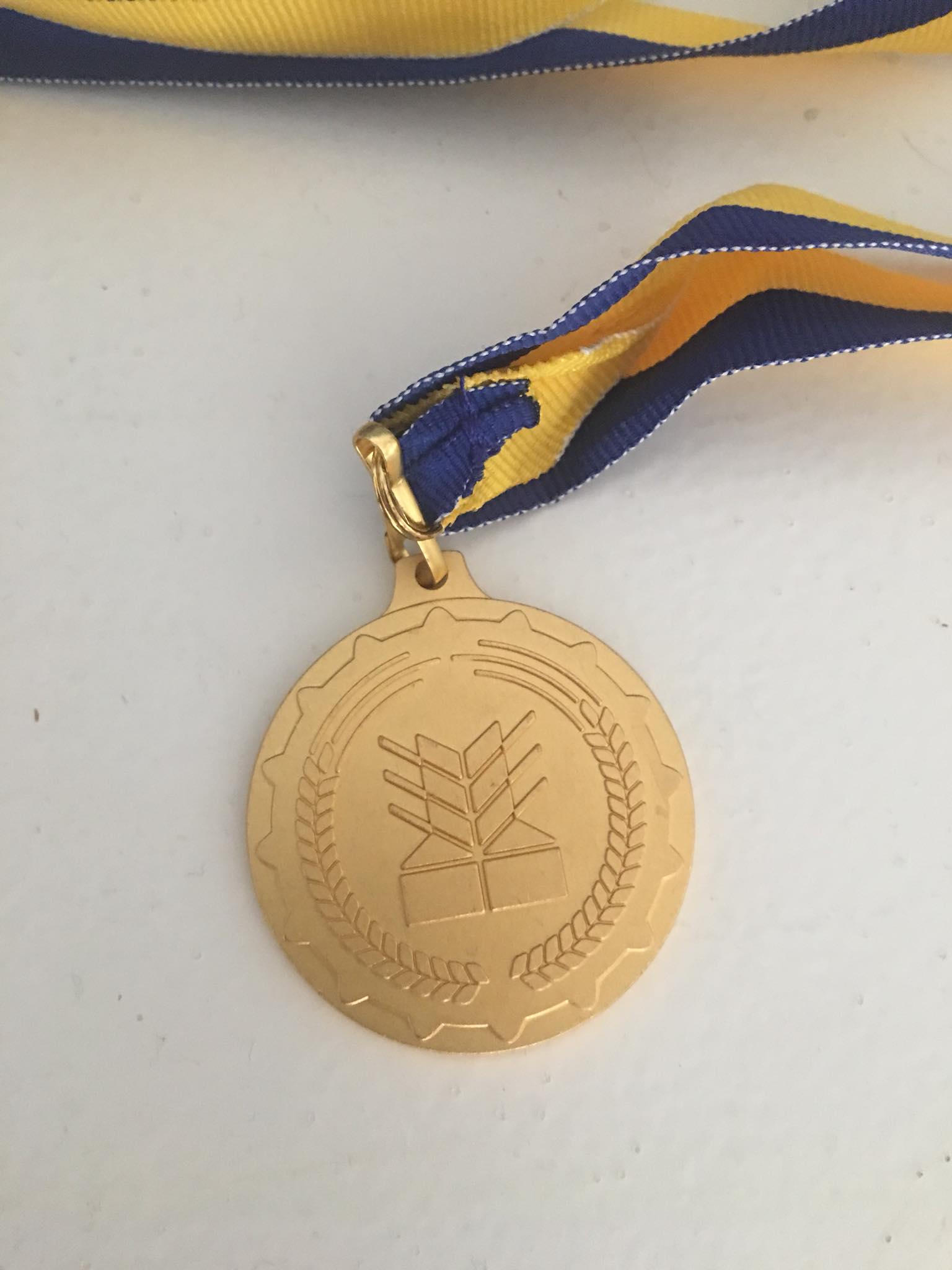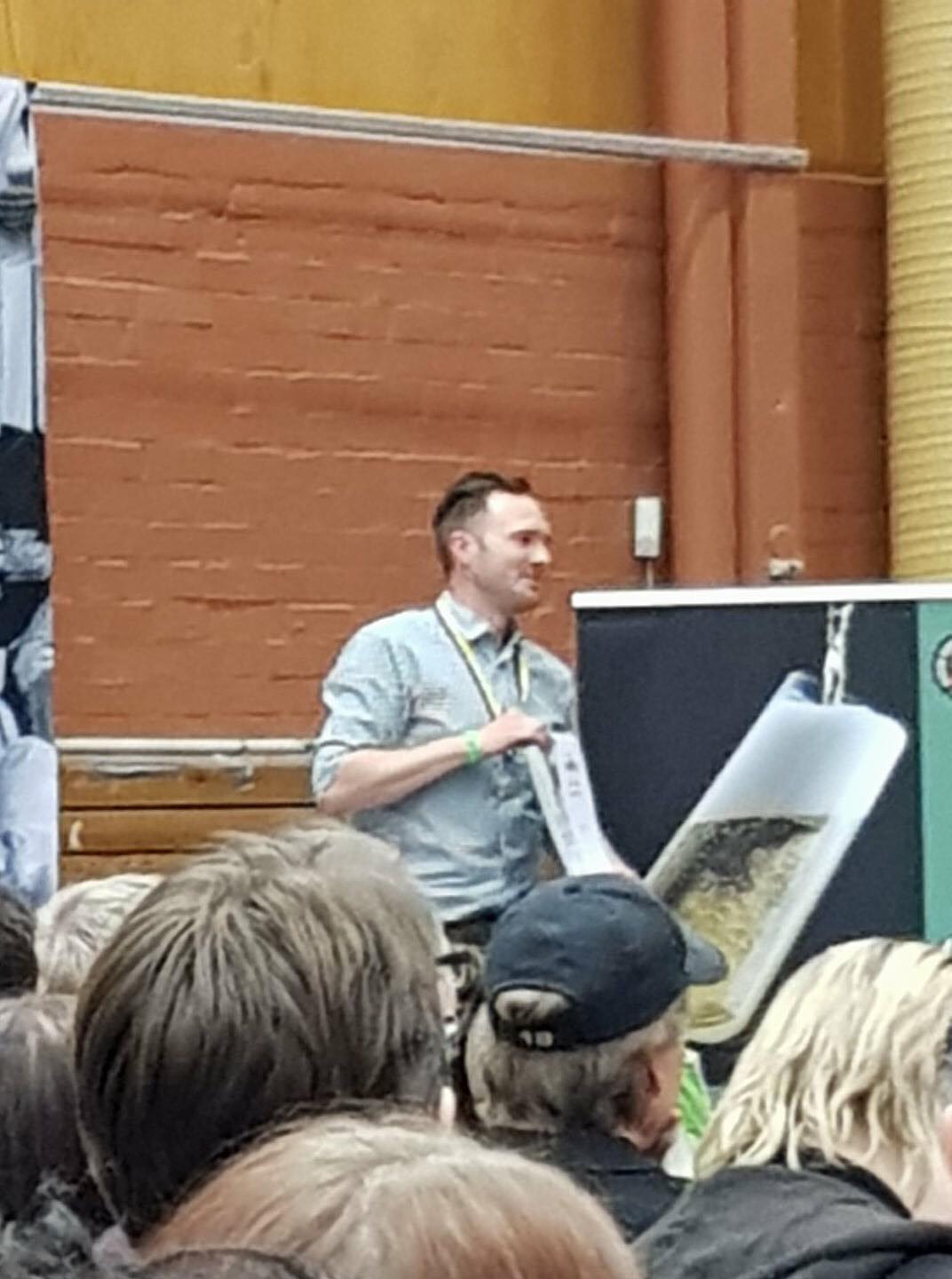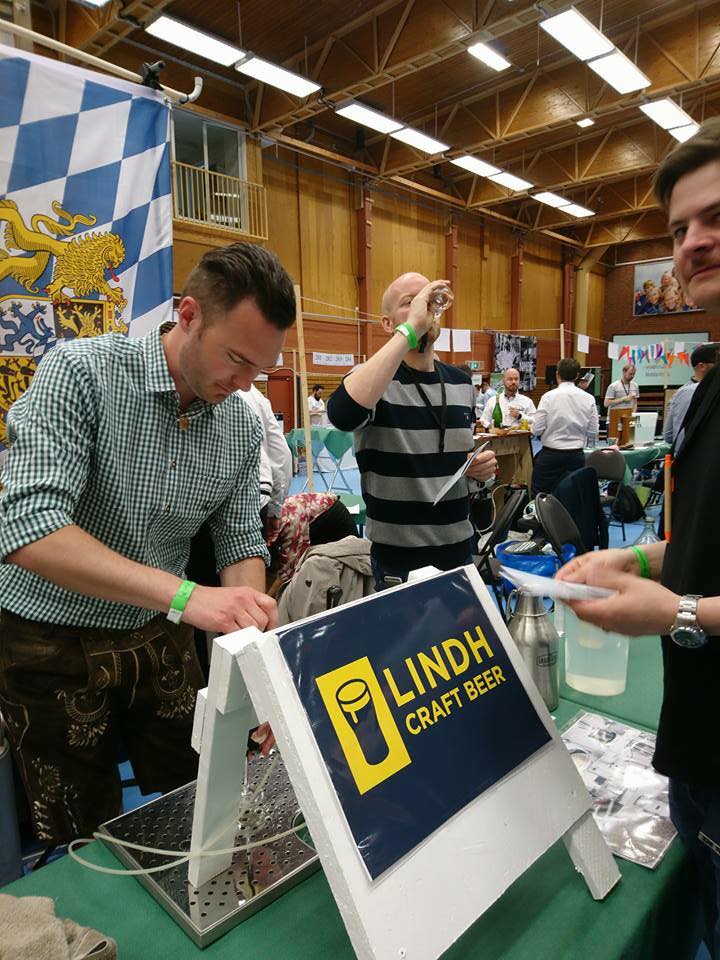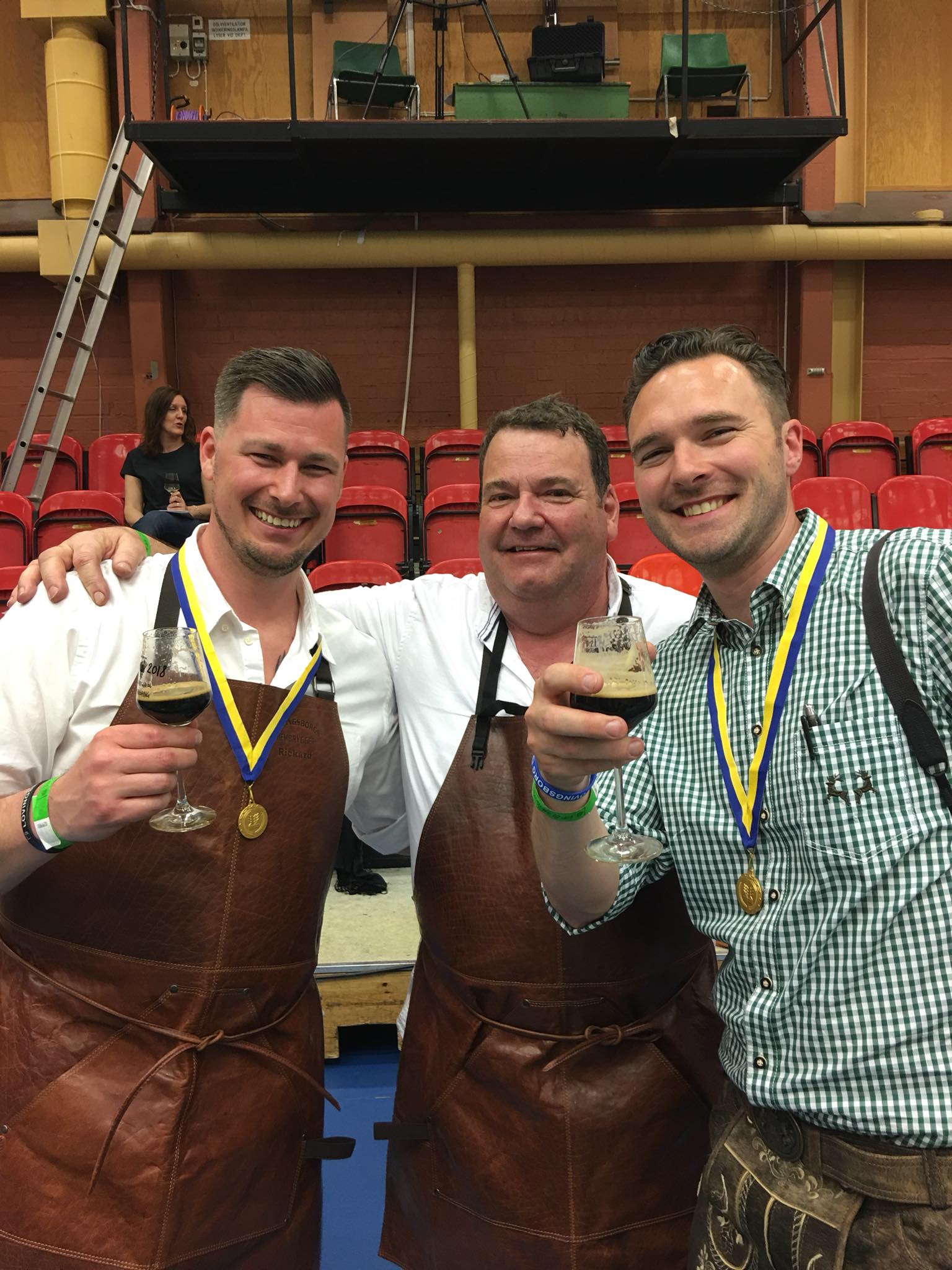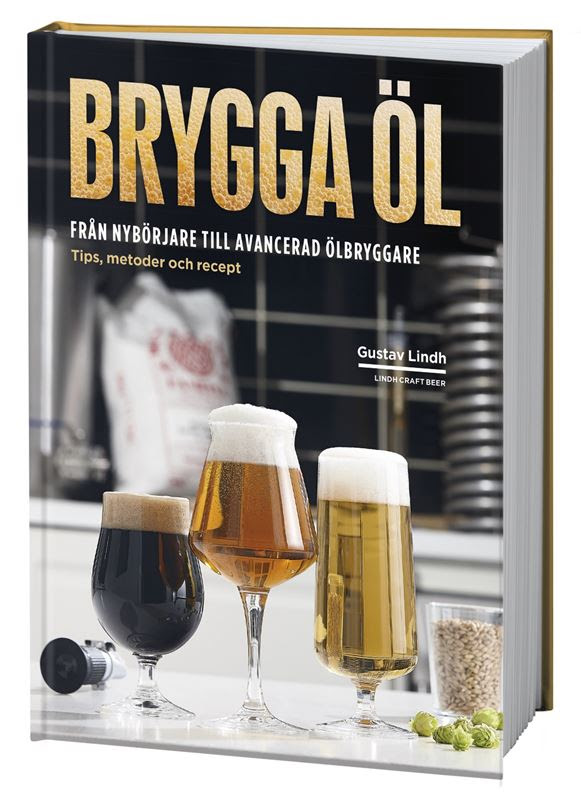 Du har väl inte missat min bok om ölbryggning? Köp den hos
Humlegården!