Min kegerator rymmer fyra 19l Corneliusfat om jag blandar de höga och smala men det är tight som tusan och jag måste krångla rejält när ett fat tar slut (och det är ju alltid fatet längst in som tar slut först). Så vanligtvis har jag två fat i kylen och ovanpå mitt tapptorn med plats för två kranar, mina Perlick 630SS. På senare tid har jag dock känt ett behov av att ha tre fat igång, förutom mina weißbier och suröl som jag flaskar, och till det har jag haft en lös picnickran inne i kegeratorn istället. Inte den mest eleganta lösningen men den gör jobbet. Döm om min förvåning när jag bokstavligen snubblar över ett väldigt billigt tapptorn för tre kranar (Tack Grain & Grape!), de stod i en kartong under ett bord framför disken. Det gick inte stå emot som ni förstår. Allt jag behövde komplettera tornet med var en kran till med tillhörande bakstycke och handtag. Mitt nya torn är lika smalt men något högre än det gamla (se bild ovan) med den tredje kranen hamnar ovanför de "vanliga två" vilket är bra för högre glas. Monteringen var ganska enkel men kladdig med öl fortfarande i slangarna. Hålen i bänkskivan ovanpå kylen passade perfekt på nya tornet så något borrande behövdes inte. Bakstyckena är inte direkt svåra att få dit men lite mindre händer än mina skulle definitivt underlätta. Jag har ett speciellt tapptornsvektyg, liknar en fast nyckel, som gör att allt går enklare och snabbare, köp en sån om ni har tapptorn! Jag rekommenderar att börja montera den lägre högra kranen och sedan den vänstra för att så enkelt som möjligt kunna dra åt alla muttrar på insidan. Jag kör med 1m sytråd/konstriktorslang med motsvarande små hål ner genom bänkskivan så den medföljande isoleringen till nya tornet fick jag ingen användning för.
Mitt gamla torn med de två gamla kranarna då? Jag har redan byggt en lösning för att använda tornet istället för min tidigare serveringsbock som jag hade med mig på SM och som endast använts en gång. Serveringsbocken fungerade mycket bra men var i största laget och, om jag får säga det själv, ett tapptorn är en betydligt elegantare lösning än min dåliga Ernst-variant.
(english)
My kegerator can hold up to four kegs even if its a tight fit and I need to do a lot of moving around when a keg kicks (and that's usually one in the back). So I usually have just two kegs in there and with that, a tap tower with two Perlick 630SS faucets. But lately I've felt the need for three beers in the kegerator, besides the weißbiers and sours I bottle, and for that purpose so I have used a picnic tap inside, not very elegant but it does the job. Maybe not a big surprise, but when I stumbled upon a stainless tower for three taps that was very affordable (Thanks Grain & Grape!) I couldn't resist an upgrade. All I needed was another tap with Faucet shank and a tap handle. My new tower is a bit taller than my old and the third tap is placed on top of the other "regular two" which is good for tall glasses. The assembly was pretty straight forward but a bit messy with beer still in the lines of my old taps. The wholes in the counter top was exactly the same so no need to drill anything. The backs of the taps are not hard to mount but it would go a lot faster with smaller hands. I have a special wrench for taps that helps both on the inside and outside. I would recommend to start with the lower right tap and then the left for easiest access and ability to turn the faucet shank screw. I use 1m constrictor lines to my taps but both the taps and the connection to my kegs are the usual size so I have John Guest reducers. Having such a small line, and equally small whole into the kegerator, makes me not need the supplied insulation I got with the new tower. 
What about my old tower, and my old two taps? I have rebuilt my portable serving station that I bring along to competitions so I only used my old one once (at the nationals) and even if that worked fine it was a bit to large and a stainless tower is, in my opinion, a more elegant solution that my crude wood work…
"Extrahålet" ovanför de andra två.
The "extra" whole on top of the other two.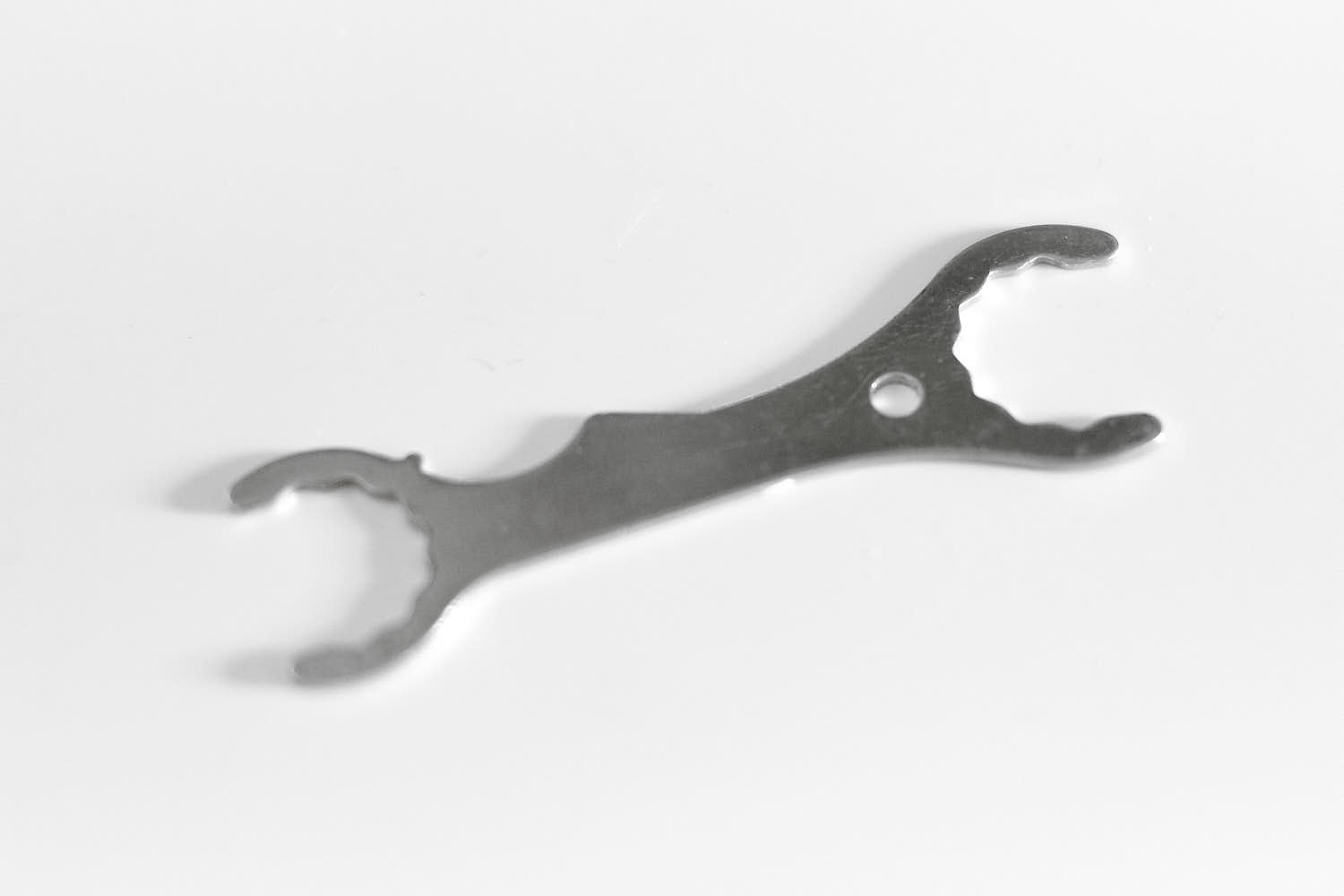 Min billiga tapptornsnyckel som hjälper massvis när man ska sätta fast en kran i ett torn. Notera den lilla knölen på vänstra övre käken, den används för att fästa kranen på själva bakstycket på ett mycket smidigt sätt.
My cheap tap tower wrench that helps a lot when mounting a tap in a tower. Make notice of the little bump on the upper outside left jaw, it's used for mounting the faucet on the backing in a very easy way.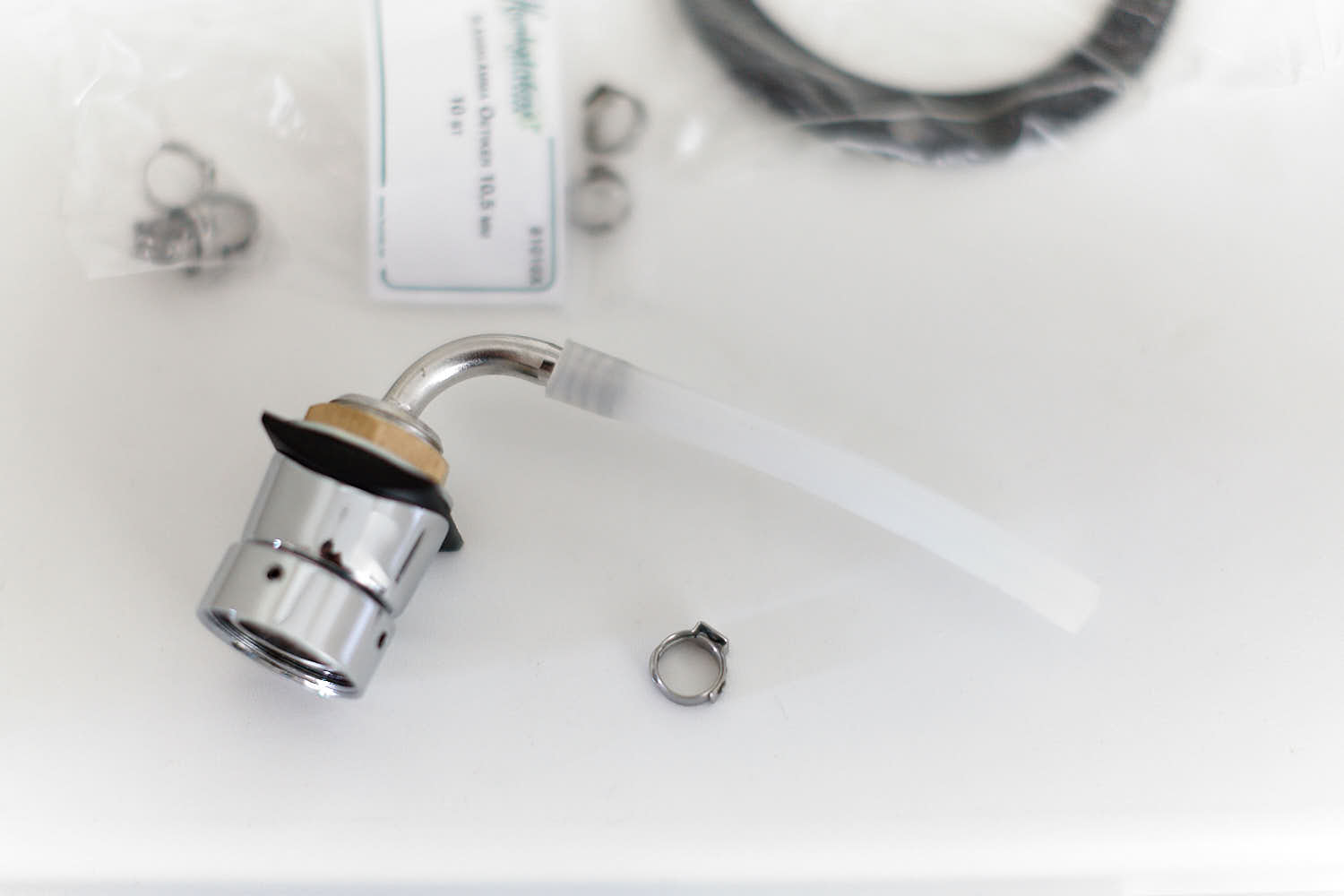 En vanlig stump ölslang sträs på bakstycket med ganska mycket våld…
A regular beer line is placed on the faucet shank (with a bit of violence)…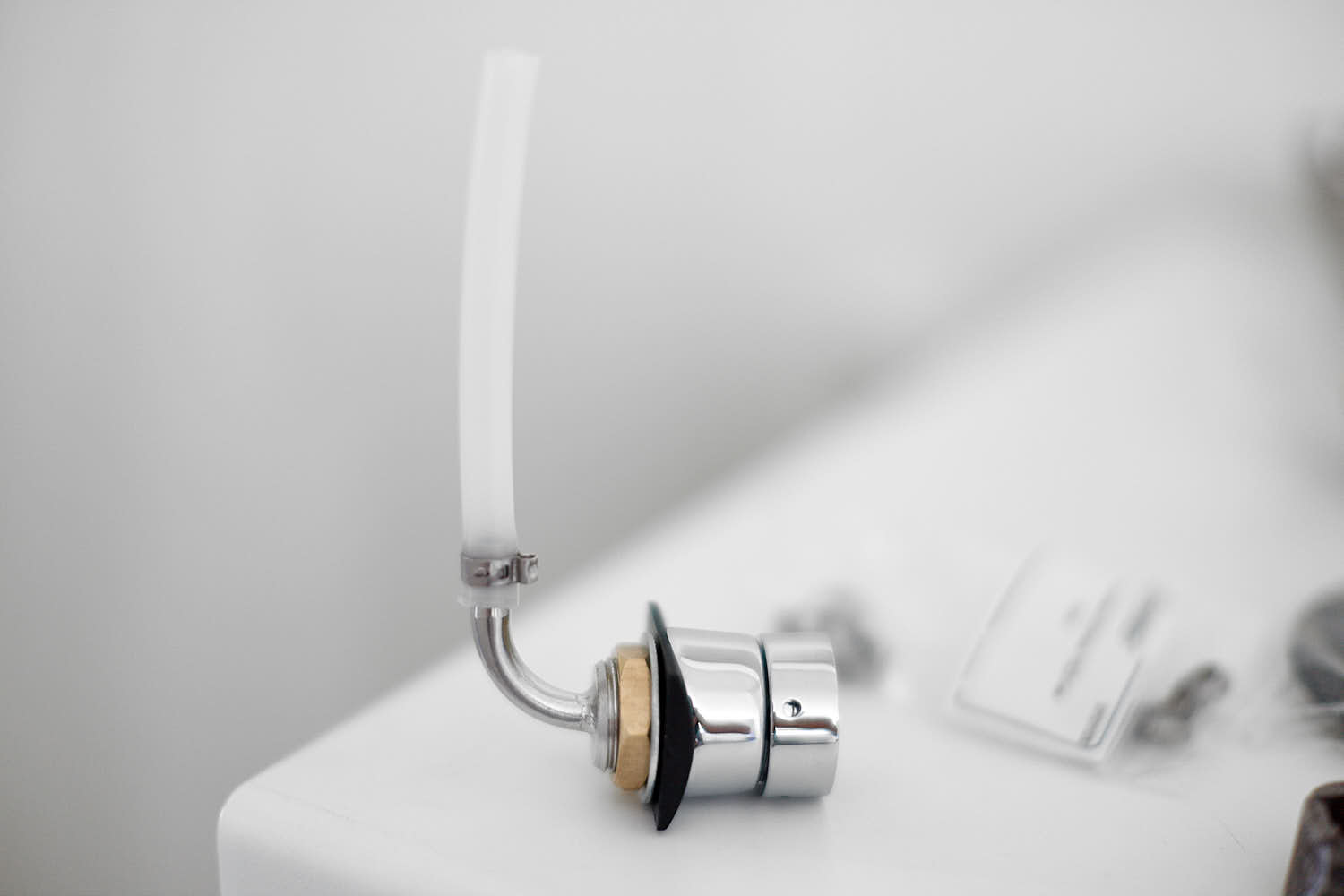 …och säkras sedan med en oetikerslangklämma.
…and secured with an oetiker clamp.
Så här dras kranens mutter åt med hjälp av tappkransverktyget.
This is how the tapp gets secured using the tap tower wrench.
Jag fick även en gummipackning som skyddar från spilld öl att tränga in under tornet.
I also got a rubber gasket to keep spilled beer from going under the tower.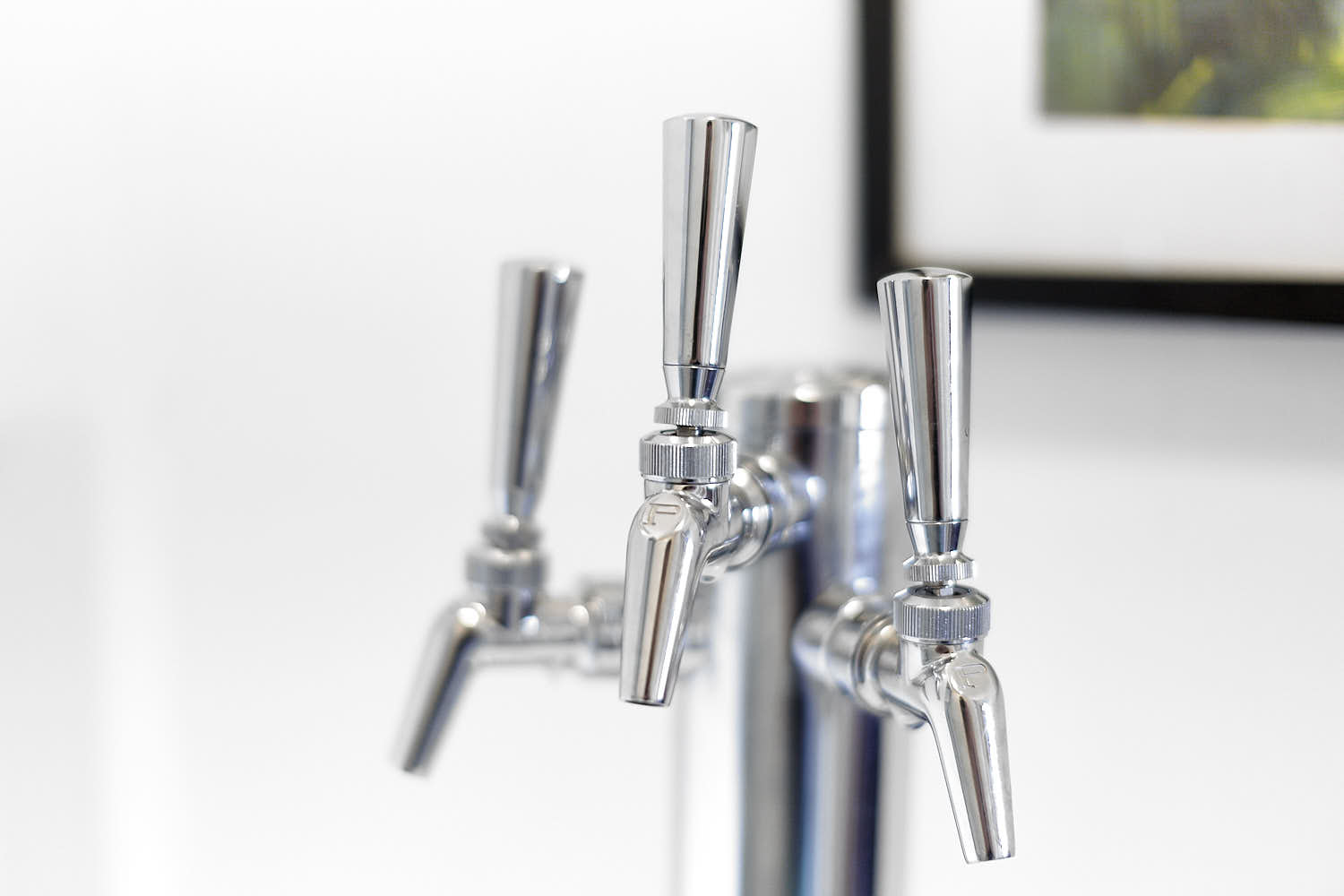 Slutresultatet, är hon inte vacker så säg!
The end result, ain't she a beauty!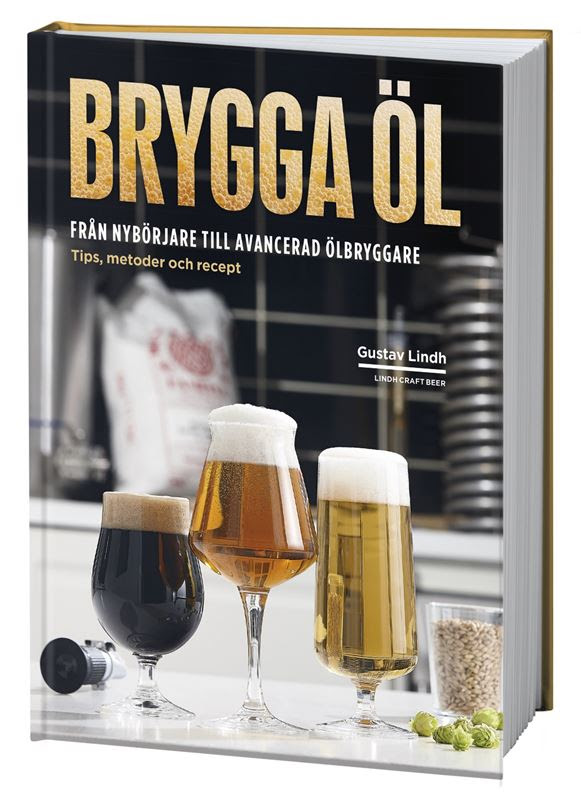 Du har väl inte missat min bok om ölbryggning? Köp den hos
Humlegården!