Den observante ser kanske något tokigt i bilden ovan. Något som står under diskbänken? Nej det är inte ett nytt wifistyrt helautomatiskt bryggverk eller någon annan spännande ölpryl heller för den delen utan en helt vanlig ugn. Vi håller på att renovera köket och bryggeriet får tyvärr agera uppställningsplats för en stor mängd prylar både från gamla köket men även hela det nya omonterade. Därför blev denna bryggning inte den smidigaste och jag är glad att det gick att få till en bryggning överhuvudtaget. Scrolla ner så ser ni kaoset i andra delen av bryggeriet!
Mina senaste tyska pilseneröl har blivit riktigt bra allihop så receptskillnaden denna gång beror helt på att jag har lite Malt och Humle hemma jag vill brygga upp innan jag beställer nytt. Exempelvis har jag en 5kg säck Vienna som jag vann i en tävling som får agera substitut för Münchner som annars mer hör hemma i en pils. Humlemässigt har jag tidigare redan satt min sydtyska preferens "Bitburger" där receptet återfinns i min bok men den nordtyska Jevern har inte suttit helt klockrent ännu. Jag har haft svårt att hitta trovärdiga källor om just Jever och att inte hitta rätt humlemängd, humlesorter och spridning på givor har gjort att jag backat bandet och gjort egna lite mer grundläggande experiment. Just denna gång blev det test av hopstand vilket pilsnerbryggare vanligtvis inte använder medvetet utan som snarare är en biprodukt av stora kokvolymer och långa kyltider. Att de flaskor man kan få tag på i Sverige skiljer sig långt från de närmre bryggeriet gör inte processen att klona denna superba öl enklare och tyvärr var även de flaskor jag fick tag på under mina senaste två Tysklandsresor jag gjorde i september bägge trötta och saknade helt fräschör. Det jag saknar från mina Jever-kloner går närmast att beskriva som torrhumling vilket jag har väldigt svårt att tänka mig att Jever använder så därav mitt försök med en halvtimmes hopstand istället denna gång. Att öka på krispet med kalciumsulfat har jag medvetet dessutom avvaktat med då jag vill komma så långt som möjligt med beska och låg restsötma först. Kalciumsulfat upplever jag som ganska pudrig och vass så jag ser det som en sista krydda att använda på väldigt låg nivå när allt annat redan sitter.
Justering av metod för inmäskning med förkoket
Braumeistern, och övriga bryggverk också för den delen, oxiderar gärna vörten under mäskningen och eftersom jag vill brygga lågsyreöl då alla mina favoritbryggerier gör detta så kämpar jag med att komma runt de inbyggda begränsningar som finns i bryggverk. En sån begränsning i just Braumeistern är höjden på maltröret kontra höjden på bryggverket. Jag vill helst mäska in med vatten underifrån (underlet) men det är ogjort i Braumeistern då ventileringen av pumparna bubblar luft genom mäsken vid start. Därför sänker jag ner det fyllda maltröret uppifrån med hjälp av en vinsch istället. Problemet då blir att min totala vattenmängd blir högre än maltröret innan övre filtrena är på plats och därför måste jag först ta ur 6-7 liter vatten, mäska in och sen återföra vattnet. All tid jag lagt på att förkoka och kyla det vattnet för att ta bort syret är då förgäves. Långt förspel på denna förklaring men mitt förbättringstest denna bryggning var att flytta kokande vatten till en separat kastrull via en silikonslang, koka det lite till, kyla, behandla med lite Antioxin SBT (2g) och sedan låta det återförenas (återigen via silionslang) med mäsken i bryggverket när väl toppfiltret och mash cap:en var på plats. En förbättring rent teoretiskt men om det ger något mätbart eller smakmässigt i slutändan är jag skeptisk till. Men som med mycket inom ölbryggning blir inte skillnaderna tydliga förens man kombinerar de. Tester där endast en variabel skiljer kan vara svåra för den otränade att hitta men det betyder inte att det inte ÄR en skillnad och ännu mindre att denna skillnad är oviktig. När man börjar addera 3-4 mindre skillnader blir det plötsligt en stor skillnad och bryggaren får svårt att dra någon slutsats av vilken av parametrarna som avgjorde slutresultatet. Därför är min strövan att förbättra allt jag kan i min bryggning även om vissa enskilda skillnader endast verkar vara teoretiska. Nu när jag väl ändrat mer eller mindre hela min process i små steg har smaken och kvalitén drastiskt förbättrats så jag vet att jag är på rätt väg. Och så länge de nya metoderna inte är speciellt mycket jobbigare än tidigare (vissa så som förkokning av mäskvattnet är det så klart medan andra som t.ex. spundning är däremot betydligt enklare och snabbare än mina gamla metoder) så ser jag all vinst i den förändringen. Det jag gör nu som jag inte gjorde för två år sedan är inte speciellt konstigt eller krångligt, bara lite ovanligt mot hur hembryggare lär andra hembryggare hur man gör. Mina metodförändringar härstammar från bryggmästarutbildningarnas kursmaterial och är "best practice" i de flesta större bryggerier världen över och de forskas på, testas och ifrågasätts dagligen på de olika brygguniversiteten. 
Kylnivå
För att maximera kyleffekten seriekopplar jag numera Bryggverkets kylmantel med min tjugoniometers kylspiral och jag fick därför ner vörtens temperatur efter kok till 14,5°C med kranvatten som höll 13,9°C vilket är riktigt bra. Hyfsat snabbt gick det också med mina 60 liter även om jag inte tog exakt tid (kanske trekvart?). Trots att jag maxade min mäskvolym vattenmässigt, för att få så hög vätskenivå som möjligt i slutet av bryggningen, så räckte det inte för att få min mash cap att flyta helt med kylspiralen under. Utan lakning kommer jag helt enkelt inte komma upp i den nivån jag skulle behöva så jag får klara mig utan mash capen under kylningen tills jag löst detta problem senare.
Stopp i avloppet
Jag har ökat fallet på mitt avlopp i bryggeriet för att det inte ska stå vatten kvar i rören efter bryggdagen. Det räckte dock inte för att skölja ut 700 gram humlepellets utan att krångla så jag fick tömma Braumeisterns drainingvalve (avloppsporten?) ner i min diskhink. Det slasket tänkte jag slänga ut i skogsdungen över staketet utanför tomten men ytterdörren var blockerad av grejer för stunden (renovering som sagt). Därför gick jag ut på altanen och tänkte att jag med ett redigt bra schwuung kunde sprida ut humleresterna jämnt och fint på gräsmattan men ICKE! Nu ser det ut som någon med humlerännskita gått i en fin cirkel över gräsmattan och något regn som kunde spola bort det har det inte heller kommit. Tur att sommaren är över och vi inte är ute i trädgården längre muttrade jag för mig själv ända tills brittsommaren kom och barnen numera springer runt barfota i humlegeggan, och sen in i huset igen. Lesson learned the hard way…
Förutom bloggen
Tidigare har jag främst haft den här bloggen som min huvudsakliga kommunikationskanal och Facebook/Instagram har endast fått agera inkastare till bloggen, dvs. "klicka på den här länken för att komma till bloggen och läsa mitt senaste inlägg". Det kommer förändras från och med nu och jag kommer använda de andra kanalerna som komplement till bloggen och de kommer delvis få sitt helt egna content som är mer anpassat till respektive plattform. Passa därför genast på att gilla mina sidor på Facebook och Instagram så ni inte missar något!
Samarbete med PGW och 10% rabatt!
Detta inlägg är skrivet i samarbete med PGW och tillsammans har vi tagit fram en rabattkod som ger er 10% på allt inom kategorien "Hembryggning" (sorry, inga billiga köksknivar denna gång) i deras webshop. Använd rabattkoden "lindhcraftbeer2018" så kommer 10% dras av i kassan pgw.se och koden kommer fungera under hela oktober och november!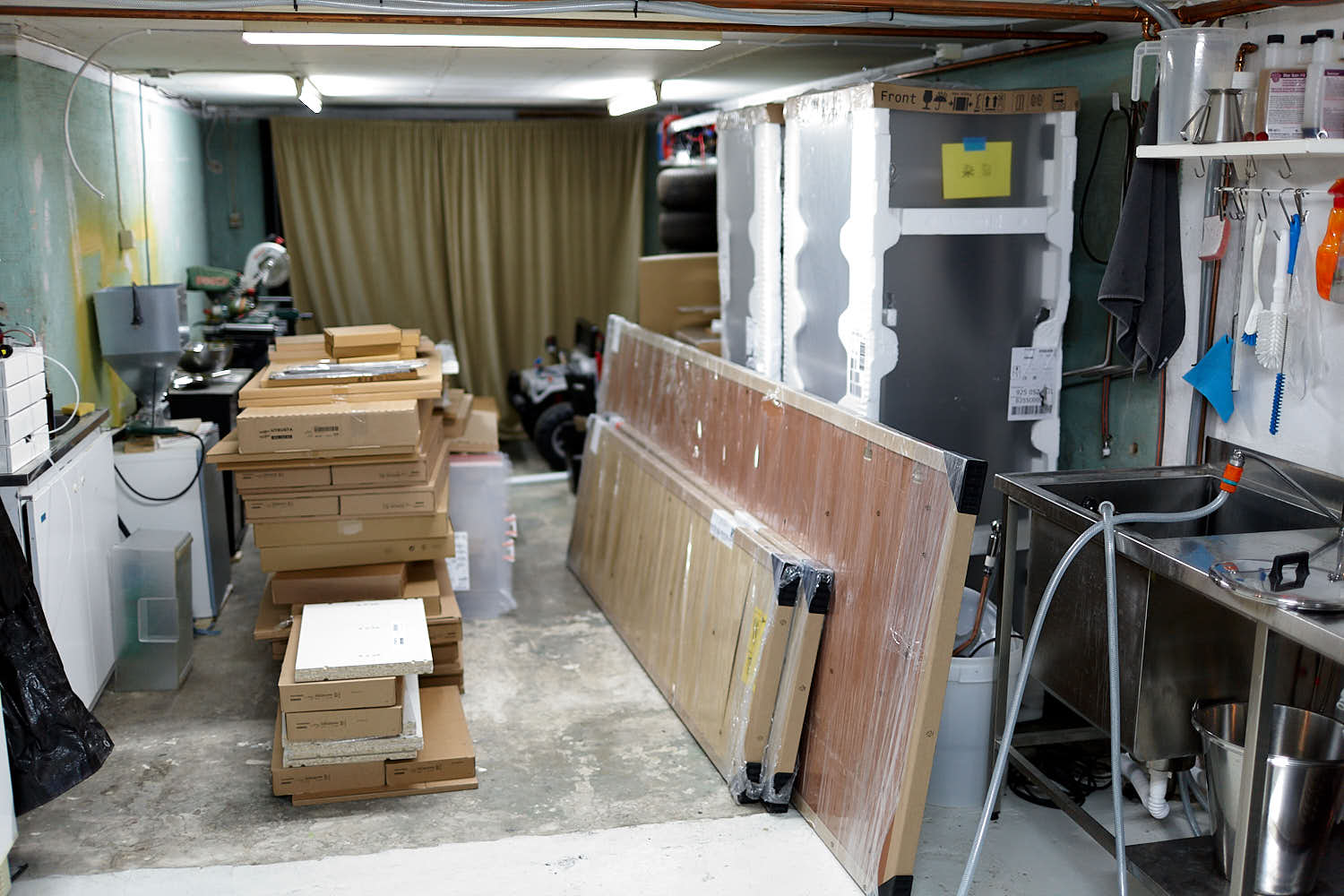 Så här bra ordning är det just nu i bryggeriet. Jag fick flytta den vänstra stapeln en halv meter för att kunna få ut min hink under maltkvarnen. Inte det smidigaste direkt…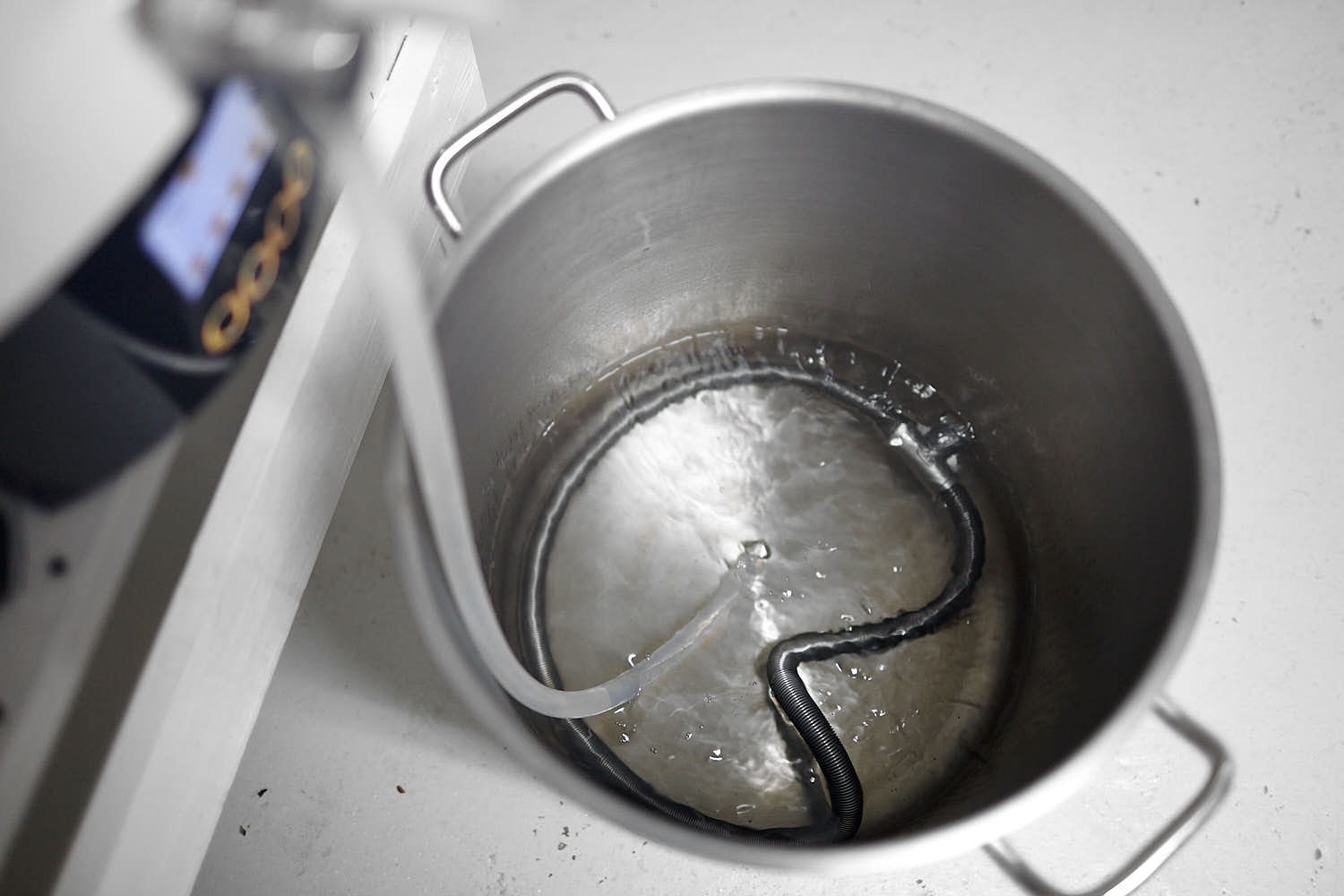 Flytt av kokande preboil-vatten till en kastrull för kok en gång till.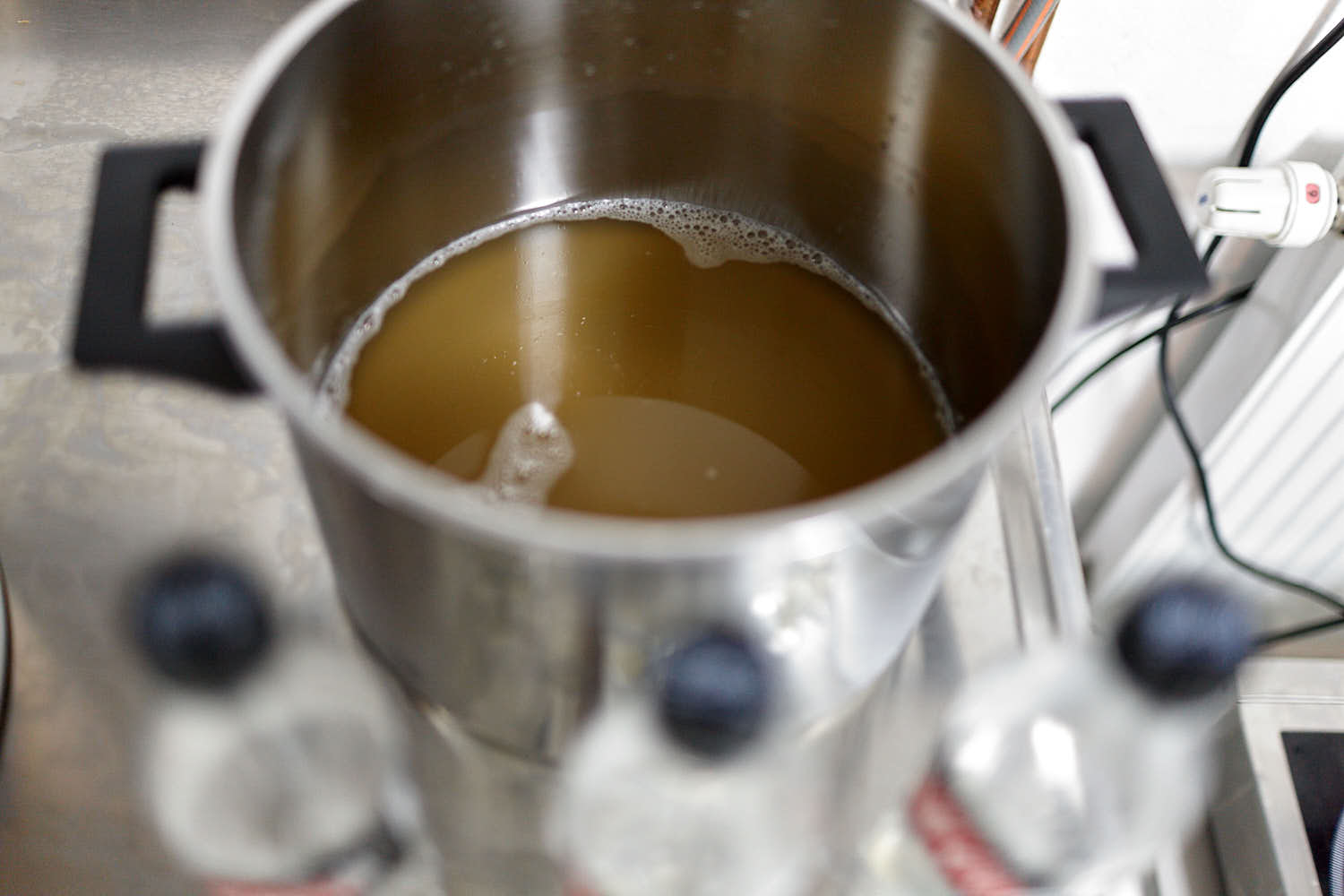 Tre stycken pet-flaskor med fryst vört fick sig ett snabbt uppkok och sedan kylning till 9°C precis som min jäst. Detta gör jag för att väcka jästen ur sin dvala och förbereda den för jäsning. Jag har märkt att denna metod drastiskt minskar lagtiden innan aktiv jäsning är igång och därmed minskar syreupptagningen en hel del.
Kylning av preboilvatten i Braumeistern.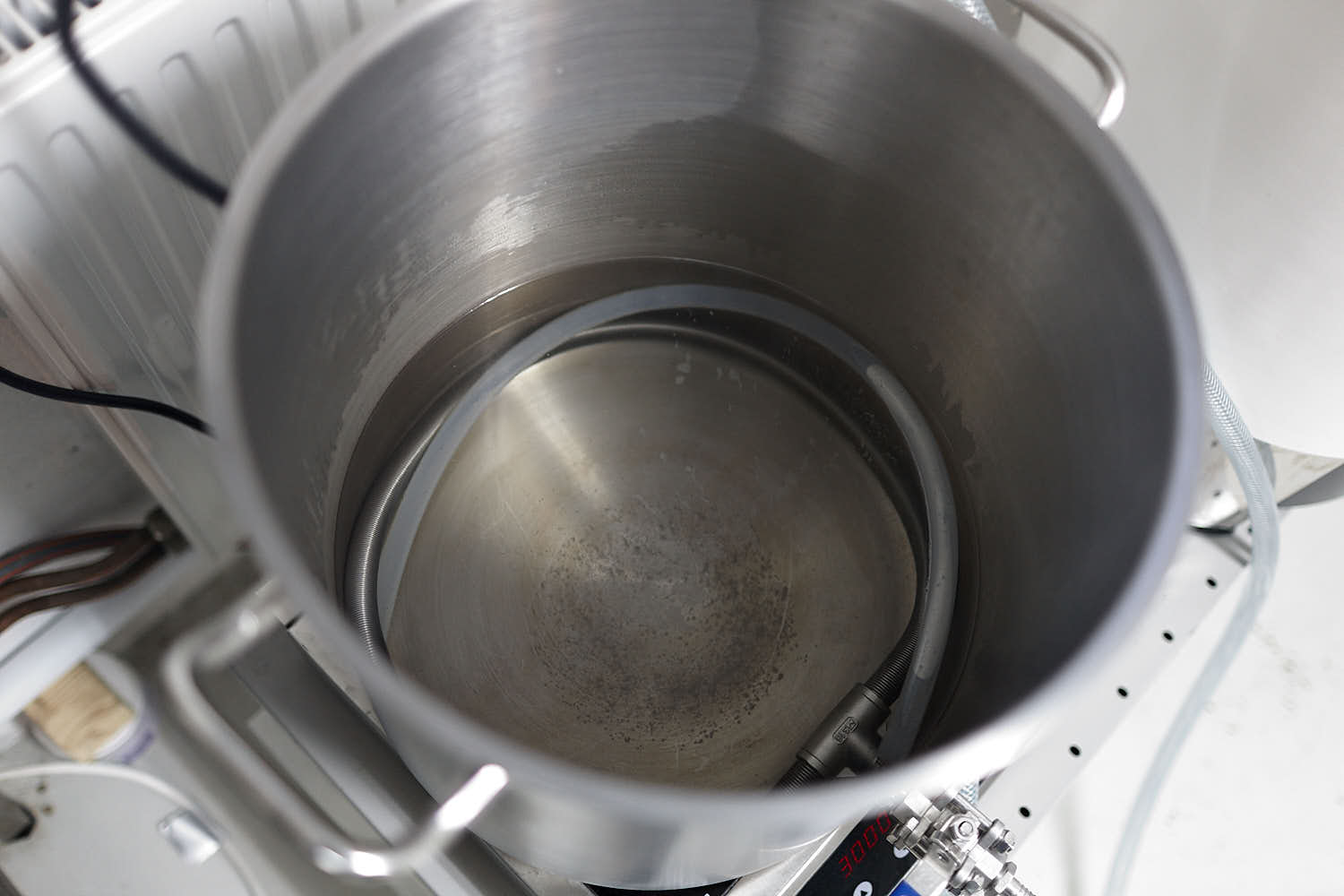 Kok av extra mäskvattnet. Silikonslangen har ingen som helst anledning att ligga där egentligen. Inte lauterhelixen heller för den delen.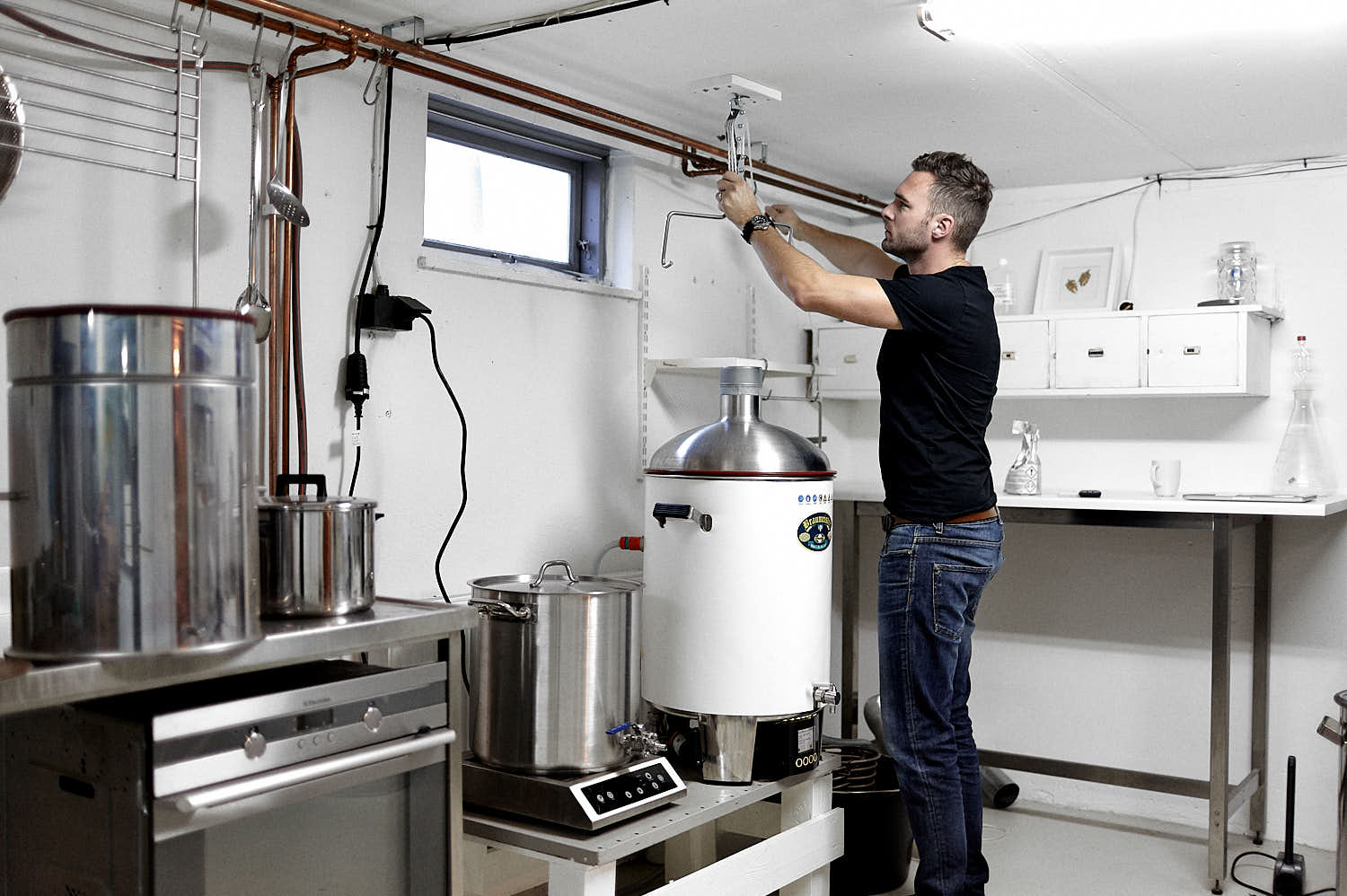 Här monterar jag lyftkroken (galgen?) som jag ska sänka ner maltröret med snart.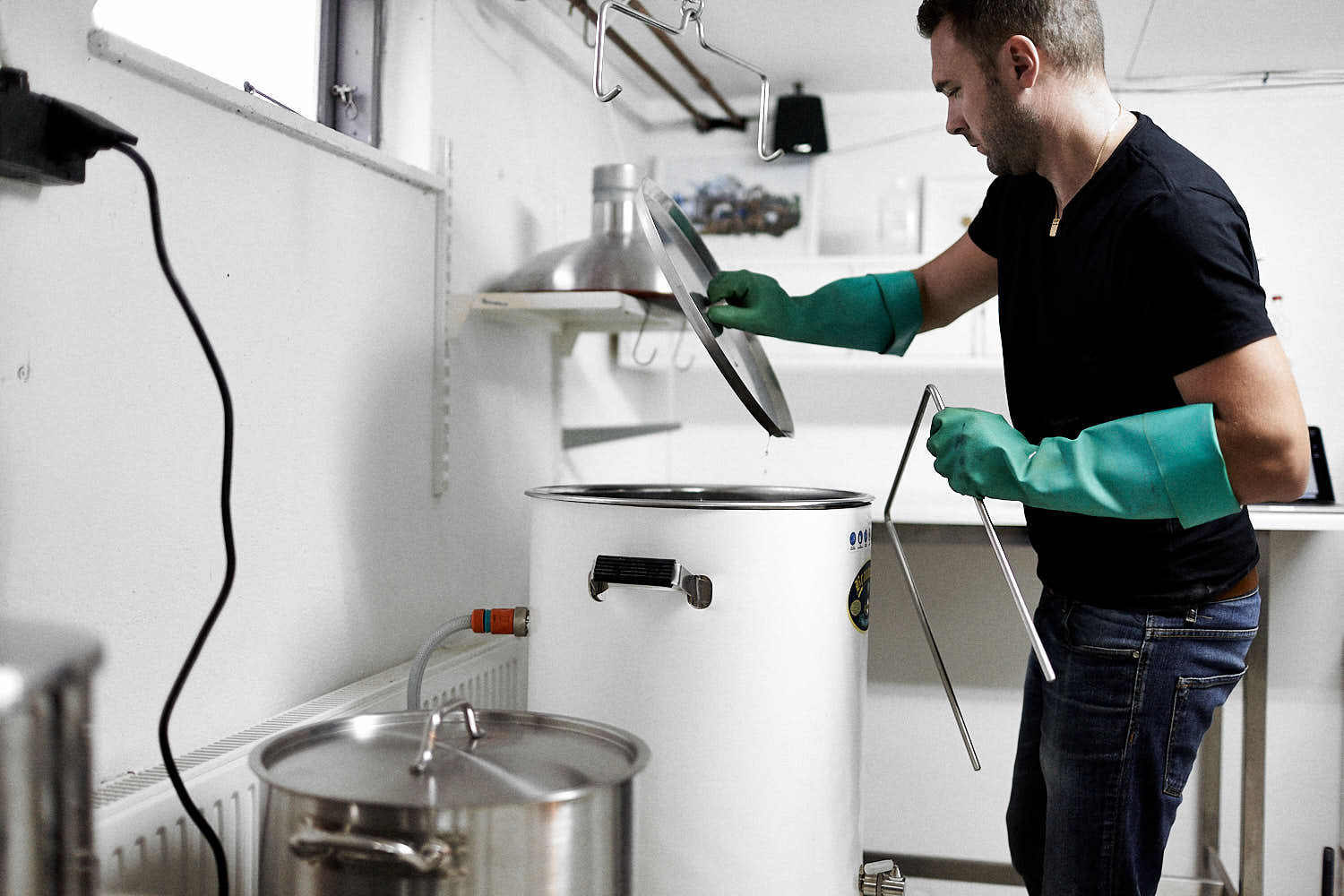 Mashcap ur och på med stödpinnen som maltröret vilar på vid inmäskning.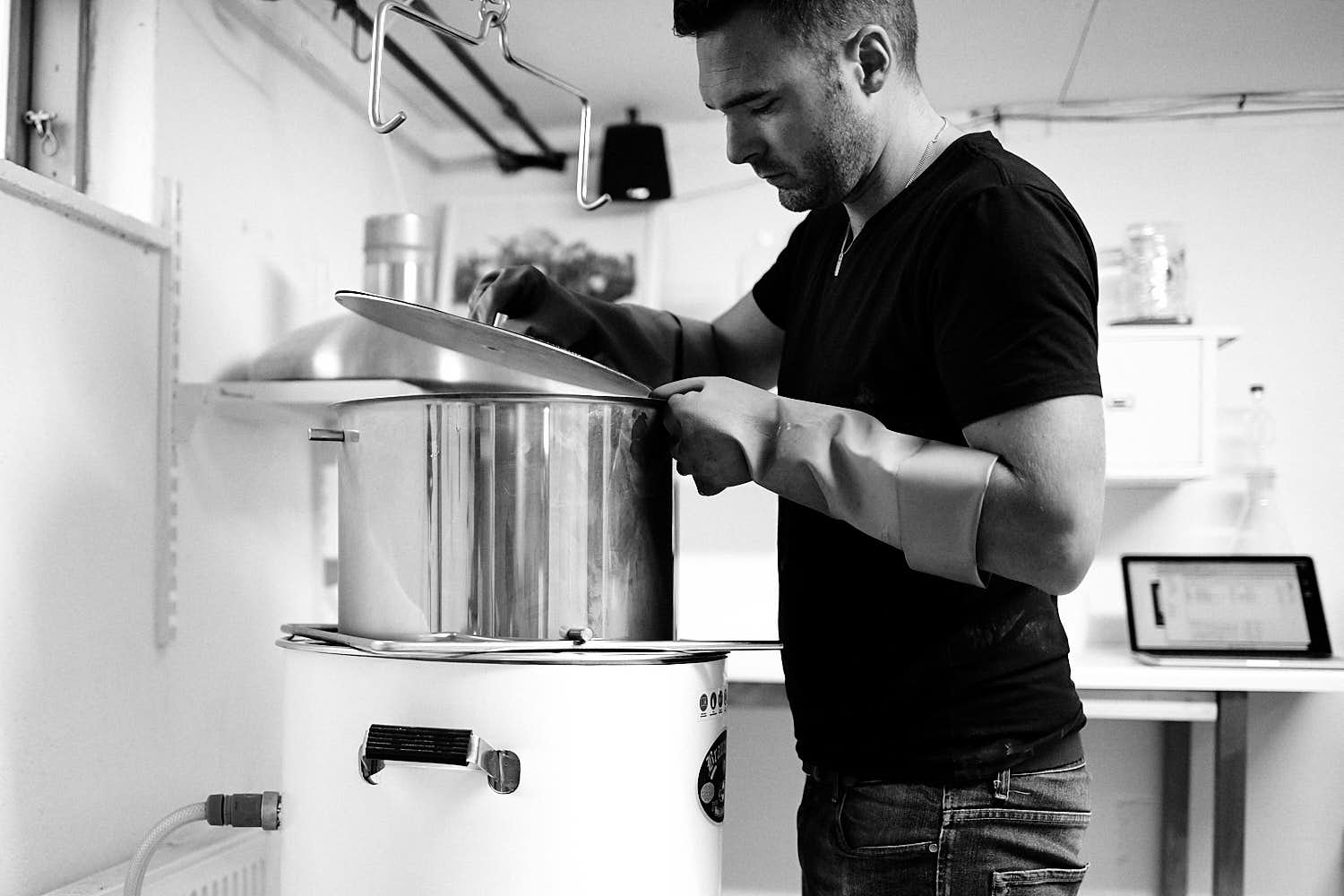 Här vilar maltröret på pinnen och de undre filtrerna sätts på plats innan malten ska i.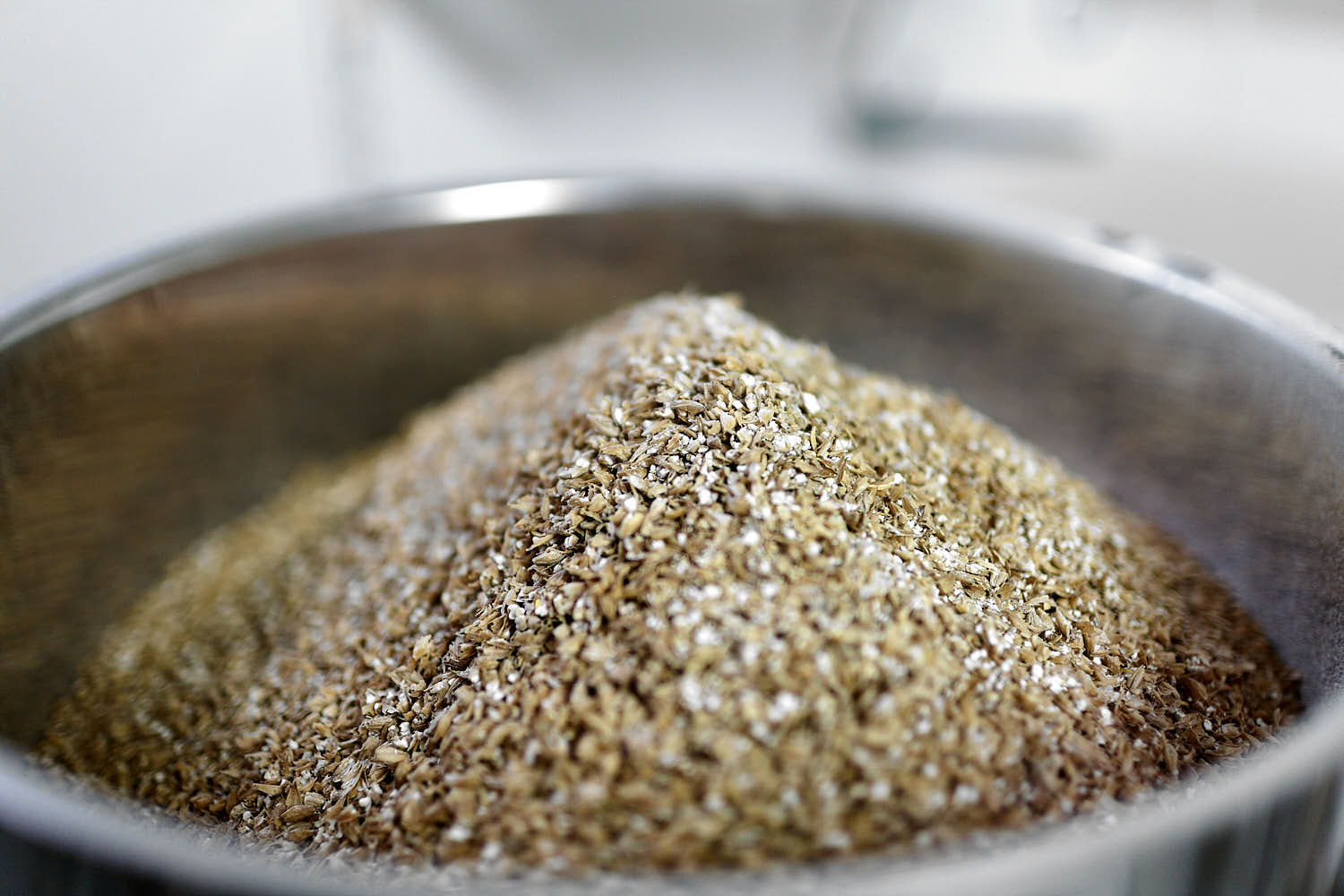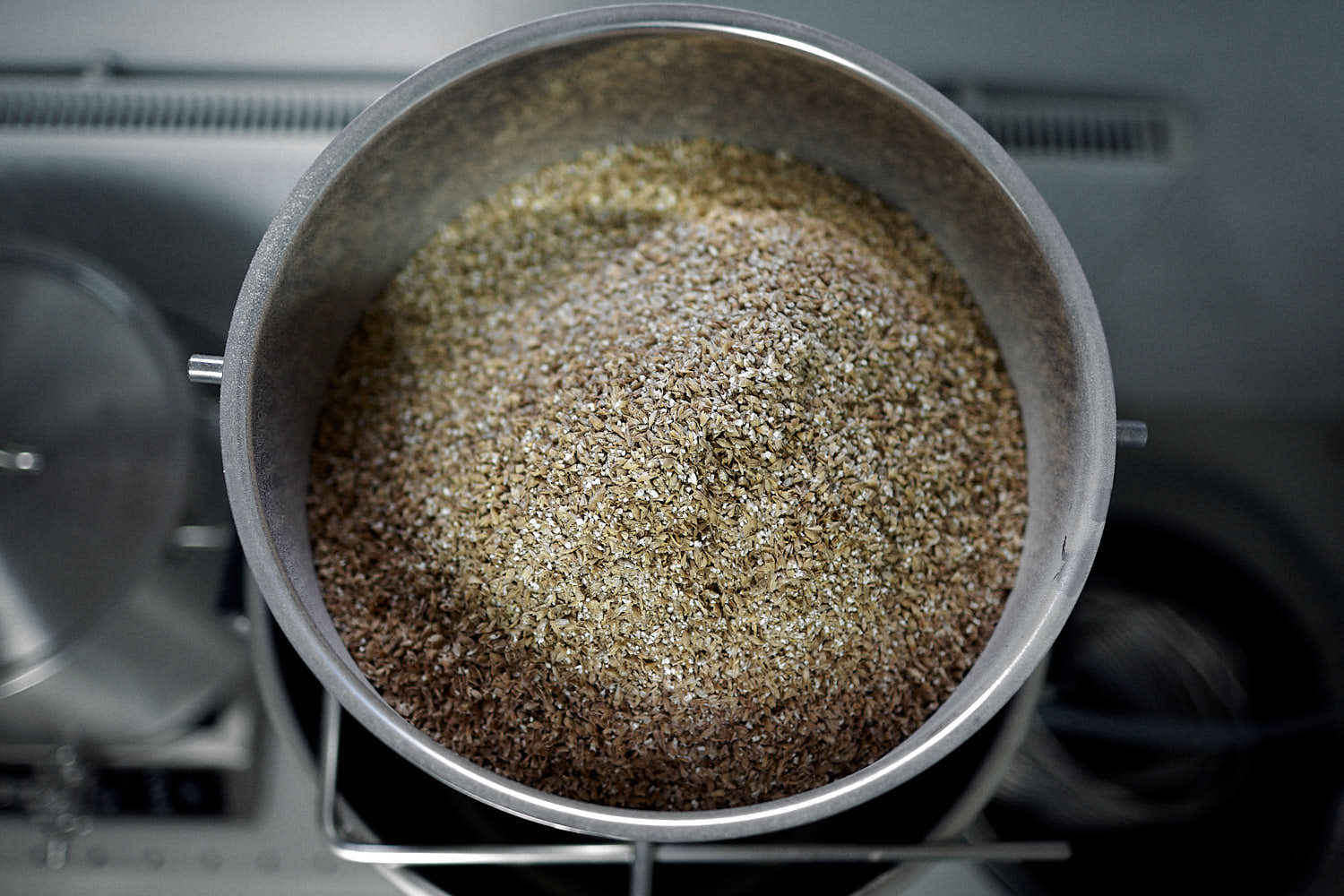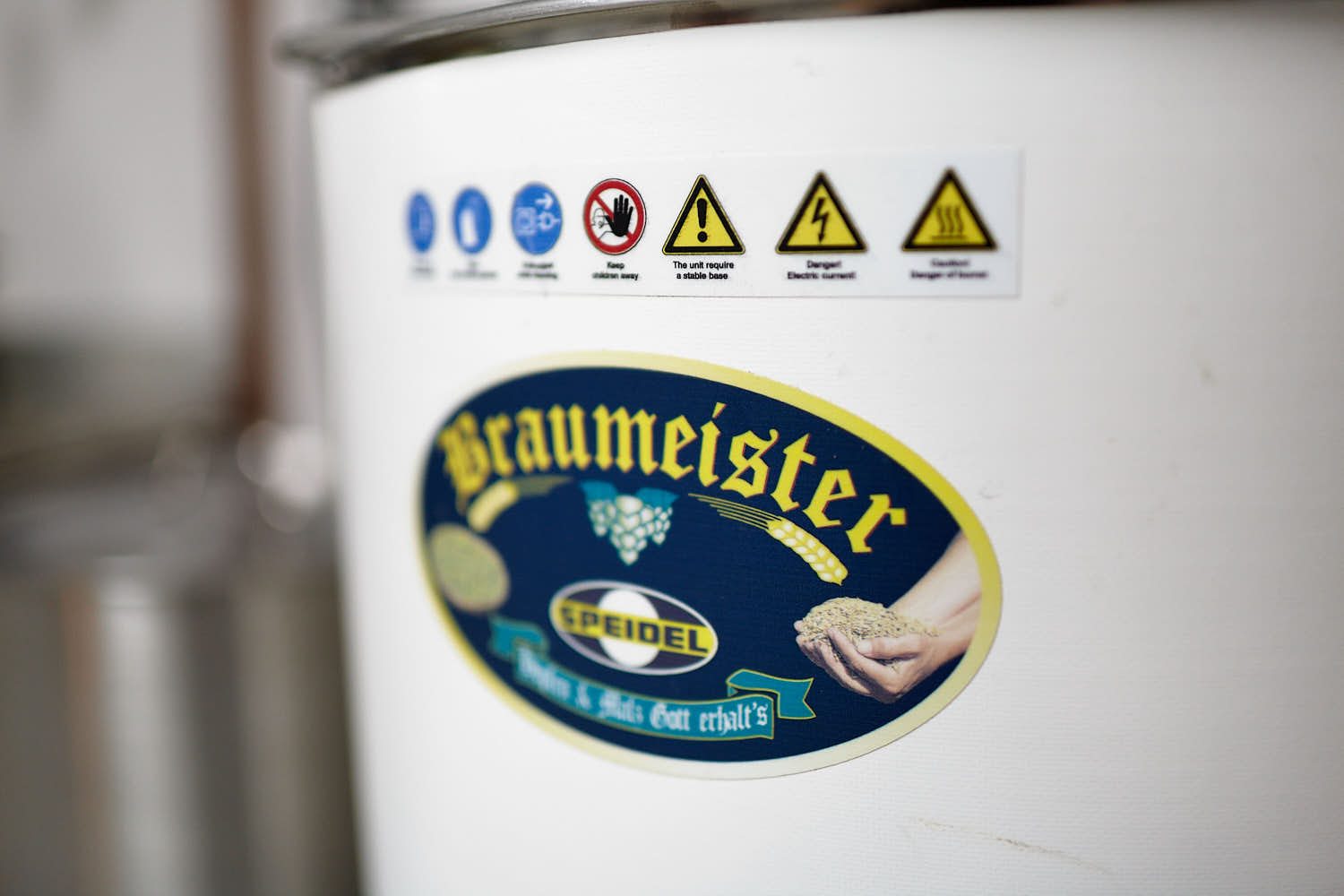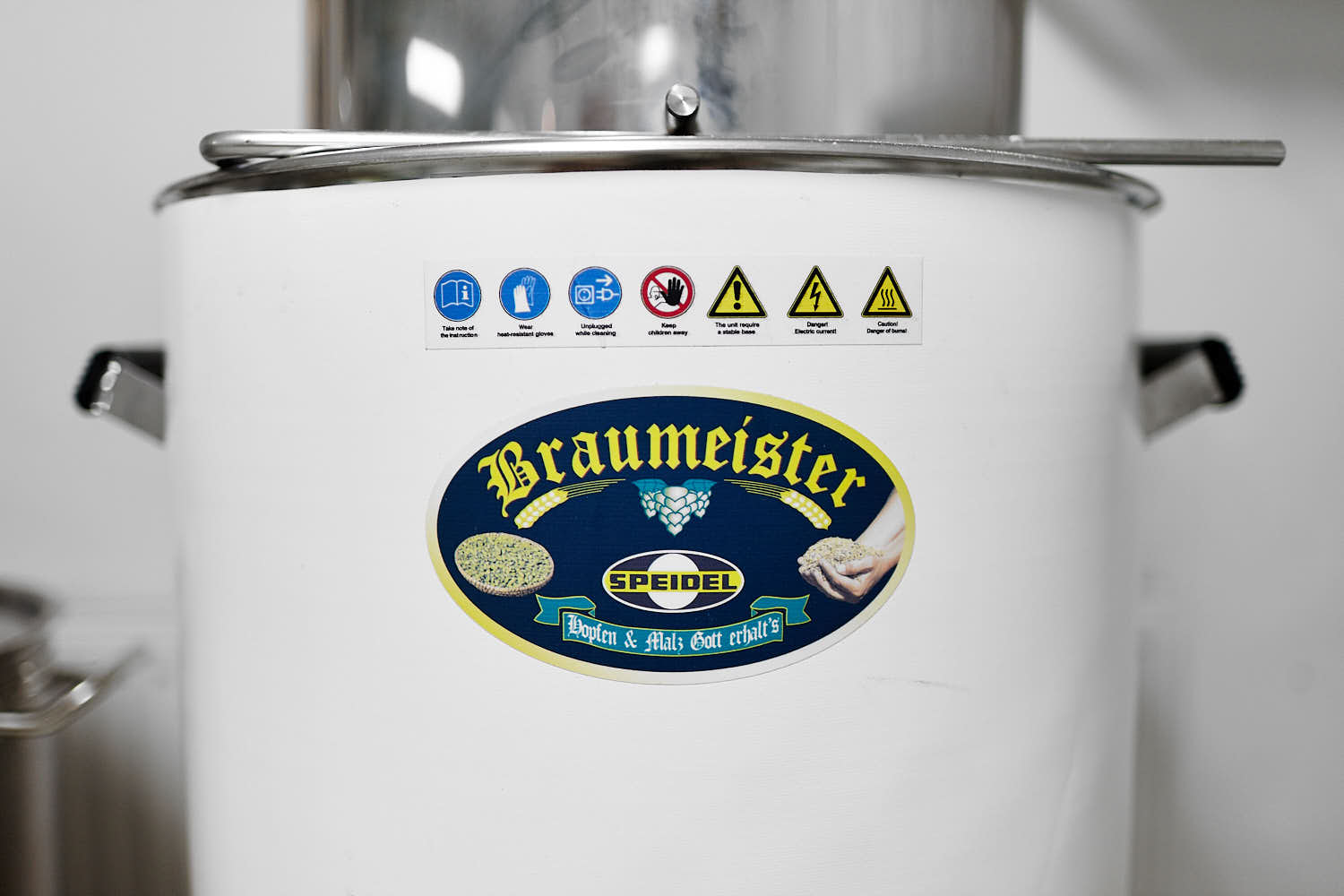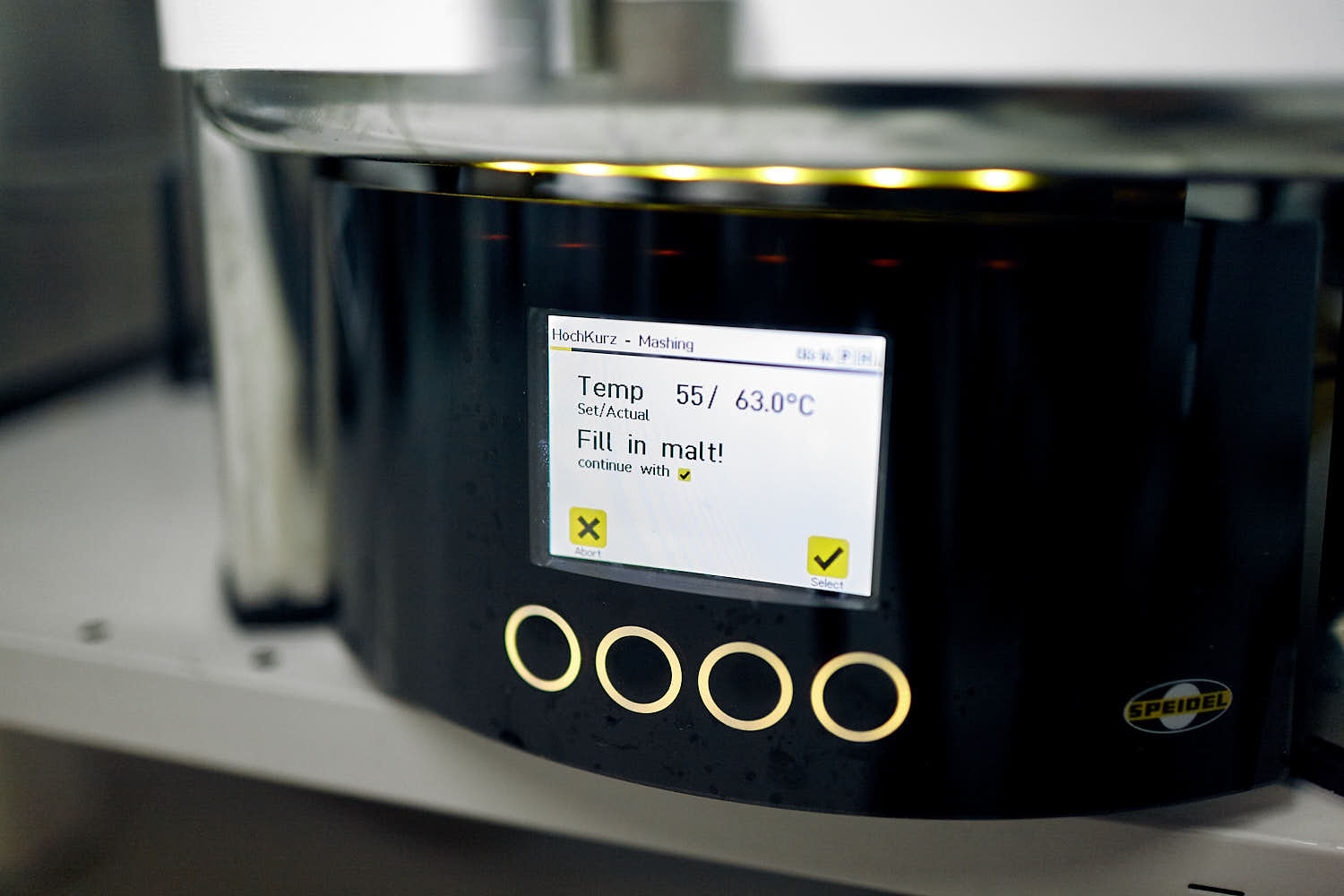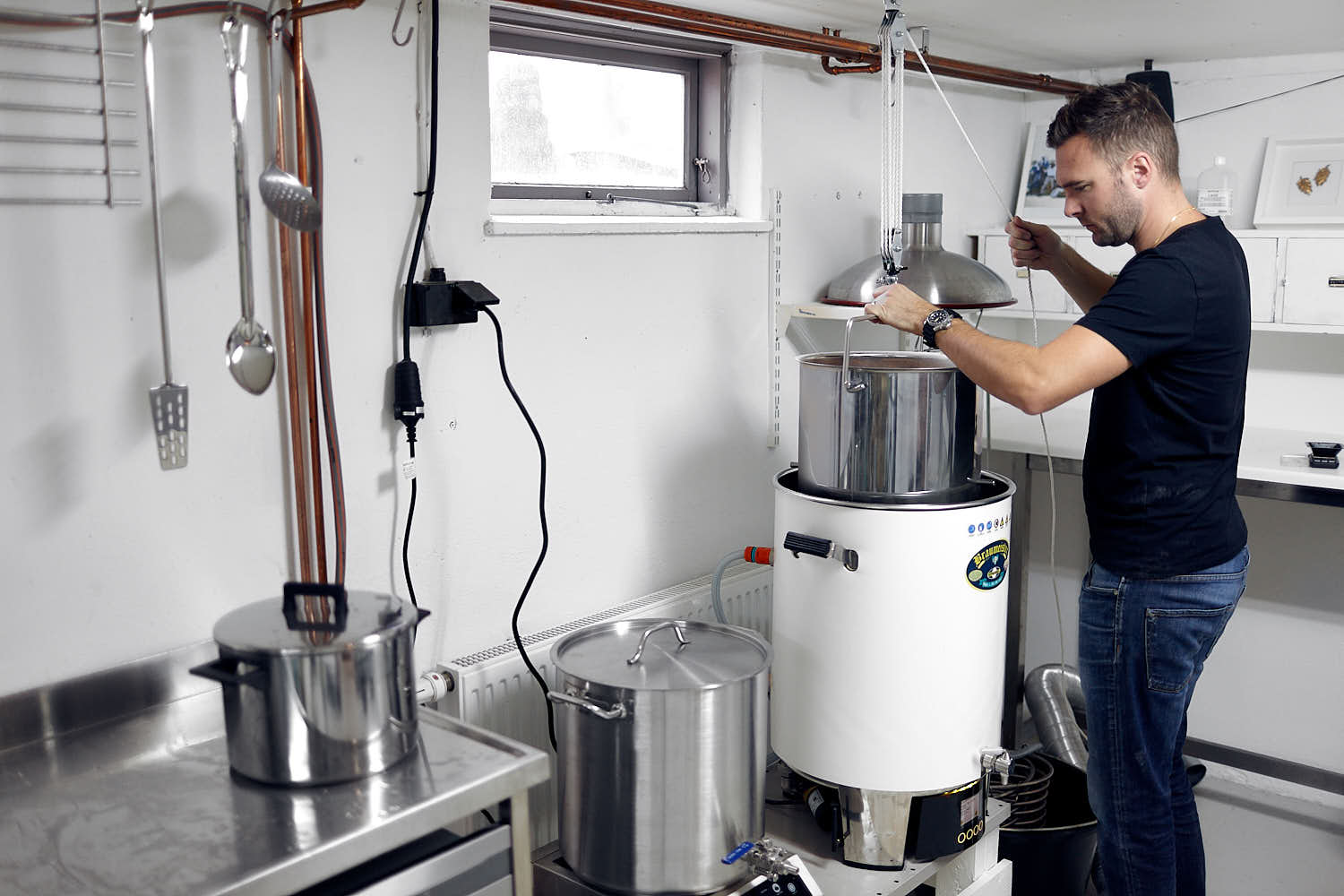 Malten är i röret och jag sänker ner det med hjälp av galgen i vinschen. Denna nedsänkning gör jag för att simulera underlet och jag låter det ta ca 5 minuter.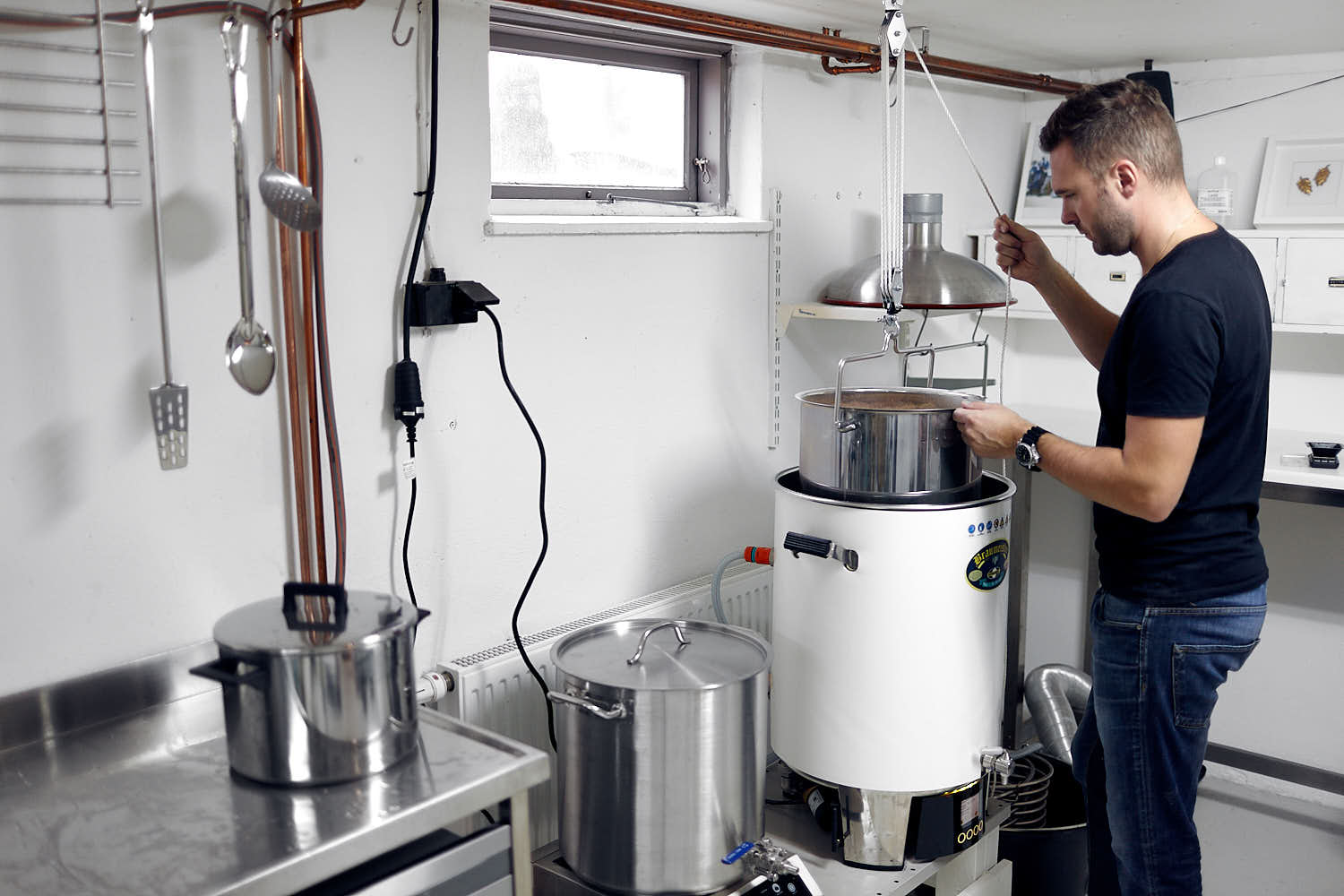 1-2 minuter senare.
Jag kan dricka lite morgonkaffe sålänge. Så lång tid tar det.
Försiktig omrörning av malten och endast under ytan för att få så lite skum som möjligt.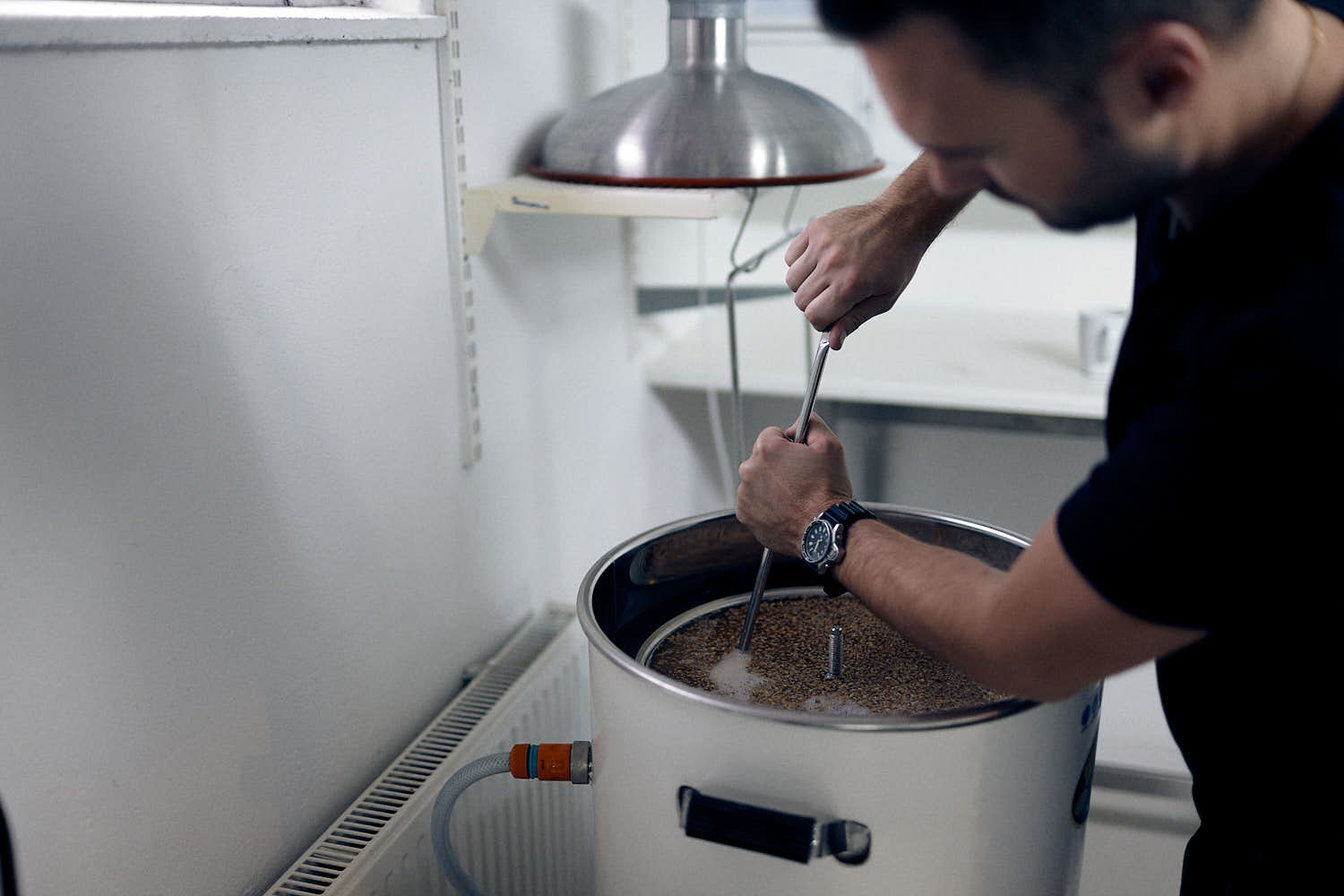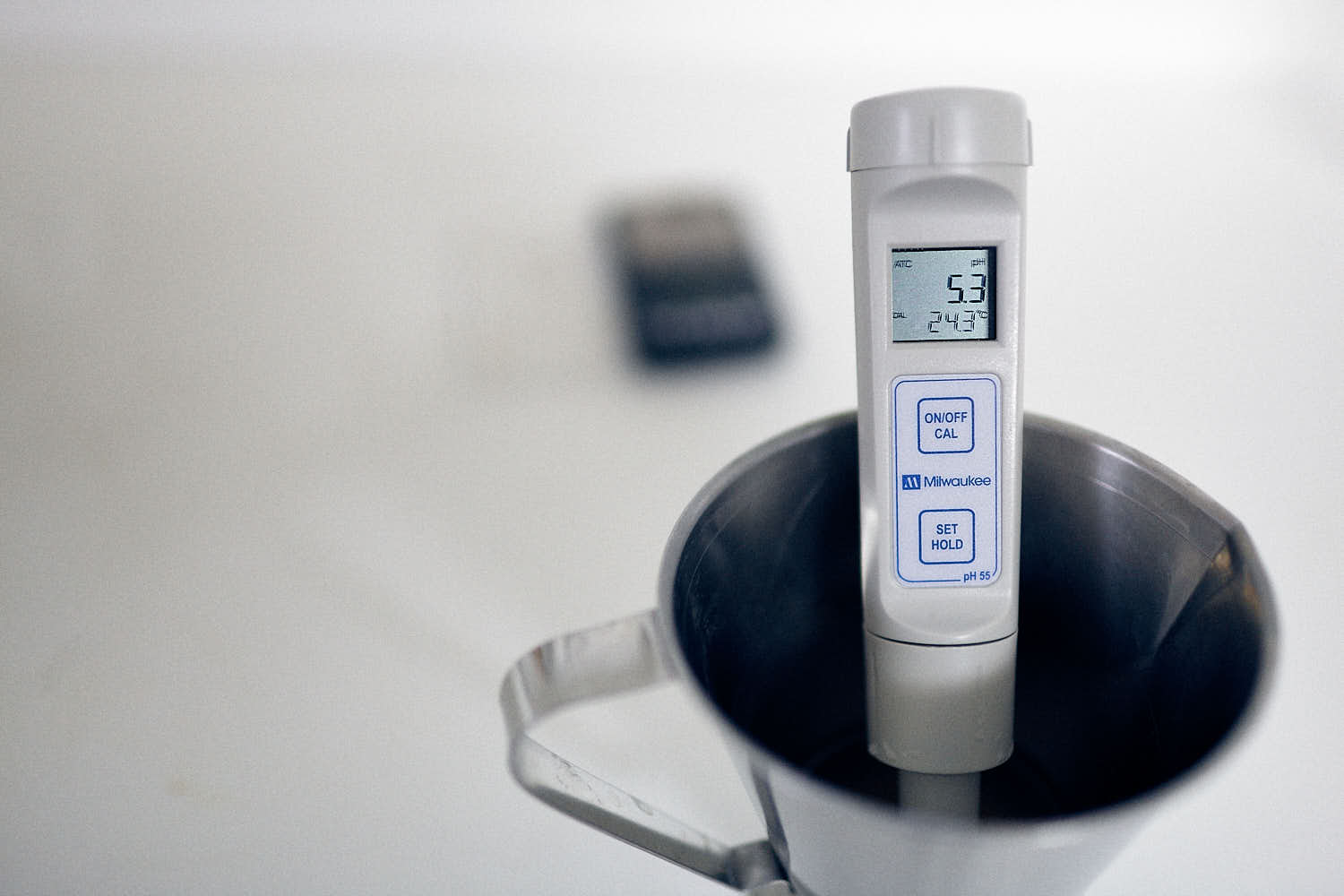 MäskpH en kvart in i mäskningen.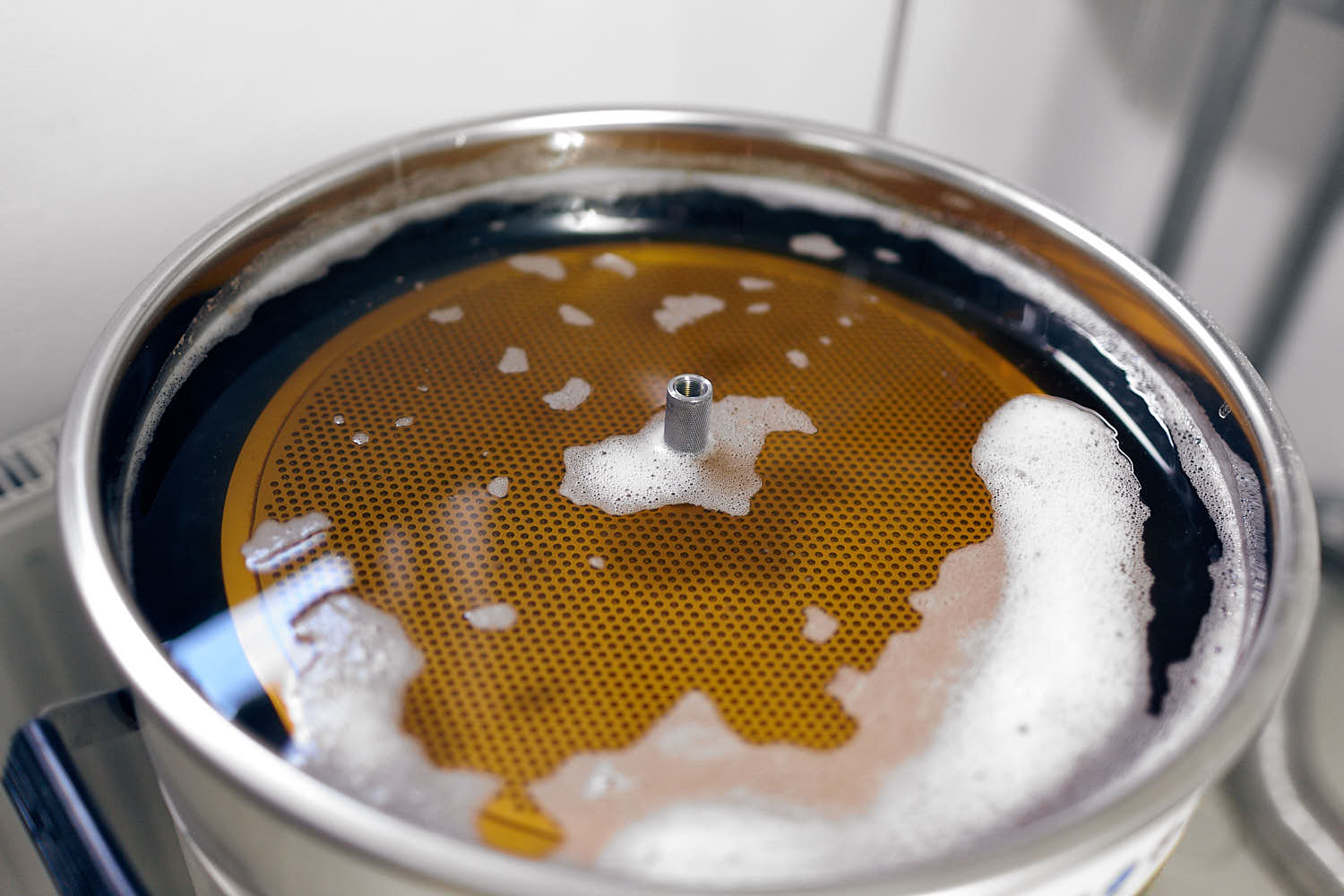 Efter hela mäskprogrammet är avslutat.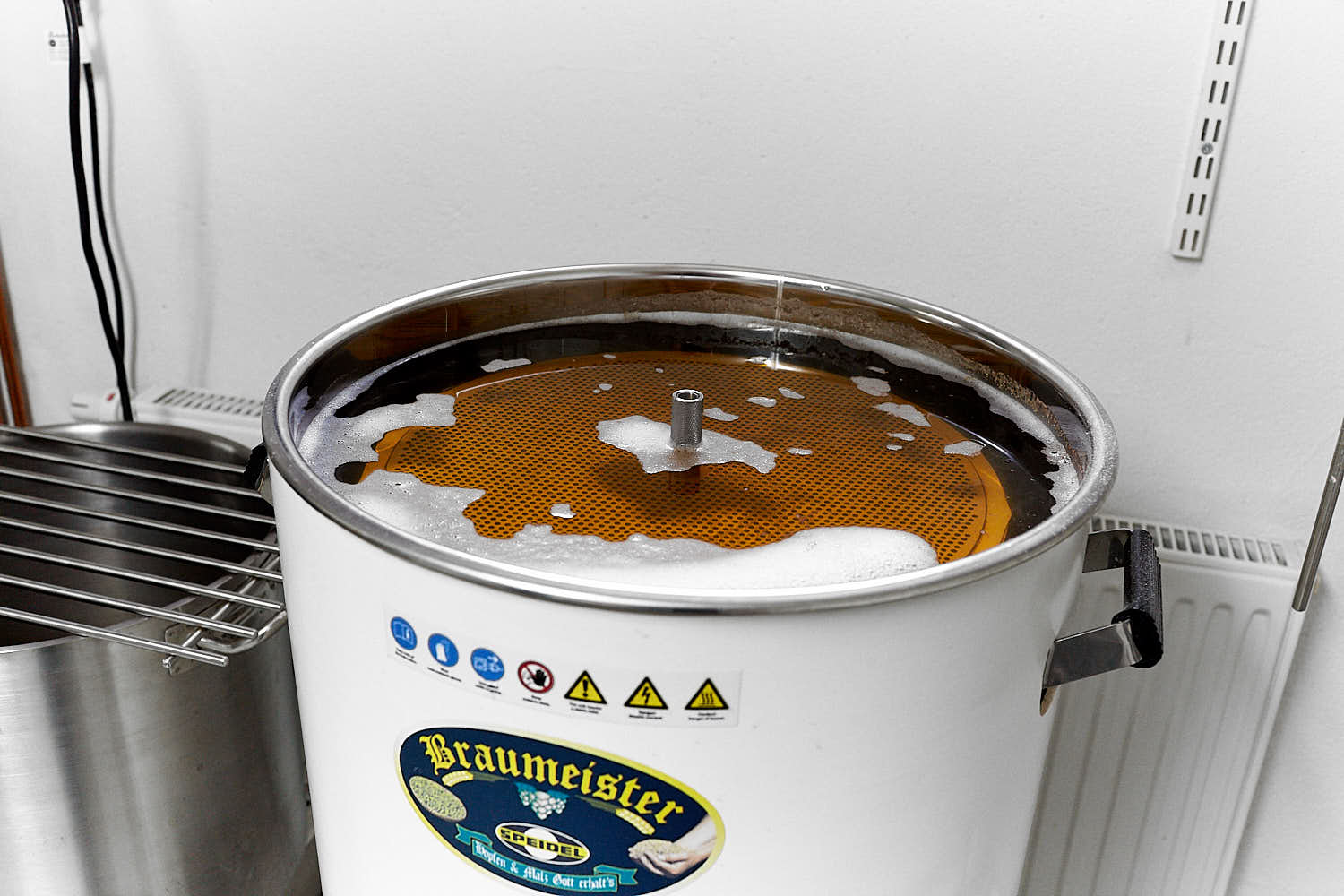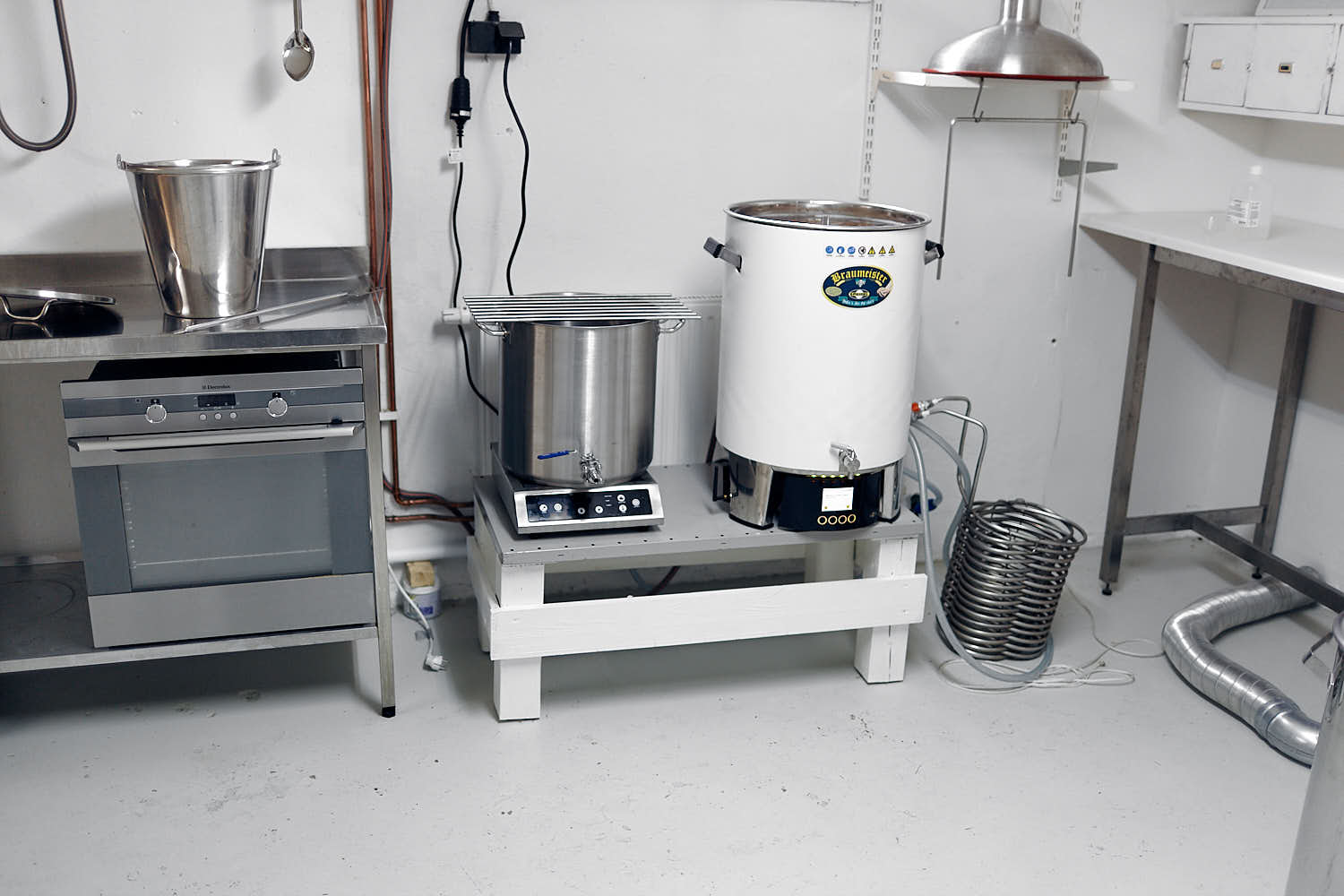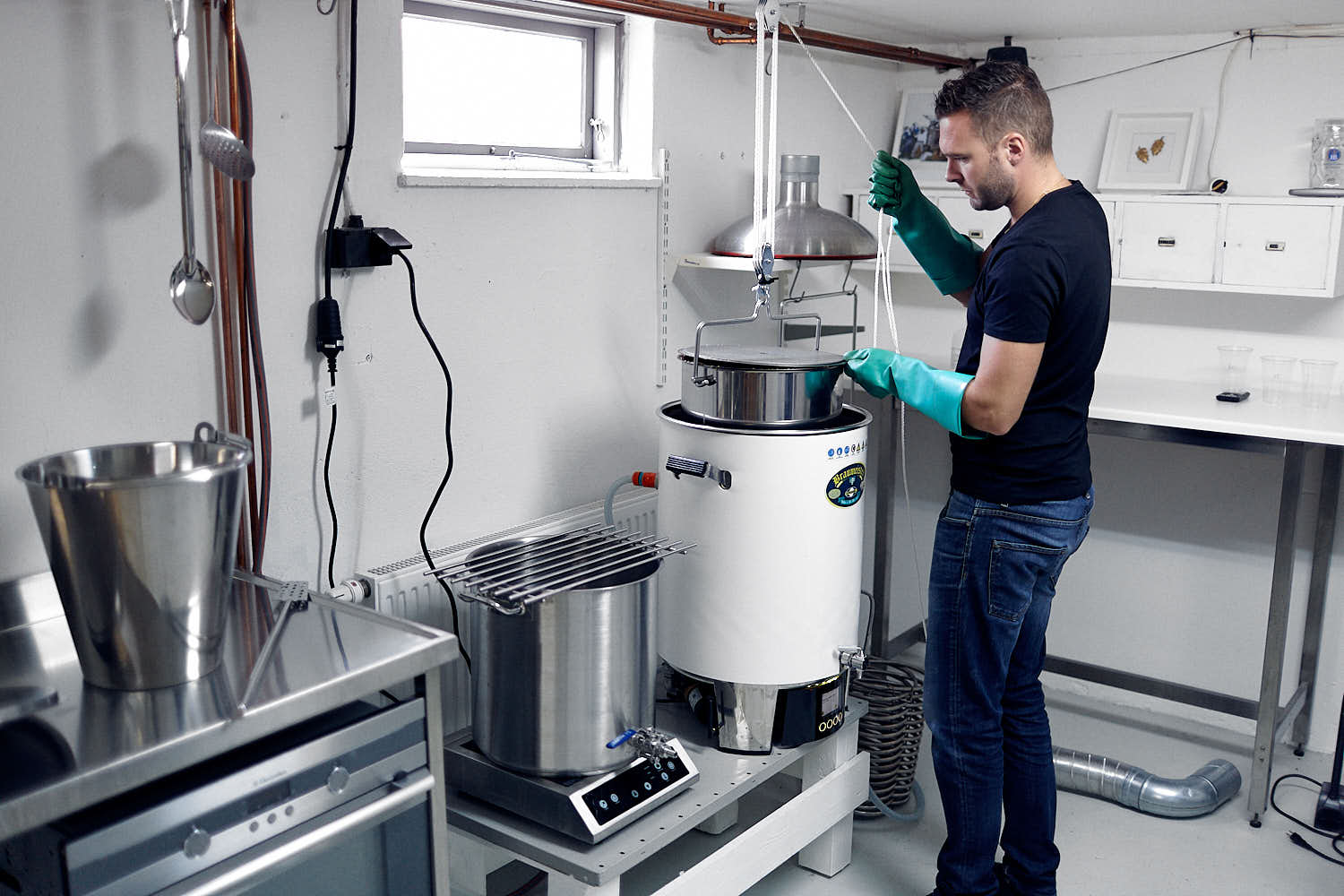 Låååångsam höjning av maltröret igen. Den så kallade LoDO-dödaren som man bör vara extra försiktig med.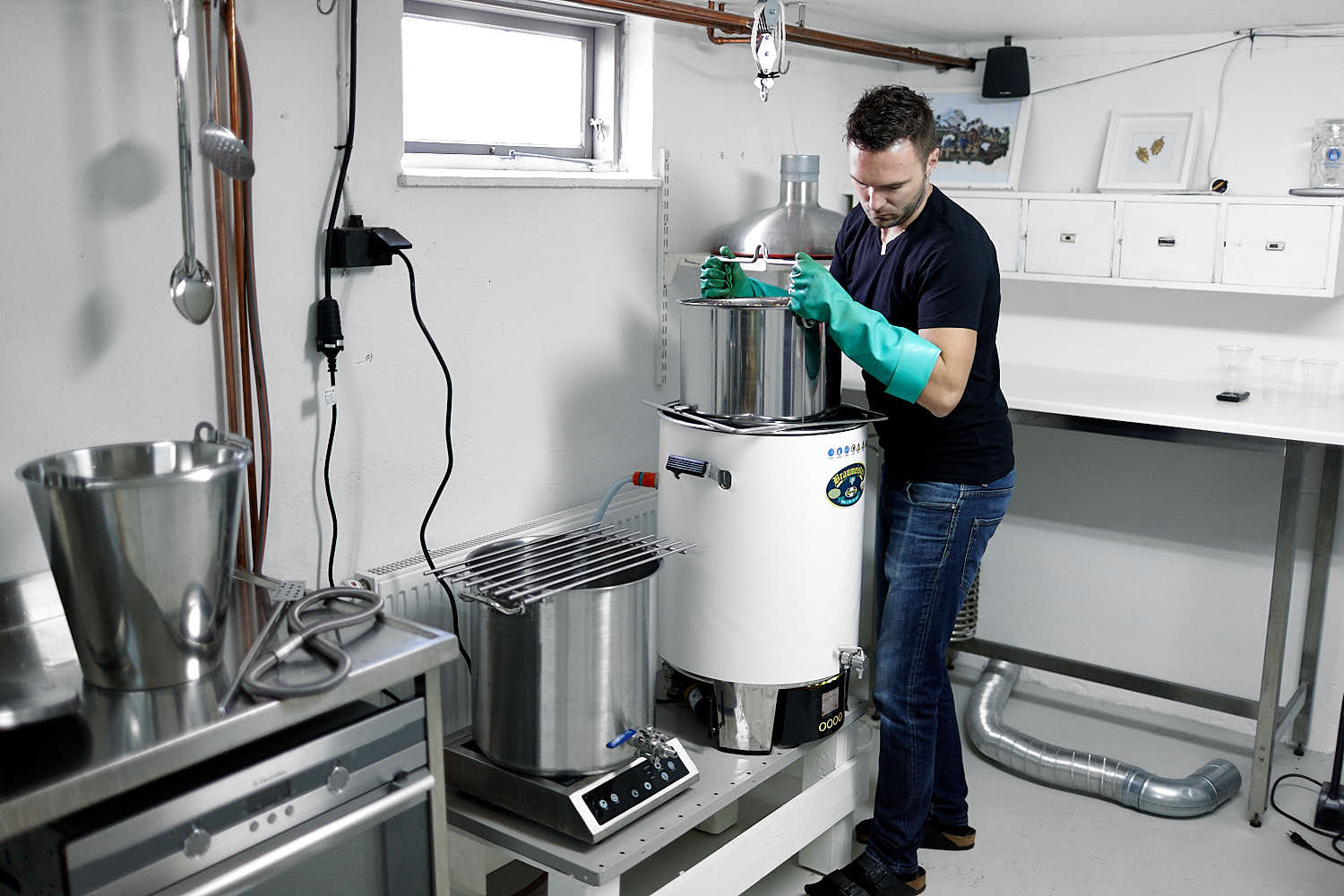 När allt är färdigt flyttar jag maltröret till kastrullen bredvid för att laka/skölja lite som inte kommer hamna i huvudsatsen utan antingen som en liten partigyle-sats vid sidan av eller som fryst vört till förkulturer.
Röra om lite i toppen av malten så det inte rinner rätt igenom.
I med varmt vatten.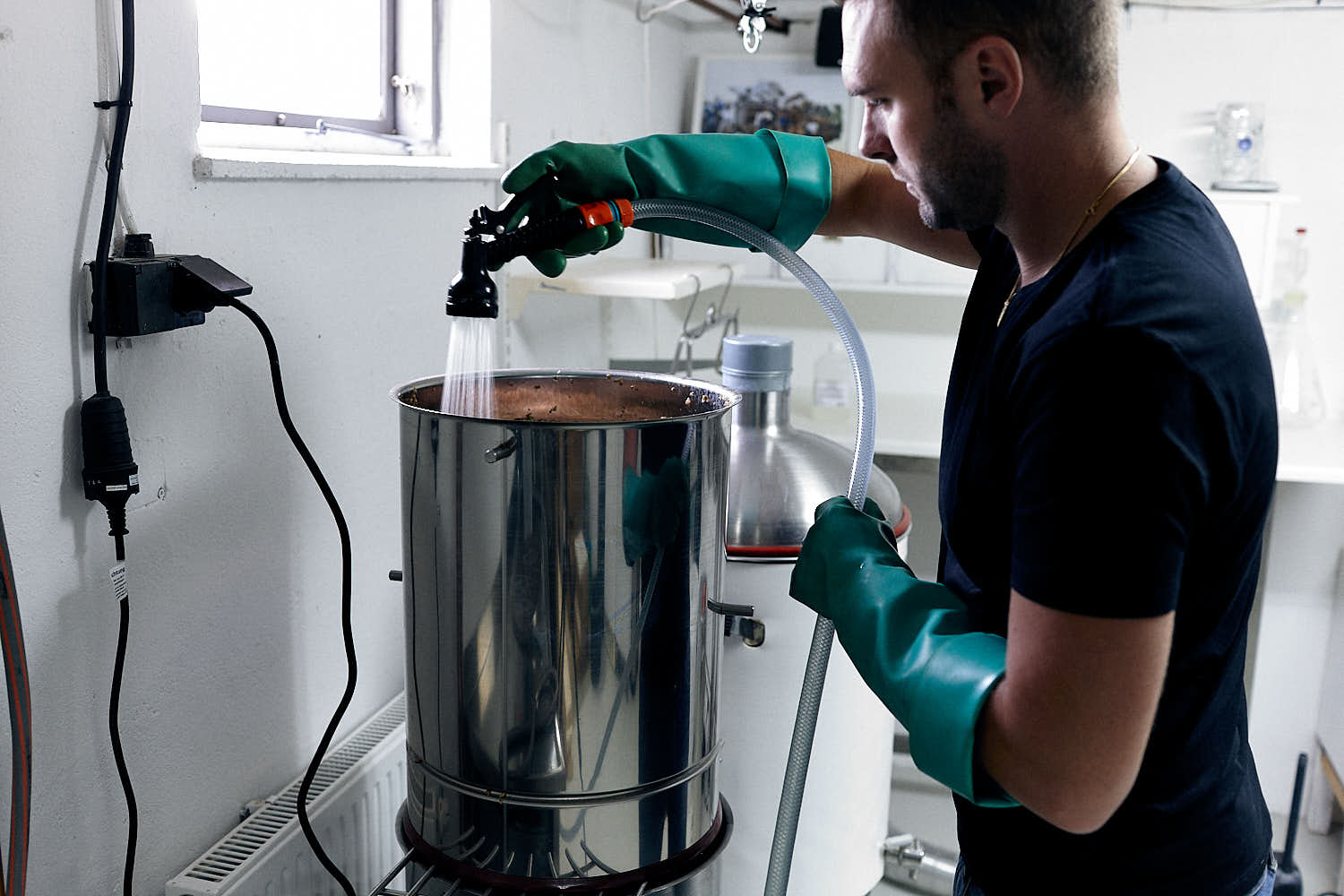 Äsch, lite kallt får också hänga med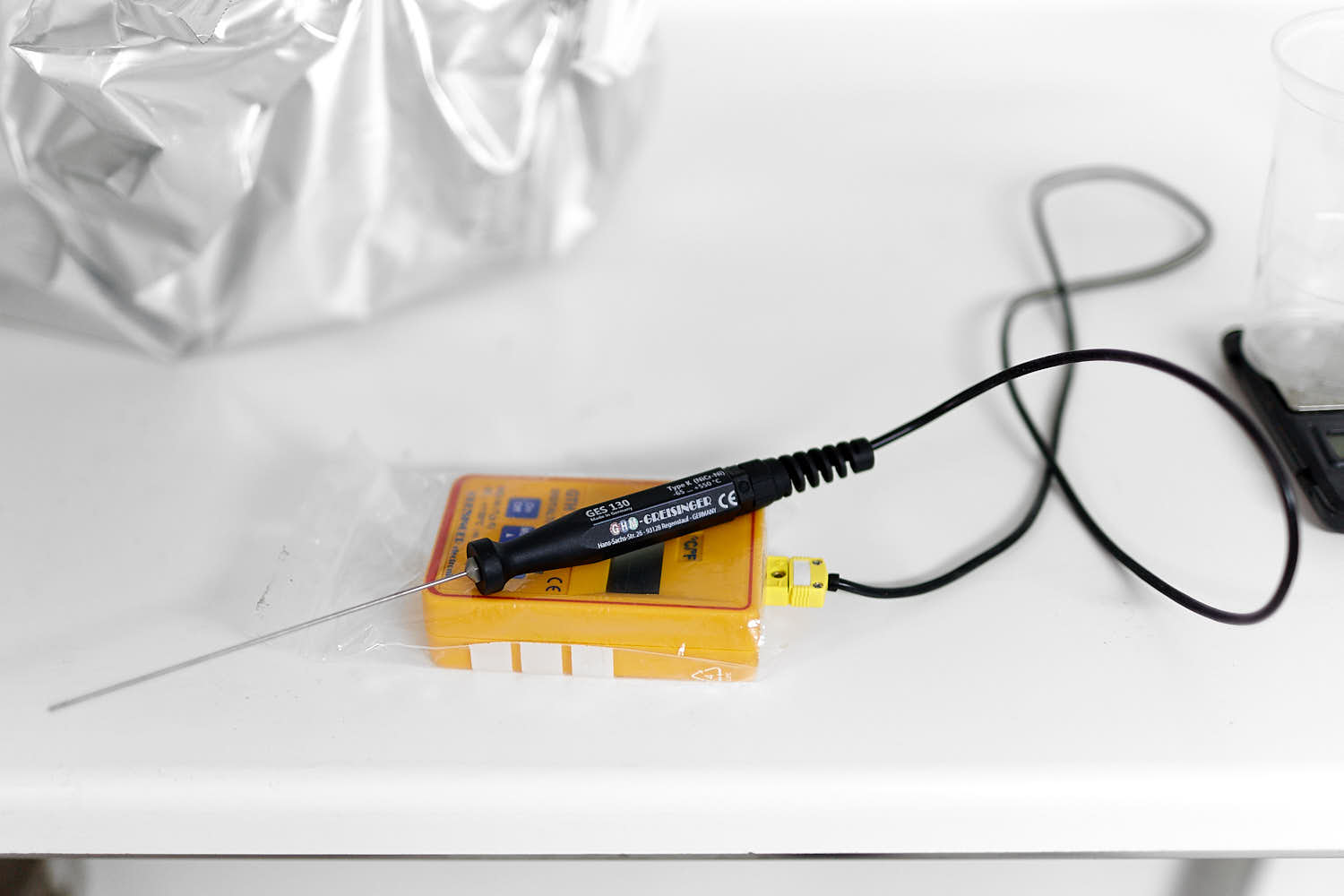 Jag har skaffat GES-130 till min Gresinger. Jag fick nog av billigt Kina-skräp så jag skaffade denna instickssensor som är riktigt bra. Tysk superkvalité och mycket snabba mätvärden. Rekommenderas verkligen till er som skaffat den gula klassikern.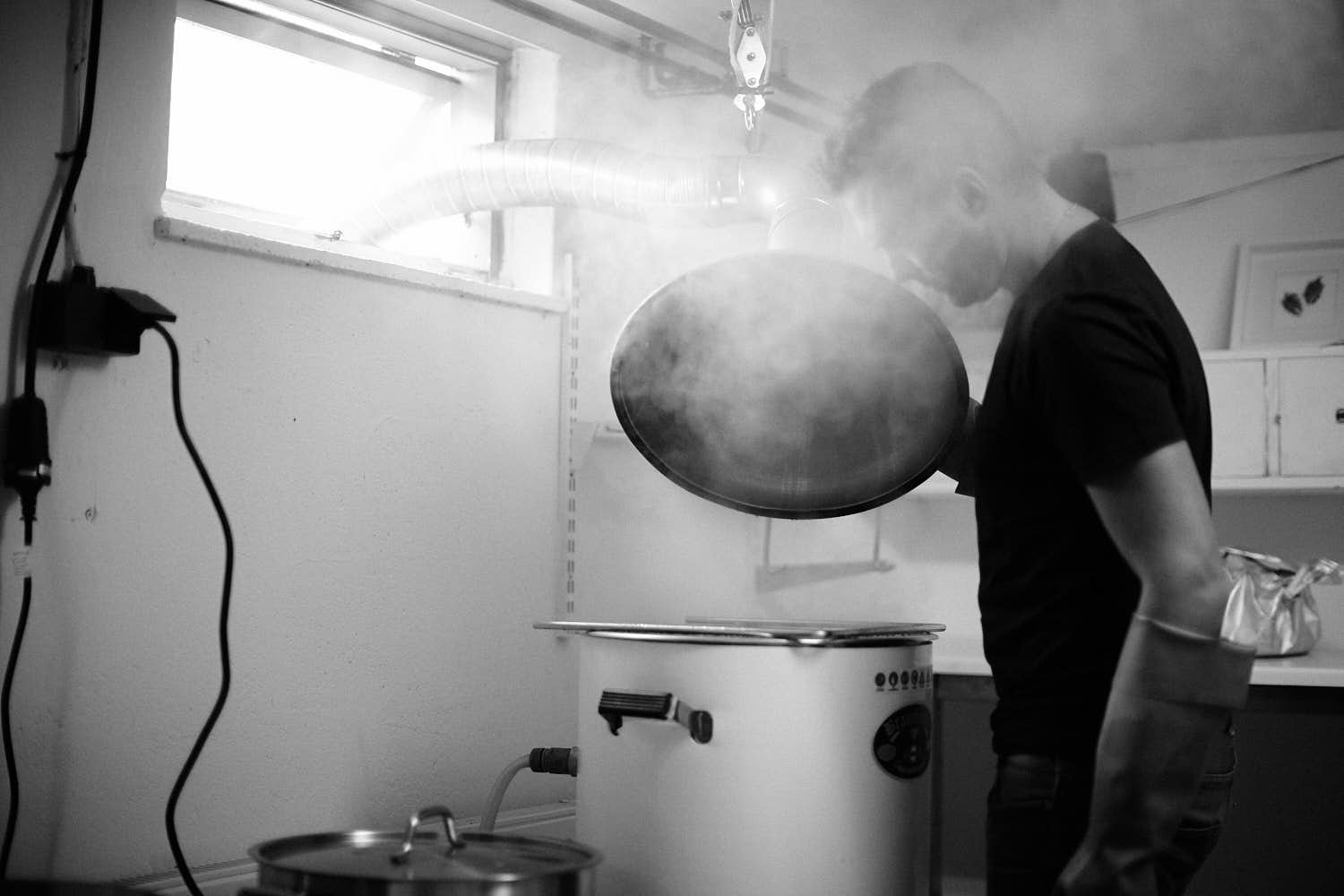 Dags för humlegiva.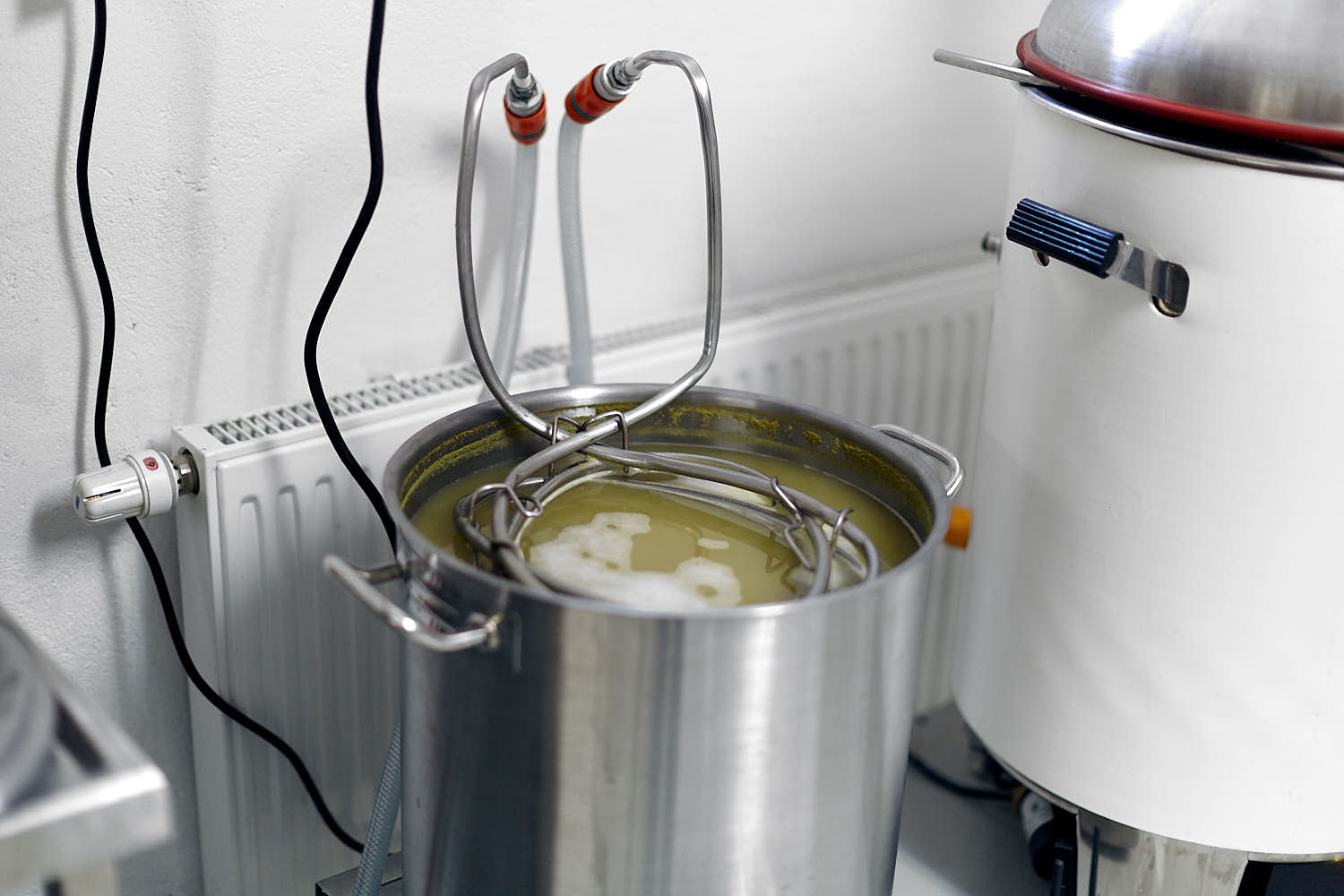 Sidobatch som bara fick sig ett kort kok men mycket humle för att dölja felsmaker.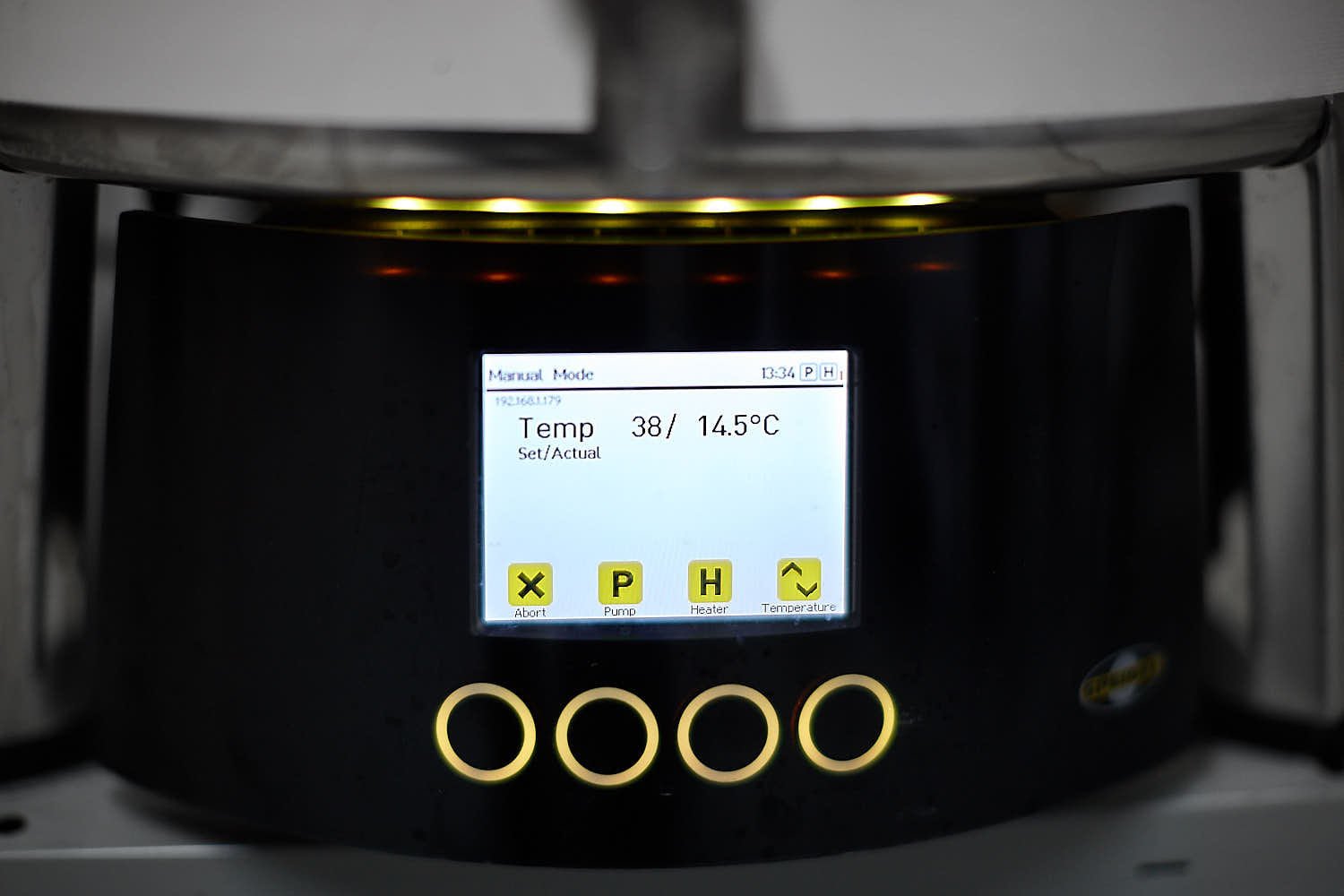 Kylning av pilsenern.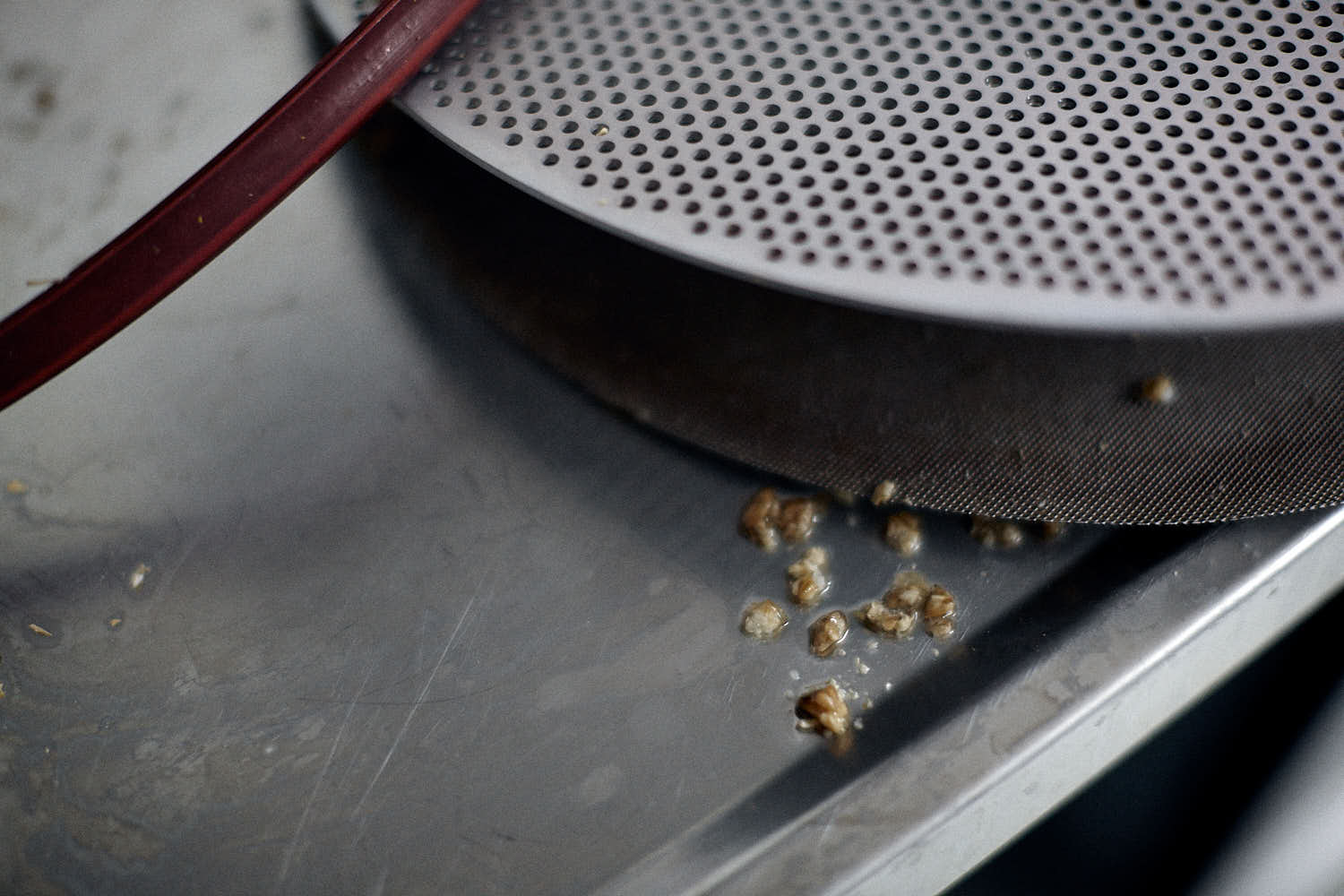 Den rejäla jästslurryn på väg ner i min nya 60l-jästank. Jag pitchar alltid jästen före vörten kommer i så jästen direkt kan börja konsumera syret.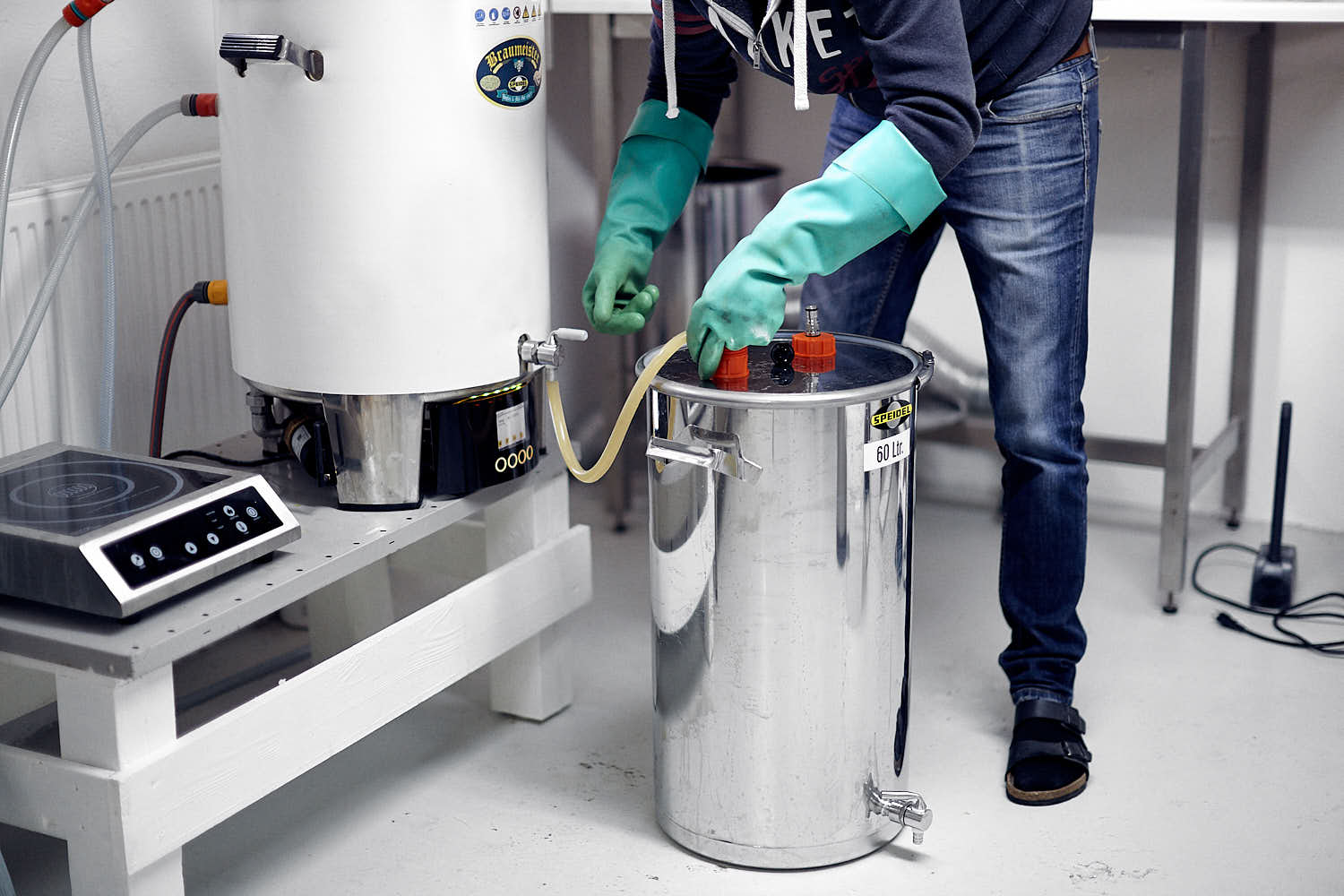 Silikonslang behövs numera för vörtflytten pga höjdskillnaden men det fungerar ganska bra faktiskt.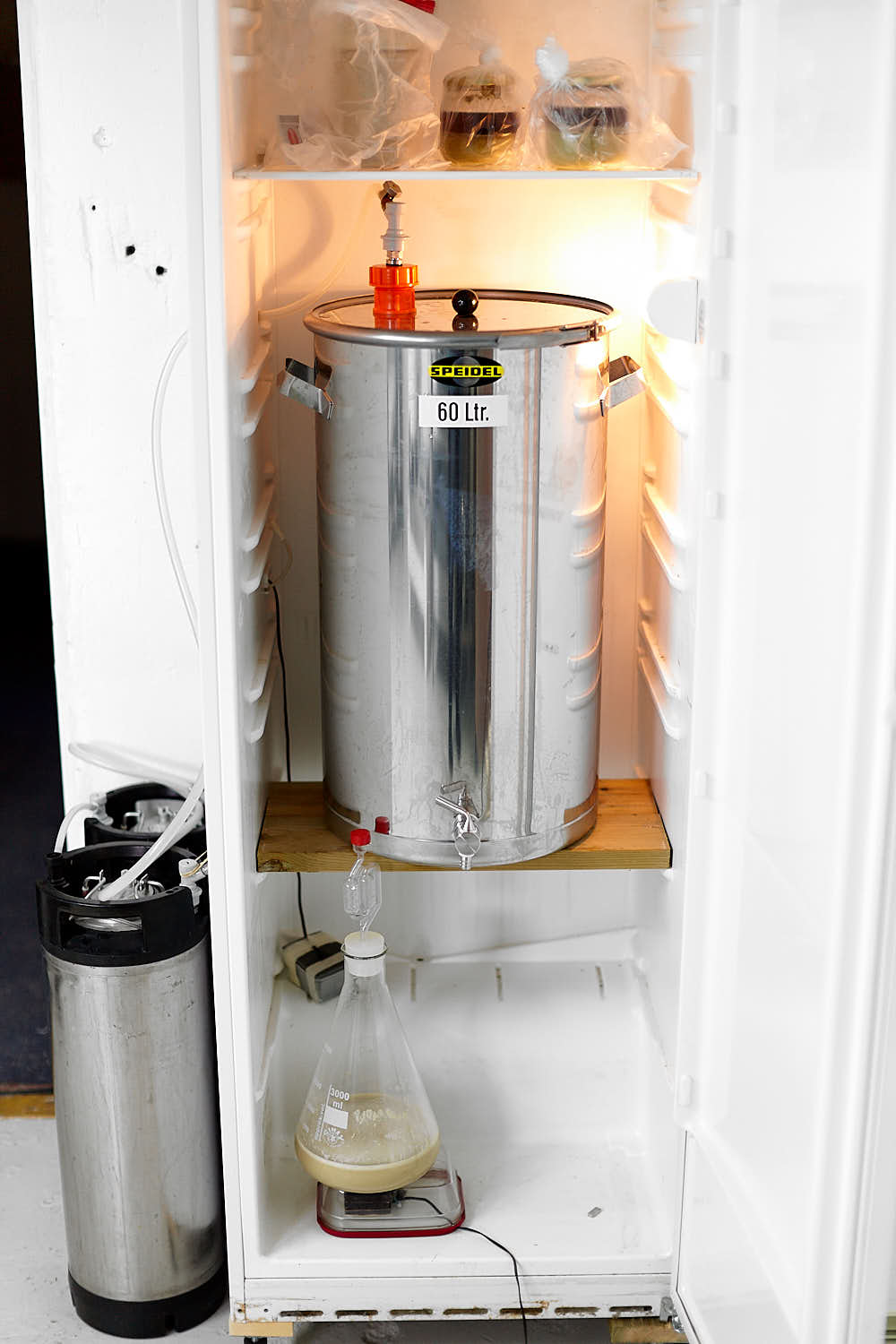 Jäsning av huvudsatsen med fermenter purge där CO2 från jäsningen ersätter syret i faten till vänster. Nederst i kylen står en förkultur på magnetomrörare. Jag odlar lagerjäst på lagertemperatur mest för att jag kan. Jag hittar motstridiga uppgifter på om det ger några fördelar. Jästen fortplantar sig bättre i 20°C men sägs kunna anpassa sig bättre till kall jäsning om den är uppväxt så. Oavsett är det viktigt att det inte är för stor skillnad på jästens och vörtens temperatur vid pitch.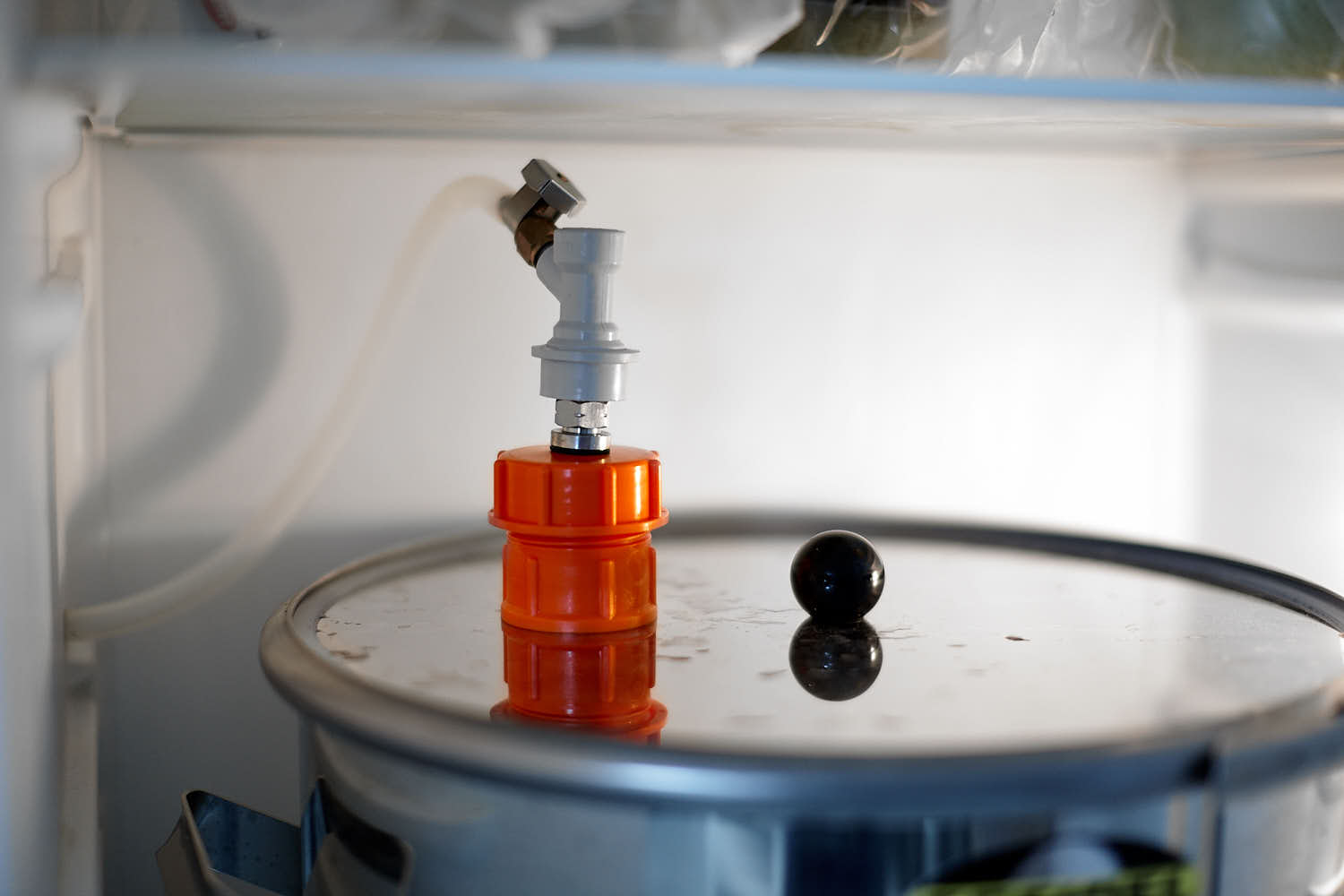 Jag har skrivit om Fermenter purge tidigare på bloggen men här är några fler närbilder på setupen.
P14 – Lindhs Pils (500g hops) (Tysk pilsner)
Batchsize: 56.00 l
OG: 1.051 SG
FG: 1.009 – 1.010? SG
Alcohol by volume: 5.1 %
Bitterness: ca 40-45 IBUs
Color: 7.3 EBC
Water Prep

| Amt | Name | Type | # | %/IBU |
| --- | --- | --- | --- | --- |
| 68.00 l | !Lindhs LoDO-water | Water | 1 | – |
| 20.00 ml | Lactic Acid (Mash 60.0 mins) | Water Agent | 2 | – |
| 12.00 g | Calcium Chloride (Mash 60.0 mins) | Water Agent | 3 | – |
| 7.00 g | Antioxin SBT (Mash 0.0 mins) | Water Agent | 4 | – |
| 2.00 g | Salt (Mash 60.0 mins) | Water Agent | 5 | – |
Mash Ingredients

| Amt | Name | Type | # | %/IBU |
| --- | --- | --- | --- | --- |
| 5.92 kg | Pilsner (Balder) (2.9 EBC) | Grain | 6 | 50.3 % |
| 5.00 kg | Pale Malt, Maris Otter (5.9 EBC) | Grain | 7 | 42.5 % |
| 0.84 kg | Barke Vienna Malt (Weyermann) (5.9 EBC) | Grain | 8 | 7.1 % |
Total amount of malt: 11.76 kg
Mash Steps

| Name | Description | Step Temperature | Step Time |
| --- | --- | --- | --- |
| Mash in | Add 68.67 l of water and heat to 60.0 C over 0 min | 60.0 C | 0 min |
| Beta-Amylase | Heat to 62.0 C over 3 min | 62.0 C | 20 min |
| Beta2 | Heat to 64.0 C over 3 min | 64.0 C | 20 min |
| Beta 3 | Heat to 67.0 C over 5 min | 67.0 C | 20 min |
| Alpha-Amylase | Heat to 73.0 C over 9 min | 73.0 C | 30 min |
| Mash Out | Heat to 76.0 C over 8 min | 76.0 C | 10 min |
If steeping, remove grains, and prepare to boil wort
Boil Ingredients

| Amt | Name | Type | # | %/IBU |
| --- | --- | --- | --- | --- |
| 100 g | Perle [7.30 %] – Boil 50.0 min | Hop | 9 | 38.8 IBUs |
| 100 g | Perle [7.00 %] – Boil 15.0 min | Hop | 10 | 10.6 IBUs |
| 10.00 ml | Lactic Acid (Boil 10.0 mins) | Water Agent | 11 | – |
Steeped Hops

| Amt | Name | Type | # | %/IBU |
| --- | --- | --- | --- | --- |
| 300 g | Perle [2.00 %] – Steep/Whirlpool 20.0 min | Hop | 12 | 8.0 IBUs |
Total amount of hops: 500 g
Fermentation Ingredients

| Amt | Name | Type | # | %/IBU |
| --- | --- | --- | --- | --- |
| 3.0 pkg | German Lager [124.21 ml] | Yeast | 13 | – |
Recommended starter size: 7.24 l / 1058.0 Billion cells.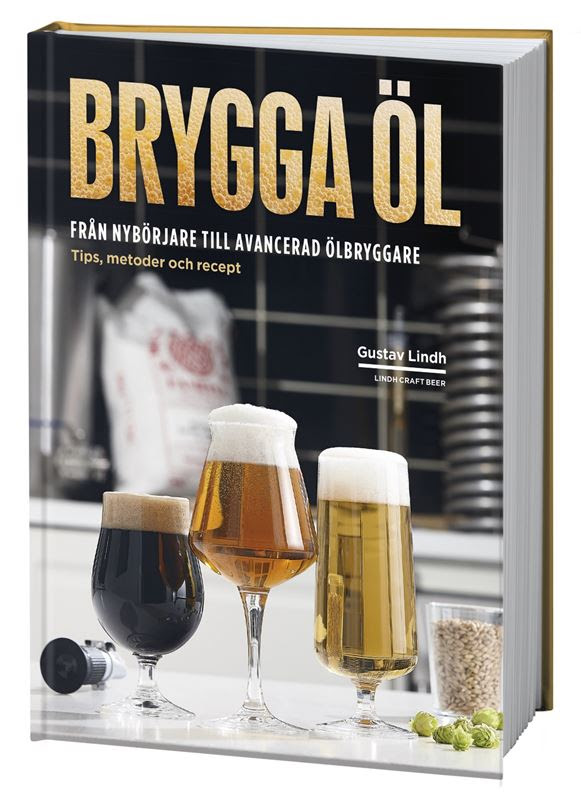 Du har väl inte missat min bok om ölbryggning? Köp den hos
Humlegården!